Elmer L. Towns Collection (11 vols.)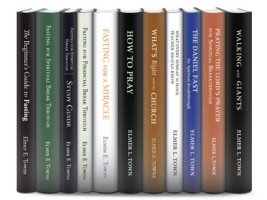 Elmer L. Towns Collection (11 vols.)
•
Overview
Written in Elmer Towns' dynamic, descriptive style, this collection will help you learn how fasting can strengthen your faith and draw you closer to God, helping you to be a true overcomer in Christ. Discover new ways to expand your prayer life, take a look at nine biblical fasts, receive original Daniel Fast recipes, acquire 24 secrets to help you change lives, and get excited about meeting with God.
With the Logos edition of the Elmer L. Towns Collection, you get an abundance of applicable, insightful resources. You can easily research fasting and access an assortment of useful resources and perspectives from a variety of pastors and theologians.
Key Features
Offers practical guidance for wise biblical fasting
Provides memoirs from Elmer L. Towns
Gives an overview of fasting from the Old and New Testaments
Explores the Lord's Prayer
Product Details
Title: Elmer L. Towns Collection
Author: Elmer L. Towns
Publisher: Gospel Light
Volumes: 11
Pages: 2,158
About Elmer L. Towns
Elmer L. Towns is the vice president of Liberty University and dean at Liberty Theological Seminary, which he cofounded in 1971. He has taught the Pastor's Bible Class at Thomas Road Baptist Church in Lynchburg, Virginia, for 27 years. Elmer is a Gold Medallion Award-winning author of several books.
More details about these resources
Show More