Journal of Markets & Morality (30 issues)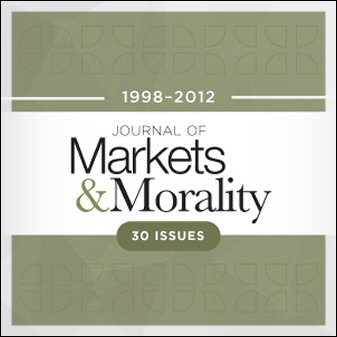 Overview
Journal of Markets & Morality is a peer-reviewed academic journal engaging in theological and social discourse on modern economic issues. This intellectual journal, published twice each year, explores a variety of theological, economic, and political perspectives, bringing together a diverse assembly of academic scholarship on morality in economics. Some of the questions raised include whether students should be encouraged to pursue graduate education in the modern economy, the morality of antitrust laws, the effect of Libertarian politics on neoconservative Catholics, John Calvin's social and economic thought, and the moral question of universal healthcare and welfare. Each issue includes dozens of book reviews on economic-religious publications, articles, editorials, and controversial discourse.
With the Logos Bible Software edition, all Scripture passages in Journal of Markets & Morality are tagged and appear on mouseover. Moreover, Scripture references are linked to your preferred translation, giving you instant context. This makes these issues more powerful and easier to access than ever before for scholarly work or for casual reading. With the advanced search features of Logos Bible Software, you can perform powerful searches by topic or Scripture reference—finding, for example, every mention of "education," or "socialism."
For a massive collection of journals from world-renowned scholars across a variety of disciplines, check out the Master Journal Bundle.
Key Features
Hundreds of articles, book reviews, and editorials from diverse Christian perspectives
Modern scholarship that addresses modern economic conditions
Articles integrate classic and modern theologians' writings, including Abraham Kuyper, John Calvin, and Pope Benedict XVI
Featured Contributors
David W. Hall
Avery Cardinal Dulles
Thomas C. Behr
Daniel K. Finn
Stephen J. Grabill
Edward J. O'Boyle
Calvin Seerveld
Edward W. Younkins
Mark Pennington
Julio H. Cole
Thomas A. Hemphill
Anthony B. Bradley
Clifford F. Thies
Charles McDaniel
Patricia Donohue-White
and more!
Individual Titles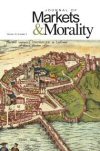 Journal of Markets & Morality, vol. 15, no. 2
Some of the articles include:
"Dooyeweerd's Philosophy of Economics" by Joost Hengstmengel
"Should Students Be Encouraged to Pursue Graduate Education in the Humanities?" by William Pannapacker
"The Moral Meanings of Markets" by Ryan Langrill and Virgil Henry Storr
"Private Property, Self-Regulation, and Just Price: A Response to Philip Booth and Samuel Gregg" by Daniel K. Finn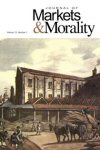 Journal of Markets & Morality, vol. 15, no. 1
Some of the articles include:
"Business and the Development of Christian Social Thought" by Jordan J. Ballor
"Libertarianism and Catholic Social Teaching on Immigration" by Bridget Kratz and Walter E. Block
"Neither Capitalism nor Socialism: A Biblical Theology of Economics" by Craig L. Blomberg
"Ownership and Property in the Old Testament Economy" by Walter C. Kaiser, Jr.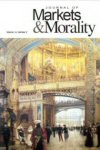 Journal of Markets & Morality, vol. 14, no. 2
Some of the articles include:
"Nine Libertarian Heresies Tempting Neoconservative Catholics to Stray from Catholic Social Thought" by Daniel K. Finn
"Marching for Morals: Early Struggles in the Dutch Christian Worker Movement" by Peter van Dam
"The Pontificate of Leo XIII (1878–1903) and the Encyclical Rerum Novarum" by Joseph M. de Torre
"Christ and the Needy (1895)" by Abraham Kuyper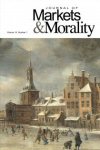 Journal of Markets & Morality, vol. 14, no. 1
Some of the articles include:
"James M. Buchanan on the Ethics of Public Debt and Default" by James E. Alvey
"In Praise of Industry: Early Nineteenth-Century Concepts of Work" by John M. Yeats
"The Political Economy of Economic Education: The Moral Dimensions" by Dwight R. Lee and Mark C. Schug
"Labor Economics and the Development of Papal Social Encyclicals" by Stephen P. Barrows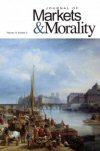 Journal of Markets & Morality, vol. 13, no. 2
Some of the articles include:
"Printed Source and Digital Resource in Economics and Theology" by Jordan J. Ballor
"Is Some Form of Secularism the Best Foundation for Christian Engagement in Public Life?" by Jonathan Malesic
"Distributive Justice and Subsidiarity: The Firm and the State in the Social Order" by Joseph Burke
"General Biblical Principles and the Relevance of Concrete Mosaic Law for the Social Question Today (1891)" by Herman Bavinck

Journal of Markets & Morality, vol. 13, no. 1
Some of the articles include:
"Global Economic Crisis" by Stephen J. Grabill
"Echoes of Aristotle in Romans 2:15–15: Or, Maybe Abimelech Was Not So Bad After All" by C. John Collins
"Democracy, Humane Economics, and a Culture of Enterprise" by Gerson Moreno-Riano
"A Christian Perspective on the Joint Stock Company" by Cara Beed and Clive Beed

Journal of Markets & Morality, vol. 12, no. 2
Some of the articles include:
"How Should Christians Be Stewards of Art?" by Nathan Jacobs
"Taxation and Legal Plunder in the Thought of Frédéric Bestiat" by Christopher Todd Meredith
"Getting into Hot Water: Evangelicals and Global Warming" by Benjamin B. Phillips
"C. S. Lewis and the Meaning of Freedom" by Steven Gillen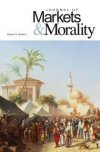 Journal of Markets & Morality, vol. 12, no. 1
Some of the articles include:
"Protestant Social Thought" by Stephen J. Grabill
"Poverty, Dignity, Economic Development, and the Catholic Church" by Jennifer Dirmeyer, Paolo Revelo, and Walter E. Block
"Magnanimity: Aquinas' Examination of the Aristocratic Virtue" by Keith Aaron Boozer
"Social Justice and Economic Order According to Natural Law" by Daniele Corrado and Stephano Solari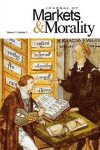 Journal of Markets & Morality, vol. 11, no. 2
Some of the articles include:
"The Production of Business Ethics" by Guido Hulsmann
"Commentary on Psalm 15 (1551)" by Wolfgang Musculus
"Subprime Lending and Social Justice: A Biblical Perspective" by William C. Wood
"Hope Amid Financial Calamity" by Stephen J. Grabill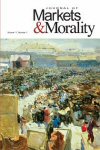 Journal of Markets & Morality, vol. 11, no. 1
Some of the articles include:
"The State of the Question in Religion and Economics" by Jordan J. Ballor
"Slippery When Wet: The Real Risk in Business" by Surendra Arjoon
"The National Economy and the Religious Personality (1909)" by Sergey Bulgakov
"Professional Ethics and Complicity in Wrongdoing" by Gregory Mellema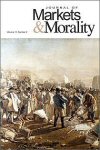 Journal of Markets & Morality, vol. 10, no. 2
Some of the articles include:
"John Paul II's Challenges to the Social Sciences" by Mary Ann Glendon
"Unrighteous Stewards in Biblical and Modern Times" by Jonathan E. Leightner and Pamela Z. Jackson
"On Buying and Selling (1605)" by Leonardus Lessius, SJ
"Should Business Be Responsible for Employee Health Care?" Donald P. Condit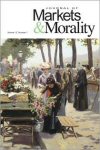 Journal of Markets & Morality, vol. 10, no. 1
Some of the articles include:
"Can Social Justice Be Achieved?" by Arnaud Pellissier Tanon and José Manuel Moreira
"On Exchanging Money (1499)" by Thomas De Vio Cardinal Cajetan
"The Claim for Secularization as a Contemporary Utopia" Jan Klos
"Ideas, Associations, and the Making of Good Cities" by Robert Driscoll

Journal of Markets & Morality, vol. 9, no. 2
Some of the articles include:
"Germany's Social Market Economy and the New Systems Competition" by Karl Farmer
"The Vision of Deuteronomy 15 with Regard to Poverty, Socialism, and Capitalism" by Andrew Schein
"The Importance of the Penultimate: Reformed Social Thought and the Contemporary Critiques of the Liberal Society" by David VanDrunen
"Corporate Welfare" by Jeanette Delery and Walter E. Block

Journal of Markets & Morality, vol. 9, no. 1
Some of the articles include:
"The Economics of Information Control" by Stephen J. Grabill
"The Dynamics of Faith-Based Policy Initiatives" by Gerson Moreno-Riano
"Tax and Theology" by Richard Teather
"Can Neoclassical Economics Handle a Scriptural View of Forgiveness?" by John N. Oswalt and Victor V. Claar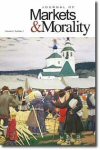 Journal of Markets & Morality, vol. 8, no. 2
Some of the articles include:
"The Digital Divide" by Stephen J. Grabill
"The 'Eschatological Principle' in Catholic Social Thought" by Mark Lowery
"The Universal Destination of Goods: The Ethics of Property in the Theory of a Christian Society" by Manfred Spieker
"What Bearing, If Any, Does the Christian Doctrine of Providence Have Upon the Operation of the Market Economy?" by Michael T. Dempsey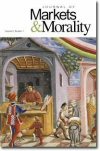 Journal of Markets & Morality, vol. 8, no. 1
Some of the articles include:
"Treatise on Money" by Luis de Molina, SJ
"Secular Fundamentalism and Democracy" by Richard Ekins
"What Profits for a Man to gain: Just (the) Price (of the Soul)" by Jude Chua Soo Meng
"Scholarly Journals and the Flow of Information" by Stephen J. Grabill

Journal of Markets & Morality, vol. 7, no. 2
Some of the articles include:
"A Biblical/Theological Case for Basic Sustenance for All" by Kent Van Til
"Christian Obligations: 'The Poor You Will Always Have with You'" by John Bolt
"The Influence of Kant on Christian Theology: A Debate about Human Dignity and Christian Personalism" by Derek S. Jeffreys
"Genovese Sermon" Albertanus of Brescia

Journal of Markets & Morality, vol. 7, no. 1
Some of the articles include:
"Separation of Food and State" by Mark Ahlseen
"A Sphere Around the Person: Antonio Rosmini on Property" by Alberto Mingardi
"Private Initiative, Entrepreneurship, and Business in the Teachings of Pius XII" Anthony G. Percy
"Commentary on the Resolution of Money" by Martín de Azpilcueta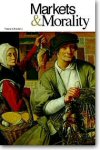 Journal of Markets & Morality, vol. 6, no. 2
Some of the articles include:
"Making Christianity Relevant to Economic Scholarship" by James Henderson and John Pisciotta
"The Economist, the Rabbis, and Crime" by Paul Knepper
"Is Adam Smith's Moral Philosophy an Adequate Foundation for the Market Economy?" by James Halteman
"Connections Between the Austrian School of Economics and Christian Faith: A Personalist Approach" by Paul A. Cleveland

Journal of Markets & Morality, vol. 6, no. 1
Some of the articles include:
"Civic Art and the City of God: Traditional Urban Design and Christian Evangelism" by Philip Bess
"Three Concepts for Political Liberty" by Kyle Swan
"To What Extent and in What Ways Should Government Bodies Regulate Urban Planning?" by Charles C. Bohl
"On the Law in General" by D. Hieronymus Zanchi

Journal of Markets & Morality, vol. 5, no. 2
Some of the articles include:
"A Treatise on the Alteration of Money" by Juan de Mariana, SJ
"Aquinas and Hayek on the Limits of Law: A Convergence of Ethical Traditions" by David VanDrunen
"Common Ground Between the Philosophies of Christianity and Libertarianism" by D. Eric Schansberg
"The Culture of Consumerism: A Catholic and Personalist Critique" by Eduardo J. Echeverria and Gregory R. Beabout

Journal of Markets & Morality, vol. 5, no. 1
Some of the articles include:
"A Century of Christian Social Thought" by Mark A. Noll
"Human Dignity, Personal Liberty: Themes from Abraham Kuyper and Leo XII" by Michael Novak
"Religious Freedom and Pluralism" by Avery Cardinal Dulles
"Calvinism, Catholicism, and the American Experiment: What is the Question?" by John Bolt

Journal of Markets & Morality, vol. 4, no. 2
Some of the articles include:
"Nature and Grace: The Theological Foundations of Jacques Maritain's Public Philosophy" by Eduardo J. Echeverria
"The Context of Economic Personalism" by Kevin E. Schmiesing
"The Concept of Transition" by Enrico Colombatto
"The Finn-Gronbacher Debate" by Gabriel J. Zanotti

Journal of Markets & Morality, vol. 4, no. 1
Some of the articles include:
"Would the Absence of Copyright Laws Significantly Affect the Quality and Quantity of Literary Output?" by Julio H. Cole
"Does Morality Hamper the Market Process? A Reappraisal of the Mises Thesis" by David L. Prychitko and Scott A. Beaulier
"The Moral Dimensions of Poverty, Entitlements, and Theft" by Walter E. Block
"Morality and Character Development: The Roles of Capitalism, Commerce, and Corporation" by Edward W. Younkins

Journal of Markets & Morality, vol. 3, no. 2
Some of the articles include:
"Environmental Theology: A Judeo-Christian Defense" by Peter J. Hill
"Human Rights and the Rights of Nature" by Thomas Sieger Derr
"Are Strong Protections of Private Property Rights Necessary for Species Preservation?" by Frederick W. Krueger
"Liberty and the Place of Man in Nature" by William C. Dennis

Journal of Markets & Morality, vol. 3, no. 1
Some of the articles include:
"Christian Ethics and the Teaching of Introductory Economics" by John E. Stapleford
"Grand Theft Auto: The Immorality of Business Subsidies" by Paul A. Cleveland
"Do Corporations Have Any Responsibility Beyond Making a Profit?" by Norman P. Barry
"Language, Self, and Business Ethics" by Raymond N. MacKenzie

Journal of Markets & Morality, vol. 2, no. 2
Some of the articles include:
"T. S. Eliot's Neo-Medieval Economics" by Michael R. Stevens
"Do Market Economies Allocate Resources Optimally?" by Dwight D. Murphey
"The Ethics of Capitalism" by Jesús Huerta de Soto
"What Is a 'Just Price'?" by Christian Michel

Journal of Markets & Morality, vol. 2, no. 1
Some of the articles include:
"Does the Free Market Undermine Culture?" by D. Eric Schansberg
"Toward the Definition of Economic Rights" by Carmine Gorga
"A Short History of Economics As a Moral Science" by James E. Alvey
"Liberty and the Virtue of Prudence: A Catholic Perspective" by Todd R. Flanders

Journal of Markets & Morality, vol. 1, no. 2
Some of the articles include:
"The Necessity of Free Trade" by Walter E. Block
"Is Economics a Moral Science?" by Ricardo F. Crespo
"Economic Religion Versus Christian Values" by Robert H. Nelson
"Truth in Economic Subjectivism" by Gloria L. Zúniga

Journal of Markets & Morality, vol. 1, no. 1
Some of the articles include:
"Abraham Kuyper and the Holland-America Line of Liberty" by John Bolt
"Matrimony and Microeconomics: A Critique of Becker's Analysis of Marriage" by Christopher Westley
"The Need for Economic Personalism" by Gregory M. A. Gronbacher
"Are Antitrust Laws Immoral?" by Jeffrey Tucker
Product Details
Title: Journal of Markets & Morality
Publisher: Acton Institute
Volumes: 15
Issues: 30