Kommentar zum Neuen Testament aus Talmud und Midrasch (3 Bände)
Kommentar zum Neuen Testament aus Talmud und Midrasch (3 Bände)
•
Runs on Windows, Mac and mobile.
Übersicht
Der Kommentar zum Neuen Testament aus Talmud und Midrasch entstand aus einer einzigartigen Zusammenarbeit zwischen Hermann Strack und Paul Billerbeck. Strack und Billerbeck sammelten für diesen Kommentar schier endlose Quellen aus Talmud und Midrasch und erstellten damit eine umfassende Analyse des Glaubens, Lebens und der Praktiken der Juden zur Zeit Jesu und des Urchristentums. Strack und Billerbeck durchkämmen im Verlaufe der Bücher dabei jeden einzelnen Vers des Neuen Testaments und verweisen auf eine Vielzahl von Stellen in Talmud und Midrasch um darzulegen, wie diese die Meinungen von Experten geformt hätten. Darüber hinaus jedoch gehen sie auch noch einen Schritt weiter und gehen darauf ein, wie die Lehre aus diesen Quellen über Jahrhunderten auch die Interpretation von Versen und Abschnitten beeinflusst hat.
Auch wenn sich seit den 1920er Jahre viele Autoren mit dem gleichen Thema beschäftigt haben, so kommt ihm jedoch keines dieser Werke auch nur annähernd nahe. Strack-Billerbeck ist noch immer der Gradmesser in seinem Feld.
Die Logos Edition der Kommentar zum Neuen Testament aus Talmud und Midrasch stattet Sie mit innovativen Werkzeugen und Eigenschaften aus, welche Sie bei Ihrem Bibelstudium unterstützen. Verweise verlinken Sie direkt mit Übersetzungen und originalsprachlichen Texten und wichtige Begriffe sind direkt mit Wörterbüchern, Enzyklopädien und einer Vielzahl weiterer Ressourcen in Ihrer digitalen Bibliothek verlinkt. Der Themen-Leitfaden erlaubt es Ihnen, leistungsstarke Suchanfragen durchzuführen, um mit einem Klick relevante Bibelstellen und Verweise in anderen Werken zu finden. Tablet und Mobiltelefon Apps erlauben es Ihnen, die Diskussion mit sich zu bringen. Mit Hilfe von Logos Bibelsoftware finden sie die effizientesten und umfassendsten Forschungswerkzeuge in einem Programm, was es Ihnen erlaubt Ihr Bibelstudium auf eine neue Ebene zu heben.
Overview
The product of a collaboration between Hermann Strack and Paul Billerbeck, Kommentar zum Neuen Testament aus Talmud und Midrasch is truly one of a kind. Strack and Billerbeck painstakingly gathered materials from the Talmud and Midrash that help explain the faith, perspectives, and practices of the Jews during the life of Christ and the period of the early church. Going through each New Testament book verse by verse, Strack and Billerbeck reference passages from the Midrash and the Talmud to show not only how they informed the opinions of the experts in the audience, but how centuries of teaching from those sources would have informed the popular understanding of what was being said or done in a particular verse or section.
Though much work has been done on Second-Temple Judaism since Strack and Billerbeck published this work, nothing has come close to replacing it. It is the seminal and standard reference work in this area of research. If you want to learn about the Jewish worldview at the time of Christ, you must have Kommentar zum Neuen Testament aus Talmud und Midrash in your library.
The Logos edition of Kommentar zum Neuen Testament aus Talmud und Midrasch is completely indexed, giving near-instant access to any word or reference. The Scripture references are linked to your preferred Bible translation and appear on mouseover. Greek, Latin, and Hebrew words link to the language tools in your library, allowing you to access basic lexical information with a simple right-click.
These volumes are in their original German and are parallel to our soon-to-come English translations. Check out our original translation for the Kommentar zum Neuen Testament aus Talmud und Midrasch .
Hauptmerkmale
Erlaubt einen umfassenden Einblick in frühchristliche Literatur
Erörtert den Einfluss spätjüdischer Literatur auf das Christentum
Skizziert die Entwicklung des frühen Christentums
Key Features
Presents commentary-style collection of Rabbinic literature related to the New Testament
Discusses the influence of late Jewish literature on Christianity
Includes an extensive index and an introduction by the authors
Produktdetails / Product Details
Titel / Title: Kommentar zum Neuen Testament aus Talmud und Midrasch
Autoren / Authors: Hermann Strack and Paul Billerbeck
Publisher: C. H. Beck
Bände / Volumes: 3
Seiten / Pages: 2,835
Sprache / Language: Deutsch
Ressourcentyp / Resource Type: Commentaries
Thema / Topic: Biblical Studies; Talmud; Midrash
Einzelbände / Individual Titles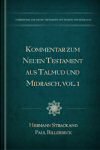 Band eins enthält das Evangelium nach Matthäus.
Volume 1 contains commentary on the Gospel of Matthew.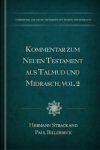 Band 2 beinhaltet die Evangelien nach Markus, Lukas und Johannes und die Apostelgeschichte.
Volume 2 contains commentary on the Gospel of Mark, the Gospel of Luke, the Gospel of John, and the Acts of the Apostles.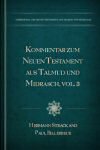 Band drei beinhaltet die Römerbriefe bis zur Offenbarung.
Volume 3 contains commentary on Romans through Revelation.
Über die Autoren
Hermann Strack (1848–1922) war ein deutscher Theologe, der sich im Rahmen seines Studiums, unter dem jüdischen Wissenschaftler Moritz Steinschneider, dem Studium des Talmud und rabbinischer Literatur widmete. Bereits zu Lebzeiten wurde er als der bedeutendste Wissenschaftler seiner Zeit in Bezug auf Christliche Fragen für diesen Bereich angesehen, was auch durch seine Berufung als außerordentlicher Professor der alttestamentlichen Exegese an der Universität Berlin offensichtlich wird. Im Jahr 1883 gründete Strack das Institutum Judaicum, dessen Ziel die Konversion der Juden zum Christentum war. In 1885 wurde er Herausgeber der Zeitung; Nathanael. Zeitschrift für die Arbeit der Evangelischen Kirche an Israel.
Paul Billerbeck (1853–1932) geboren am 4.April 1853 in Bad Schönfließ war deutscher evangelischer Pfarrer, Theologe und Judaist, der seine Ausbildung in Greifswald und Leipzig erhielt. Billerbeck war Pastor in Zielenzig und Heinerdorf und nahm darüber hinaus eine aktive Rolle in der Konvertierung von in Deutschland lebenden Juden ein.
About the Authors
Hermann Strack (1848–1922) was born in Berlin. He studied Talmudic and Rabbinic literature under the Jewish scholar Moritz Steinschneider. Most of Strack's contemporaries considered him the foremost Christian authority on Talmudic and Rabbinic literature. In 1883, Strack founded the Institutum Judaicm, an organization focused specifically on the conversion of Jews to Christianity. Two years later, he became editor of Nathanael. Zeitschrift für die Arbeit der Evangelischen Kirche an Israel. In 1877, Strack became the assistant professor of Old Testament exegesis and semitic languages at the University of Berlin.
Paul Billerbeck (1853–1932) was born in Bad Schönfliess on April 4, 1853. Before his retirement in 1914, Billerbeck served as a pastor in Zielenzig and Heinerdorf. Billerbeck was also heavily involved in missionary work in Berlin, where he was engaged in the evangelism of Jews living in Germany. Billerbeck was educated at Greifswald and Leipzig.
More details about this resource