Credo Magazine (6 issues)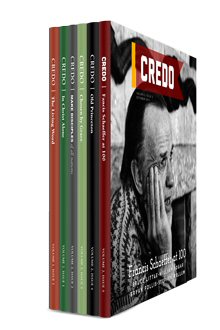 Overview
Credo is a digital magazine focused on teaching "what accords with sound doctrine" (Titus 2:1). It presents Gospel-centered articles, promotes the Gospel as defined by the solas of the Reformation, offers contributions from a diverse ecclesial background, and celebrates the doctrines that mark the Baptist tradition. Published quarterly, Credo Magazine provides articles from today's foremost pastors and scholars. It addresses vital Christian and pastoral issues, highlights monumental figures in church history, interviews emerging leaders, and reviews recent Christian literature.
The Logos version of Credo Magazine is designed to encourage and stimulate your study and understanding of the numerous topics studied in each issue. All Scripture passages link directly to your preferred Bible translations, and important theological concepts link to dictionaries, encyclopedias, and a wealth of other resources in your digital library. In addition, you can perform powerful searches by topic and find what other authors, scholars, and theologians have to say about B. B. Warfield, discipleship, grace, and much more.
Due to licensing restrictions, images are not included in this product.
Key Features
Examines contemporary issues from Evangelical, Reformational, and Baptistic points of view
Contains contributions from today's leading pastors and scholars
Reviews recently published works
Praise for the Print Edition
Credo Magazine is quickly becoming a wonderful go-to resource for up-to-date interviews, book reviews, and articles. It's really an embarrassment of riches.
—Justin Taylor, vice president of editorial, Crossway
This is undoubtedly the most beautiful . . . Christian magazine I've come across. Content is great too. It is a fine example of how to use technology for God's glory.
—David Murray, professor of Old Testament and practical theology, Puritan Reformed Theological Seminary
Product Details
Title: Credo Magazine (6 issues)
Editor: Matthew Barrett
Publisher: Credo Magazine
Volumes: 6
Pages: 463
About Matthew Barrett
Matthew Barrett (PhD, The Southern Baptist Theological Seminary) is an assistant professor of Christian studies at California Baptist University (OPS). He is also the founder and executive editor of Credo Magazine. Barrett has contributed book reviews and articles to various academic journals, and he is the editor of Whomever He Wills: A Surprising Display of Sovereign Mercy, as well as the author of several forthcoming books.