Baker Academic Biblical Hebrew Collection (2 vols.)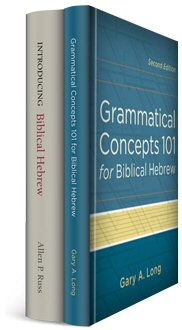 Baker Academic Biblical Hebrew Collection (2 vols.)
•
Runs on Windows, Mac and mobile.
Overview
The Baker Academic Biblical Hebrew Collection presents two volumes on introductory biblical Hebrew. Using passages from Genesis as a reference guide, Introducing Biblical Hebrew studies Hebrew signs, sounds, forms, meanings, texts, and contexts. Grammatical Concepts 101 for Biblical Hebrew incorporates English and Hebrew grammar to illustrate Hebrew voice, tense, aspect, mood, participles, adjectives, adverbs, independent and dependent clauses, and more. Thorough and comprehensive, yet easy-to-understand, these volumes are perfect for the beginning Hebrew student.
With the Logos edition, you get easy access to Scripture texts and to a wealth of other resources in your digital library. Hovering over Scripture references links you instantly to the verse you're looking for, and with Passage Guides, Word Studies, the Bible Sense Lexicon, and a wealth of other tools from Logos, you can delve into Hebrew like never before!
Key Features
Introductory volumes on biblical Hebrew
Numerous grammar-study aids
Practical yet thorough scholarship
Product Details
Title: Baker Academic Biblical Hebrew Collection
Publisher: Baker Academic
Volumes: 2
Pages: 816
This first-year grammar has grown out of the author's experience in teaching Hebrew to seminary students for over 30 years. Through those many years of classroom use, Dr. Ross has developed and refined his explanations, exercises, and examples to provide students with an effective introduction to biblical Hebrew.
In addition to traditional deductive methods and exercises, Introducing Biblical Hebrew includes inductive sections that provide practical translation experience as the student works through passages from the Book of Genesis. In addition, there are well-paced vocabulary and grammar exercises and practical guides to the more technical features of the Hebrew Bible.
First-year Hebrew students in Bible college, seminary, Christian college, or a university setting will find Introducing Biblical Hebrew to be one of the most useful and balanced textbooks available.
In my opinion, this newly published biblical Hebrew teaching grammar by Allen Ross will become a widely used standard in the field. It has been tested for years in the classroom. It is comprehensive and thorough while at the same time well arranged and pedagogically effective for classroom use. This is a welcome addition to our resources for teaching and learning biblical Hebrew.
—Richard E. Averbeck, professor of Old Testament and Semetic languages, Trinity Evangelical Divinity School
Ross is to be commended for providing first-year Hebrew students with a very user-friendly grammar. Learning biblical Hebrew can be an imposing and frightening challenge, but Ross has done a nice job of making the technicalities of the language understandable. . . . This grammar certainly has a potential to supplant others (e.g. Seow, Kelley) in the field and establish itself as the best of its kind.
—Robert Chisholm, professor of Old Testament, Dallas Theological Seminary
Dr. Ross has given teachers and students an absolutely superb textbook introducing Biblical Hebrew grammar. The grammar is crystal clear, paradoxically concise and copious, and most helpfully creative. This experienced professor covers every important aspect of the Hebrew text, including the Masoretic accents and para-textual phenomena, and the critical apparatus at the bottom of the page. He introduces the student to the weak verb by the mechanical parsing method, which is the only way a beginning student can master their complex paradigms. His syntactic analysis is sufficient, and his excellent exercises reinforce the learned material. Everything is presented in a lucid and balanced way.
—Bruce Waltke, distinguished professor of Old Testament, Regent College
Like so many Hebrew textbooks, this one is the product of several years of teaching the language to graduate students. In it, an introductory section that addresses the signs and sounds of the language is followed by an extensive study of nouns, adjectives, pronominals, and verbs. The author also treats various characteristics of the language such as Masoretic pointing, parallelism, and various literary constructions. The chapters are relatively short yet clearly written, enabling the student to learn the material gradually. There are several exceptional study aids at the end of the book that will facilitate this learning. . . . This is a fine tool.
—The Bible Today
Hammered out in scores of classrooms and many years in the making, Ross' Hebrew grammar is at last available to the wider public. This book is thoroughly up-to-date, well informed, and lavishly supplied with practical exercises and other features that are certain to enhance the learning process. . . . Ross and the publisher are to be applauded for a well-conceived, well-executed, and user-friendly tool that is certain to find broad acceptance and usage. Those who have waited long to see it are particularly gratified that this fine work is now available to the larger community.
—Bibliotheca Sacra

Grammatical Concepts 101 for Biblical Hebrew
Author: Gary A. Long
Edition: 2nd
Publisher: Baker Academic
Publication Date: 2013
Pages: 240
In this revised edition of a proven resource, a recognized expert in biblical Hebrew provides a readable, linguistically savvy guide to navigating basic grammatical concepts. Designed to complement any standard Hebrew grammar, the book revisits English grammar in order to teach concepts that are especially relevant to Hebrew. Each chapter focuses on an individual concept, first explaining how it works in English, then illustrating it in biblical Hebrew. Abundant English and Hebrew examples illustrate each concept, most of them visually analyzed. The book's clear design and attractive layout will appeal to visual learners.
In the real world of language pedagogy, where students' knowledge of English grammar is patchy at best, this volume is a crucial counterpart to textbooks of biblical Hebrew. Lucid and accessible explanations of grammatical concepts and terms provide students with the framework they need to understand language structures. Armed with this deeper appreciation of English grammar, students will be better prepared to think about the structures of biblical Hebrew.
—Cynthia L. Miller-Naudé, senior professor, University of the Free State, South Africa
Grammatical Concepts 101 for Biblical Hebrew has long been my go-to resource for both undergraduate and graduate students who want to see how the grammar of Hebrew compares to English. Dr. Long does not err by explaining Hebrew in light of English; rather, he skillfully compares the two languages, all the while maintaining and explaining their distinct properties. His work provides a truly helpful conceptual bridge between the two different grammatical systems. All Hebrew teachers should have this volume close at hand for easy reference to students; most teachers should assign it as a supplemental textbook.
—Robert Holmstedt, associate professor of Near and Middle Eastern civilizations, University of Toronto
Intended as a supplement to standard Hebrew grammars, the book uses concepts in English to explain aspects of Hebrew. . . . Basing the explanation of Hebrew on comparable elements for English, pointing out the similarities and differences, is a very helpful way of enhancing the study of this significantly different language.
—The Bible Today
Those involved with teaching Hebrew have of necessity already been doing what Gary Long has done. However, he has systematized, clarified, and facilitated the process and has thus rendered a great service to Hebrew language students and instructors everywhere.
—Calvin Theological Journal
This study book wisely explains grammatical concepts first in English and then in Hebrew.
—International Review of Biblical Studies
Gary A. Long (PhD, University of Chicago) is professor of biblical and theological studies at Bethel University in St. Paul, Minnesota.
More details about these resources