Spurgeon Sermon Upgrade Collection (2 vols.)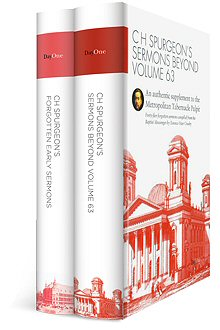 Overview
Charles Haddon Spurgeon, known as the "Prince of Preachers," was one of the most influential preachers of the nineteenth century. His writings and messages are considered among the best in Christian literature. This collection contains 45 sermons that were meant to be published in volume 63/64 of the Metropolitan Tabernacle Pulpit. Publication was halted due to a lack of materials as a result of the First World War. The collection also reintroduces 28 sermons from Spurgeon's early years preaching at New Park Street.
Logos Bible Software dramatically improves the value of this resource by enabling you to find what you're looking for instantly and with remarkable precision. Scripture references link to the original language texts or to your preferred Bible translation. You can perform powerful searches by topic or Scripture reference—finding, for example, every mention of "glory" or "Nehemiah 4:18." The Spurgeon Sermon Upgrade Collection is a must-have for pastors, teachers, and anyone else interested in studying the church's most important preacher and most prolific writer.
Key Features
Contains 73 sermons from Spurgeon's pastorates at New Park Street and Metropolitan Tabernacle
Provides rare early material
Product Details
Title: Spurgeon Sermon Upgrade Collection
Authors: Charles Haddon Spurgeon and Terence Peter Crosby
Publisher: Day One
Volumes: 2
Pages: 960
Collection Details

Here are 45 sermons which were awaiting publication in the Metropolitan Tabernacle Pulpit when it came to an abrupt end in 1917. The 63 volumes and 3,563 sermons of Spurgeon's New Park Street and Metropolitan Tabernacle pulpits were a remarkable achievement, and it was only on account of the shortage of paper and metal caused by the First World War that publication ceased on May 10, 1917.
Many hundreds of sermons were ready and waiting for their weekly publication and notices in the last two sermons indicated that it was the intention to resume publication once peace had been restored. However, only 20 hitherto unpublished sermons were to appear in 1922 in a volume entitled Able to the Uttermost.
This volume brings to light the sermons which probably would have appeared in the remainder of volume 63 and at the start of volume 64 of the Metropolitan Tabernacle Pulpit, sermons which originally appeared only in magazine format from 1877 to 1881.
The fact that so many of Spurgeon's messages have remained unpublished long after any paper shortage hindered the work is a decades-long travesty, and I'm thrilled Terence Crosby and Day One are beginning to remedy it. The volume you hold in your hands is the first full-length supplement to the Metropolitan Tabernacle Pulpit since my great-grandfather's era, and I am delighted to have it finally for my shelves.
—Phil Johnson, lay pastor, Grace Community Church, Sun Valley, CA
Lovers of Spurgeon's preaching have always had a special affection for the sermons of his New Park Street years, with their youthful vibrancy and freshness. But, when compared with their more numerous Metropolitan Tabernacle successors, a far lower percentage of these actually reached publication. Of the sermons preached mostly on Sundays and Thursdays, an average of roughly 105 per year are extant for the 30 years of his Metropolitan Tabernacle ministry, but an average of only about 70 per year for his seven New Park Street years. The purpose of this volume is to reintroduce some 28 of these early gems which appeared only in The Sword and the Trowel, all but one after his death.
About the Authors
Charles Spurgeon (1834–1892) was born in Kelvedon, Essex, England on June 19, 1834. He converted to Christianity in 1850 at a small Methodist chapel, to which he detoured during a snowstorm. While there, he heard a sermon on Isaiah 45:22 and was saved—"Look unto me, and be ye saved, all the ends of the earth, for I am God, and there is none else." He began his own ministry of preaching and teaching immediately, and preached more than 500 sermons by the age of twenty.
In 1854, at nineteen years of age, Spurgeon began preaching at the New Park Street Chapel in London. He was appointed to a six-month trial position, which he requested be cut to three months should the congregation dislike his preaching. He gained instant fame, however, and the church grew from 232 members to more than 5,000 at the end of his pastorate. Many of his sermons were published each week and regularly sold more than 25,000 copies in twenty languages. Throughout his ministry, Spurgeon estimated that he preached to more than 10,000,000 people. Dwight L. Moody was deeply influenced by Spurgeon's preaching, and founded the Moody Bible Institute after seeing Spurgeon's work at the Pastor's College in London.
Spurgeon read six books per week during his adult life, and read Pilgrim's Progress more than 100 times. In addition to his studying and preaching, Spurgeon also founded the Pastor's College (now Spurgeon's College), various orphanages and schools, mission chapels, and numerous other social institutions.
Charles Spurgeon suffered from poor health throughout his life. He died on January 31, 1892, and was buried in London.
Terence Peter Crosby was, for some time, secretary of the Evangelical Library, London. He lives in south London with his wife, Daphne. As well as compiling other volumes of readings from Spurgeon's works, he is also author of My Book of Hobbies and God's Book, the Bible.