Paul and the Faithfulness of God (2 vols.)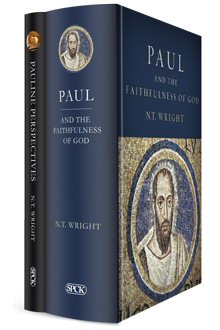 Overview
We're pleased to announce the upcoming release of Wright's magnum opus on Paul, and the fourth part of the Christian Origins and the Question of God series.
As an important scholar of the New Testament and a prolific author and lecturer, N.T. Wright's books have been highly influential in the study of Jesus, the resurrection, and early Christianity.
Now, in the much-anticipated fourth part of the series, Wright explores Paul's worldview and theology in light of Second Temple Judaism. He also summarizes and explains all the key areas of debate in contemporary Pauline studies and compiles his most important and influential articles on Paul over the last 30 years.
This collection is essential reading for anyone with a serious interest in Paul and his continuing relevance for today. Logos Bible Software dramatically improves the value of the collection by enabling you to find what you're looking for with unparalleled speed and precision. The Logos edition is fully searchable and easily accessible. Scripture passages link directly to your preferred English translation and to the original language texts, and important theological concepts link to dictionaries, encyclopedias, and a wealth of resources in your digital library.
Key Features
A comprehensive engagement with Paul and his writings from one of the foremost Pauline scholars
A survey of the major contributors to the study of Paul's letters since the Enlightenment
A collection of important articles on Paul that span Wright's career
An overview of Wright's contributions to Pauline studies and the "new perspective" on Paul
Praise for N. T. Wright's Christian Origins series
The sweep of Wright's project as a whole is breathtaking. It is impossible to give a fair assessment of his achievement without sounding grandiose: no New Testament scholar since Bultmann has even attempted—let alone achieved—such an innovative and comprehensive account of New Testament history and theology.
—Richard B. Hays, George Washington Ivey Professor of New Testament, Duke Divinity School
Eminently accessible to students, scholars will find it interesting and provocative. It deserves a place of privilege on the bookshelf of any serious student of the New Testament.
—Jack Dean Kingsbury, Union Presbyterian Seminary
Product Details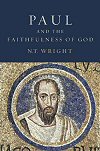 Paul and the Faithfulness of God (2 parts)
Author: N.T. Wright
Publisher: Fortress Press
Publication Date: 2013
Pages: 1,700
This highly anticipated two-part fourth volume in N.T. Wright's magisterial series, Christian Origins and the Question of God, is destined to become the standard reference point on the subject for all serious students of the Bible and theology. The mature summation of a lifetime's study, this landmark volume pays a rich tribute to the breadth and depth of the apostle's vision, and offers an unparalleled wealth of detailed insights into his life, times, and enduring impact.
Wright carefully explores the whole context of Paul's thought and activity—Jewish, Greek, and Roman, cultural, philosophical, religious, and imperial—and shows how the apostle's worldview and theology enabled him to engage with the many-sided complexities of first-century life that his churches were facing. Wright also provides close and illuminating readings of the letters and other primary sources, along with critical insights into the major twists and turns of exegetical and theological debate in the vast secondary literature. The result is a rounded and profoundly compelling account of the man who became the world's first, and greatest, Christian theologian.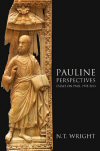 Pauline Perspectives: Essays on Paul 1978–2013
Author: N.T. Wright
Publisher: Fortress Press
Publication Date: 2013
Pages: 864
This companion volume to Paul and the Faithfulness of God and Paul and His Recent Interpreters brings together N.T. Wright's most important articles on Paul and his letters over the last three decades. The book begins with Wright's auspicious essay of 1978, when as a young, aspiring scholar, he gave the annual Tyndale lecture in Cambridge, and proposed, for the first time, "a new perspective" on Pauline theology. The book ends with an expanded version of a paper he gave in Leuven in 2012, when as a seasoned scholar at the height of his powers, he explored the foundational role of Abraham in Romans and Galatians. In all, the 33 articles published here provide a rich feast for all students of Paul, both seasoned and aspiring. Each one will amply reward those looking for detailed, incisive, and exquisitely nuanced exegesis, resulting in a clearer, deeper, and more informed appreciation of Paul's great theological achievement.
About N. T. Wright
More details about these resources