The J. D. Jones Collection (23 vols.)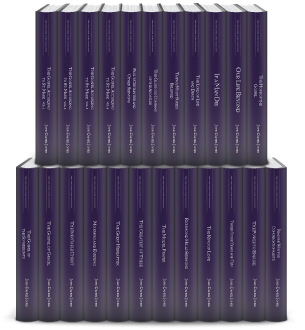 Overview
"That is the church's business—to preach the Christ who died upon that Cross to reconcile men to God and to reconcile them to one another. Language divides, nationalism divides, political allegiance divides, trade interests divide—but Jesus Christ unites. In a common love to Him, men learn to love one another." Earning the nickname "Archbishop of Congregationalism," J. D. Jones was one of England's most popular preachers at the turn of the century. Although he traveled the world and preached alongside friends such as D. L. Moody and P. T. Forsyth, Jones remained a minister at his Richmond Hill Church for almost 40 years. It is at that pulpit where the bulk of his most popular sermons were delivered.
The J. D. Jones Collection contains over 20 of his most important works, including his most popular sermon collections Paul's Certainties, The Glorious Company of the Apostles, If a Man Die, The Hope of the Gospel, Richmond Hill Sermons, and more. It also contains his highly-lauded four-volume devotional commentary The Gospel According to St. Mark—a commentary which the Bible reader can take up day-by-day and find that it aids him in applying the words of Holy Scripture to the needs of his own personal character and life.
With the Logos Bible Software edition all Scripture passages in The John Daniel Jones Collection (23 vols.) are tagged and appear on mouse-over. This makes these resources more powerful and easier to access than ever before for scholarly work or personal Bible study. With the advanced search features of Logos Bible Software, you can perform lightning-quick searches by topic or Scripture reference—finding, for example, every mention of "grace" or "Matthew 28:19–20."
Key Features
Over 200 sermons from J. D. Jones
Jones' four-volume commentary The Gospel According to St. Mark
Completely searchable content linked to the other resources in your Logos library
Product Details
Title: The J. D. Jones Collection
Author: J. D. Jones
Volumes: 23
Pages: 5,361
About J. D. Jones
John Daniel Jones (1865–1942) was a Congregational minister, preacher, and popular author. He earned his MA from Owen's College, Manchester, and his BD from St. Andrews in 1889. He was later awarded honorary DD degrees from the universities of St. Andrews, Manchester, and Wales. In 1888 he became minister of Richmond Hill Church, Bournemouth, where he remained until his retirement. It was from that pulpit where most of his popular sermons were delivered and where he earned the nickname "Archbishop of Congregationalism." His church at Richmond Hill was considered to be one of the most renowned of nonconformist congregations in the whole country of England.