Colin E. Gunton Theology Collection (6 vols.)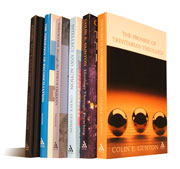 Colin E. Gunton Theology Collection (6 vols.)
•
Runs on Windows, Mac and mobile.
Overview
Colin E. Gunton was one of the most distinctive and influential voices in British theology. His works have been widely-acclaimed for their penetrating treatment of Christian doctrines (most notably that of the Trinity), and sharp criticism of modernity and its intellectual fallout. Throughout his many works, he maintains a commitment to classical Christian theology and a joyful enthusiasm for fruits of academic inquiry.
The Colin E. Gunton Theology Collection gathers much of this fruit together. Through these six volumes, Gunton's keen intellect reflects upon such principal theological concerns as the Christian sacraments, Christology, faith, atonement, creation, and the church. The Trinity, as well, is given ample attention as Gunton meditates on these and other paramount issues in Christian doctrine.
Included also is The Theology of Reconciliation, a collection of essays edited by Gunton on the nature of reconciliation throughout several spheres of Christian life and belief. The volume features essays from leading theologians from America and Europe, and Gunton himself contributes the introduction and closing essay.
Product Details
Title: Colin E. Gunton Theology Collection (6 vols.)
Author: Colin E. Gunton
Publisher: T&T Clark
Volumes: 6
Pages: 1,380
About Colin E. Gunton
Colin E. Gunton (1941-2003) was professor of systematic theology at King's College, London from 1969 until his death. He was appointed professor of theology in 1984 and then served as Head of the Department of Theology & Religious Studies from 1993-96. In 1992 Gunton delivered the Bampton Lectures at the University of Oxford and in 1993 delivered the Warfield Lectures at Princeton Theological Seminary. Together with John Webster, Gunton co-founded the International Journal of Systematic Theology.
Gunton is often cited as one of the most important British theologians of his generation. Just before his death, he was awarded the earned D. D. by the University of Oxford, where he had taken his three previous degrees. Also just before his death, King's College had decided to make him a fellow of the college, its highest honor, which was then awarded posthumously.
More details about these resources