Hearts Aflame Scripture Study: Genesis (2 vols.)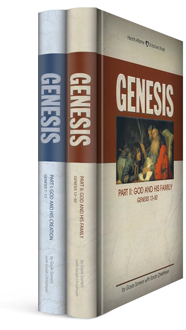 Hearts Aflame Scripture Study: Genesis (2 vols.)
•
Runs on Windows, Mac and mobile.
Overview
Hearts Aflame Scripture Study approaches Scripture not as a textbook, but as a living encounter with God. With vivid commentary, memory verses, and a detailed leader's guide to all lesson questions, this program is welcoming to beginners, young adults, Catholics and non-Catholics alike. This series blends the advantages of in-depth inductive Bible study with the richness of Catholic teaching.
In this two-volume study of Genesis you will encounter the infinitely tender love of God for humanity and observe his relentless initiative to do whatever it takes for men and women to know and love him as he originally intended—demonstrating that nothing will impede God's plan for his creation.
Come to understand Jesus and the Gospel better by the study of Genesis. See how the Catholic Church has taken seriously every word of truth in this book and enables us to remain connected to God's original design for his creation. Get ready to be amazed!
With the Logos digital edition of these volumes, you'll connect to Scripture like never before! Scripture verses appear on mouseover, and references to other books—such as to Church documents, early Church fathers, and to the Catechism of the Catholic Church—will link directly to their sources. With the interconnectivity of the Logos ecosystem, you'll have access to limitless research right at your fingertips.
Key Features
Contains thought-provoking commentary notes on Genesis
Explores Catholic teachings through studying Genesis
Includes a leader's guide for group discussion
Praise for the Print Edition
A profoundly beautiful and personal approach to Catholic Scripture study! Gayle Somers and Sarah Christmyer use the 'scripture study' that took place on the road to Emmaus as their inspiration and paradigm—and the result is a study of Genesis that is deeply rooted in our own Catholic life and Tradition, causing us to yearn for deeper communion with Jesus Christ in his Word and in his sacraments. This Bible study has that unique capacity to engage the beginner as well as those more experienced in Scripture study. The authors provide insightful, well-reasoned commentary as well as engaging study and reflection questions—necessary ingredients in any effective set of materials for parish catechesis.
—James Pauley, professor of catechetics, Franciscan University, Steubenville
There is a new and exciting development in the Catholic Church! Bible study is blossoming and the cry for good study materials is rising. . . . excellent Scripture study guides are appearing just as fast. This book is one such treasure, taking us back to the beginning and uncovering the deepest roots of the Christian faith and the Catholic Church. Gayle Somers and Sarah Christmyer take what is ancient and make it live before your eyes—making what is deeply theological useful for your daily walk with God.
—Steve Ray, author, St. John's Gospel, Upon This Rock, and Crossing the Tiber
Individual Titles

A natural starting point for Bible study, Genesis, Part I: God and His Creation debunks theories claiming that the Book of Genesis is only ancient history or even a myth. Ten lessons explore how chapters 1–11 of Genesis are a "blueprint for the rest of salvation history," covering themes of temptation, sin, grace, redemption, human sexuality, family, and covenant. Memory verses and study questions make each lesson easy to follow and applicable to everyday life. A comprehensive leader's guide assists readers in their responses to lesson questions, especially if encountering new or unfamiliar concepts—making Genesis ideal for customizing group Bible study to individual participants.

Saint Paul tells us to walk in the faith of our father Abraham (Rom. 4:12). Upon what is that faith founded and in what does it consist? What can we learn from Isaac and Jacob, whom the Book of Hebrews calls "heirs of the promise" (Heb 11:9)? Genesis II: God and His Family explores chapters 12–50 of Genesis, uncovering the rich details of the life of Abraham and the history of Abraham's descendants, the very human family through whom God promised to eventually right all that had gone wrong in creation.
Product Details
Title: Hearts Aflame Scripture Study: Genesis
Authors: Gayle Somers and Sarah Christmyer
Series: Hearts Aflame Scripture Study
Publisher: Emmaus Road Publishing
Volumes: 2
Pages: 332
About the Authors
Gayle Somers received her BA in history from the University of New Orleans, and a MA in theological studies from the Gordon-Conwell Theological Seminary. She is the author of Galatians: A New Kind of Freedom Defended, and has written numerous Bible studies for Catholic Exchange, a Catholic Web site apostolate.
Sarah Christmyer helped launch Catholic Scripture Study for Catholic Exchange and is managing editor of The Great Adventure Bible Timeline program, developed by Jeff Cavins.
More details about these resources