An Introduction to the Old Testament in Greek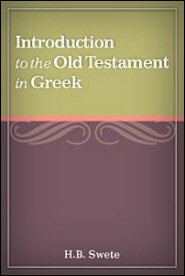 An Introduction to the Old Testament in Greek
•
Runs on Windows, Mac and mobile.
Overview
Henry Barclay Swete, editor of the shorter Cambridge Septuagint, has provided in An Introduction to the Old Testament in Greek a vast amount of information about the Greek translation of the Old Testament (also known as the LXX). Chapters cover the different versions and their manuscripts in detail, survey the contents and organization of the books and discuss their relationship to the Hebrew Bible, and demonstrate the importance of the LXX in later writings, such as the New Testament, the Church Fathers, and other Christian writings. There are also extended discussions about the language of the Septuagint.
With Logos Bible Software, this volume is completely searchable, with passages of Scripture appearing on mouseover, as well as being linked to your favorite Bible translation in your library. This makes this text more powerful and easier to access than ever before for scholarly work or personal Bible study. With the advanced search features of Logos Bible Software, you can perform powerful searches by topic or Scripture reference.
Key Features
Prefaces to the first and second editions
Appendix containing "The Letter of Aristeas" in Greek
Bibliographical references and indexes
Product Details
Title: An Introduction to the Old Testament in Greek
Author: Henry Barclay Swete
Publisher: Cambridge University Press
Publication Date: 1914
Pages: 626
About Henry Barclay Swete
Henry Barclay Swete was an Anglican scholar and theological professor. As B. F. Westcott's successor, Swete served in the Regius Professorship of Divinity at Cambridge University for over 25 years.
More details about these resources