The Works of Richard Chenevix Trench (30 vols.)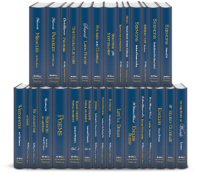 The Works of Richard Chenevix Trench (30 vols.)
•
Runs on Windows, Mac and mobile.
$40.00
Reg.: $497.99
Print: $535.20
* Projected price. Future bids may change this price.
Place Your Bid!
Click on the highest price you'd pay. If the final price is lower, that's what you'll pay.
Overview
The writings of famous nineteenth-century Irish poet and Anglican archbishop Richard Chenevix Trench have been collected into this indispensable bundle for Logos! Containing everything from his preaching and theological works to his poetry and lexicology, the Works of Richard Chenevix Trench is a collection unique to Logos Bible Software. Enhance your study through Trench's unique insight as a linguist and semanticist in his commentaries on Scripture, and through his religious poetry explore his heartfelt response to the gospel invitation.
Renowned as a poet, teacher, and archbishop, Trench was famed for his early work studying the English language, for his unmatched knowledge of church history, and for his love for preaching. This collection contains just over one hundred lectures and sermons, dozens of studies of Scripture, over one hundred of his poems (including drafts and unpublished poems), hundreds of religious and secular creative works translated and annotated by Trench, and his works developing writing and publishing standards for the English language.
The digital Logos editions of these volumes give you unprecedented ability to perform research by bringing your whole library into the fold, hyperlinking Bible verses to your preferred translation and linking cross-references to the resources already in your digital library. Perform thorough searches instantly, finding everything Trench has to say on "Tertullian" or "elegiac poem."
Key Features
Amazing resources for researching classical and ancient Christian poetry in English, Latin, and Greek
Sermons, lectures, and expositions inspired deeply by Augustine, Tertullian, Ambrose, and other classical Christian thinkers
Profound knowledge of the church's history in Europe
Perfect for researching late Victorian philology, especially in relation to the Bible
Product Details
Title: The Works of Richard Chenevix Trench
Author: Richard Chenevix Trench
Volumes: 30
Pages: 7,684
Individual Titles