Baker Academic New Testament Bundle (56 vols.)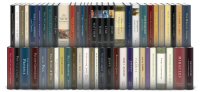 Baker Academic New Testament Bundle (56 vols.)
•
For the most recent version of this bundle, see here.
Overview
The Baker Academic New Testament Bundle contains 56 volumes of recent, in-depth New Testament commentary and research. The bundle comprises four collections:
This collection provides insight into the historical, cultural, social, religious, literary, and theological contexts surrounding the New Testament. It includes contributions from respected contemporary scholars and theologians, including Craig S. Keener, Michael F. Bird, Darrell L. Bock, Gordon D. Fee, and others. The collection analyzes New Testament interpretation methods, explores the key characters and themes surrounding the text, and uncovers the New Testament's relevance to twenty-first-century living. The Baker Academic New Testament Bundle is perfect if you're interested in the most pressing New Testament topics, including Christology, hermeneutics, and Pauline studies.
The Logos Bible Software edition of the Baker Academic New Testament Bundle is designed to encourage and stimulate your study and understanding of the Bible. Scripture passages link directly to your English translations and original-language texts, and important theological concepts link to dictionaries, encyclopedias, and a wealth of other resources in your digital library. In addition, you can perform powerful searches by topic and find what other authors, scholars, and theologians have to say about the New Testament.
Key Features
Extensive background studies on New Testament times and culture
Interpretation and exegesis of the New Testament texts
Insight into the lives and thought of key New Testament figures
Product Details
Title: Baker Academic New Testament Bundle
Publisher: Baker Academic
Volumes: 56
Pages: 22,404