Every Teaching of Jesus in the Bible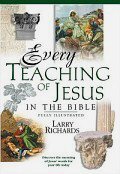 Comprehensive treatment of the teaching ministry of Jesus.
Useful, up-to-date biblical scholarship for all Bible students, preachers, and teachers.
Fresh insights into the historical/social setting of first-century Palestine make biblical persons and events more relevant than ever before.
Contemporary, easy-to-follow format and writing style.
Over 75 maps, charts, sidebars, and illustrations add important information and visual appeal.
Topically arranged Expository Index and complete Scripture Index.
Author: Larry Richards
Publisher: Thomas Nelson
Print Publication Date: 2001
Logos Release Date: 2002
Language: English
Resources: 1
Format: Digital > Logos Edition
Subject: Jesus Christ > Teachings
ISBN: 9781418502096
Resource ID: LLS:34.0.104
Resource Type: Monograph
Metadata Last Updated: 2019-12-20T01:31:29Z