A Workman Approved by God Video Series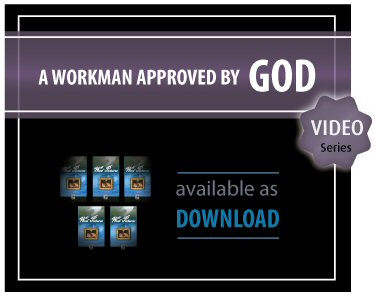 Overview
Logos is pleased to offer the CrossTV/Word Pictures video series A Workman Approved By God as our newest addition to the Logos video library. This 16-part series is accessible for study and reference. The video book series utilizes the same tagging techniques featured in our electronic book collections, so it fits seamlessly into your existing library, adding a new tool in your study of Hermeneutics and biblical interpretation.
How can you determine whether someone is correctly interpreting God's Word? In a day and age when there are over 1000 Christian Denominations, and literally thousands of cults, (and everybody seems to have a different interpretation of scripture), that's not an insignificant question. So how do you know? In a word: Hermeneutics. Which is just a fancy word for the science of biblical interpretation. And as Hank Hannegraaff, President of C.R.E. (a group dedicated to challenging cultic and heretical teaching) put it: "The best antidote to heretical teaching is a good hermeneutical training."
Episode Guide
Episodes 1 and 2: Becoming a Workman, The Ultimate Goal, & Who Can Interpret God's Word
Topics covered
What is a "workman"? (2 Timothy 2:15)
Scripture-study and prayer go hand-in-hand
How the Word of God causes revival in our hearts
Seven criteria for interpreting God's Word correctly
Episode 3: Who's Teaching You?
Episode 4: Extra Biblical Writings
Topics covered
Why should we study the Bible?
The Bible is really and actually God's Word
Divine revelation (the Canon) is closed
"Extra-biblical" writings are not part of scripture
What about the Apocrypha, the Koran, or the Book of Mormon?
Episode 5: Re-stoking The Fire & The First Step
Topics covered
Ten reasons to be a workman who studies the Bible
Helpful tips for getting the most out of Bible reading
Practical steps to a rich and full devotional life
Recommended reading and Bible software
Episode 6: Bridging The Communication Gaps
Topics covered
When and why to lookup words in their original language
How culture, history, and geography play a role
Episode 7: Why Words Matter
Topics covered
Defining our terms: what do you mean?
Why are there different meanings for different denominations?
How cults redefine biblical terminology
Importance of being precise in defining our beliefs
Episode 8: The Error of Subjective Interpretation
Topics covered
We need objective interpretation by hermeneutics
Avoid subjective interpretation by personal opinion
John MacArthur dismisses "interpretation by feelings"
Episode 9: Literal & Symbolic Interpretation
Topics covered
How liberal theology gets into trouble with "allegory"
How interpreting symbolic as literal causes errors for some
Catholics error by forcing-literal: "my flesh is bread"
Topics covered
The principle of "context"
Don't rip verses or passages out of their context
A "text", out of context, is a "pre-text"
Five "context" questions to ask about each verse
Episode 11: Superficial Interpretation
Topics covered
The principle of "context"
Don't rip verses or passages out of their context
A "text", out of context, is a "pre-text"
Five "context" questions to ask about each verse
Episode 11: Superficial Interpretation
Topics covered
Exegesis vs. Eisegesis
How grammar can be abused
Episode 12: Selective Citing
Topics covered
Error of "selective citing" of (only) certain scriptures
We need the "whole council of God" (all of scripture)
Half-truths presented as whole-truths are un-truths
Danger in quoting only "non-confrontational" verses
How the cults attack Christ's deity by selective citing
Episode 13: The Need For Systematic Theology
Topics covered
What is "systematic theology"?
It "connects the dots" between key facts
Systematic Theology books encompass many topics
Episode 15: Pros & Cons Commentaries
Topics covered
Bible Commentaries - they can be a big help
Things to be careful of, when using them
Readers should not consider them to be "inspired"
They can help us with language, "tense", and background
Episode 16: Creeds, Confessions and Catechisms
Topics covered
Each can help us define what we believe
They help us secure and defend the truth
Promote true unity, instead of covering-up disunity
Demo Clips
Personal Video Book FAQ
Q: Can I skip forward and backward in the video presentations?
A: Yes, you can navigate by clicking in the table of contents (which keeps current with where you are in the video), by entering a time in the active index window, or by pulling the slider bar. Play, pause, and stop buttons are also available. See screenshot at right.
Q: Can I project these videos on a screen or TV for my Sunday school class?
A: No. Personal Video Books are digitized at a size (approximately 312 x 240 pixels) and resolution that looks great on your monitor (see the demo) but is not suitable for public viewing. They are intended for personal use, as an aid to your biblical studies. To increase the size of the video to full screen, double-click it during playback. Be aware that the videos were designed for playback at approximately 312 x 240 pixels, so the resolution quality will be diminished in full screen mode.
If you're running Libronix DLS v3.0 or greater, here are instructions on enabling full screen playback for CrossTV videos you may already own: http://www.logos.com/support/lbs/crosstv
Product Details
Title: A Workman Approved by God Video Series
Presentor: Mark Kielar
Publisher: CrossTV/Word Pictures
Running Time: 34 Hours
About CrossTV/Word Pictures
About CrossTV
CrossTV is "a revolution in Christian television . . . led by the ultimate revolutionary . . . the ultimate non-conformist of all time, Jesus Christ." Their Word Pictures videos discuss a wide range of topics, including Apologetics, Hermeneutics, and Salvation. Guest speakers on CrossTV include: Josh McDowell, Steve Gallagher, Joni Eareckson Tada, Erwin Lutzer, John MacArthur, and more! For more information about CrossTV, visit their website at http://www.crosstv.com/.
Be sure to check out the other great products from CrossTV, the Apologetics: Defending the Faith Video Series, The Good Steward Video Series, the 2 Sides of the Same Coin Video Series, and The True Christian's Love for the Unseen Christ Video Series.
About Word Pictures
From CrossTV/Word Pictures:
People are tired of a mock, pseudo, superficial Christianity. They're realizing that despite all the hype and emotion up front, in the final analysis, much of modern Christianity is nothing more than a "form of Godliness, without the power." (2 Timothy 3:5) Yet, there is a new, God-sent thirst and hunger amongst a relatively small (but rapidly growing) remnant of people, to experience, know, love, obey, suffer for, and serve the one, true, living God with all their hearts, souls, minds, and strength.
And those same people want a true, straight talking, plain speaking, "don't tell me what you think I want to hear; tell me what I need to hear," biblically accurate interpretation and exposition of God's Word. They want to know what God wants us to know, the way he wants us to know it.
And people have grown weary of being hit up for money, or given "fluff" in place of doctrine, or having their intelligence insulted or placated in the name of Christianity. The result has been a genuine longing for the preaching and teaching that the Spurgeons and Wesleys and Edwardses of yesteryear were renowned for.
"Word Pictures" is one ministry's God-fearing attempt to be faithful to that call.
More information available at http://www.crosstv.com/crosstv-work.html