The Works of George A. Barton (15 vols.)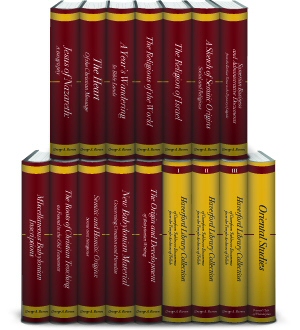 Overview
The Works of George A. Barton cover a wide array of subjects: biblical studies, world religions, linguistics, archaeology, and more. Barton sought to make ancient Near East studies accessible to the pastor and Sunday school teacher, and his research and academic work continues to be recognized for its importance to this day. The 15 volumes in this collection include:
Jesus of Nazareth: A Biography—Barton's popular work on the life of Jesus
The Religion of Israel—Barton's study traces the development of Israel's religion from its primitive Semitic beginnings to the coming of Christ
The Roots of Christian Teaching as Found in the Old Testament—Barton mines the people and stories of the Old Testament for timeless Christian truths
A Year's Wandering in Bible Lands—In this 1902 travelogue, Barton connects the people and events of Bible history with photos from his journey, giving a unique look at the Bible lands at the turn of the twentieth century
Plus 11 more books that explore the Christian message, biblical archeology, Barton's translations of hundreds of cuneiform tablets, and much more!
With the Logos Bible Software edition all Scripture passages in The Works of George A. Barton (15 vols.) are tagged and appear on mouse-over. This makes these resources more powerful and easier to access than ever before for scholarly work or personal Bible study. With the advanced search features of Logos Bible Software, you can perform powerful searches by topic or Scripture reference—finding, for example, every mention of "resurrection" or "Isaiah 53:11."
Key Features
Contains George A. Barton's most popular works, including Jesus of Nazareth: A Biography
English translations of many ancient texts that shed light on Scripture
Detailed discussions of the cultures and civilizations relevant to the Bible
Product Details
Title: The Works of George A. Barton
Author: George A. Barton
Volumes: 15
Pages: 3,446
About George A. Barton
George Aaron Barton (1859–1942) taught at Haverford College, Bryn Mawr, and the University of Pennsylvania where he was Professor of Semitic Languages from 1922–1931 and Professor Emeritus from 1932–1942. His many articles and books cover a wide range of topics in areas such as biblical studies, religion, and linguistics. He was also involved in archaeological projects throughout the Middle East and was the director of the American School of Oriental Research in Baghdad from 1921–1934. He was the first to translate the set of Sumerian tablets recovered in the 1896–1898 excavation of Nippur.
Don't miss out on these other important works by George A. Barton: Archaeology and the Bible, A Critical and Exegetical Commentary on the Book of Ecclesiastes, and The Book of Job.