Classic Commentaries and Studies on Job (18 vols.)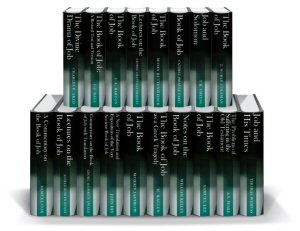 Classic Commentaries and Studies on Job (18 vols.)
•
Runs on Windows, Mac and mobile.
Overview
This immense eighteen volume collection features the best commentaries and studies on the book of Job from the nineteenth and early twentieth centuries. With scholars and authors such as Morris Jastrow, William Kelly, Moses Buttenweiser, and Georg Heinrich Ewald, Classic Commentaries and Studies on Job (18 Vols.) offers over 6,000 pages of interpretation, observations, translations, contextual history, and application on this highly influential and sometimes controversial book of the Old Testament. Theses authors come from a wide range of study and viewpoints, supplying a holistic overview of the character of Job, suffering, the nature of God, the literary value of the text, the historical context, and philological concerns.
This collection provides valuable and historical perspective and insight for anyone who wonders about suffering in human experience, the character of God, or who has studied the book of Job in any context. As well as presenting solid religious studies and scholarly analysis, Classic Commentaries and Studies on Job (18 Vols.) is a meaningful and documentation study in historical theology. With the Logos edition, all of the Hebrew references are linked to the Bibles in your library, as well as all Scripture references.
Key Features
Over 6,000 pages of commentary and study on Job
Contains works from eighteen Bible scholars, pastors, and professors
Includes methodical table of contents, cross-references, appendixes, indexes, and notes
Product Details
Title: Classic Commentaries and Studies on Job (18 vols.)
Volumes: 18
Pages: 6,330