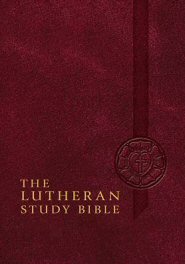 Overview
Engage in devotional, Christ-centered Bible reading and study with the distinctive, comprehensive notes and practical application of The Lutheran Study Bible. This new Bible is the first in English to be developed from the ground-up with notes that are distinctively Lutheran, prepared by Lutheran contributors from over twenty Lutheran church bodies. Current Lutheran scholarship, insights from the Church Fathers, and rich devotional commentary provide meaningful perspective for both young and mature Christians.
The Lutheran Study Bible is now available in a state-of-the-art digital edition using the powerful Logos Digital Library System. This easy-to-use tool that helps make Bible study time more diligent. It also contains the same timeless insights from Church Fathers, distinctively Lutheran notes, and devotional commentary to provide a meaningful perspective for both young and mature Christians.
Key Features
Running Chronology
Dates for a biblical book or for events within that book
Law and Gospel Application Notes
These notes summarize each Bible passage, apply the Law of the passage, apply the Gospel, and provide a petition or praise to guide the reader into prayer, since studying the Bible is always a devotional act for Lutherans.
Cross-References to Articles
The reader's notes will often refer to introductions, articles, charts, and maps through The Lutheran Study Bible.
Church Father Quotations
Numerous insights from the Book of Concord as well as ancient, medieval, and Reformation era Christian writers are included to add greater depth to the notes.
General Editor
Edward A. Engelbrecht (LCMS)
Associate Editors
Paul E. Deterding (LCMS)
Roland Cap Ehlke (WELS)
Jerald C. Joersz (LCMS)
Mark W. Love (LCMS)
Steven P. Mueller (LCMS)
Scott R. Murray (LCMS)
Daniel E. Paavola (LCMS)
Victor H. Prange (WELS)
Robert A. Sorensen (LCMS)
Michael P. Walther (LCMS)
Research Consultants
The following scholars served as research and scholarly consultants for the books of Scripture, introductions, and biblical chronology.
David L. Adams (LCMS)
Mark E. Braun (WELS)
Lane A. Burgland (LCMS)
William W. Carr Jr. (LCMS)
Paul E. Deterding (LCMS)
Roland Cap Ehlke (WELS)
Daniel L. Gard (LMCS)
Charles A. Gieschen (LCMS)
Adolph L. Harstad (ELS)
Horace D. Hummel (LCMS)
Arthur A. Just (LCMS)
Jeffrey Kloha (LCMS)
R. Reed Lessing (LCMS)
David I. M. Lewis (LCMS)
Walter A. Maier III (LCMS)
Christopher W. Mitchell (LCMS)
Timothy E. Saleska (LCMS)
Peter J. Scaer (LCMS)
Vilson Scholz (Evangelical Lutheran Church of Brazil)
Bruce G. Schuchard (LCMS)
Charles R. Schulz (LCMS)
Robert A. Sorensen (LCMS)
Andrew E. Steinmann (LCMS)
Mark P. Surburg (LCMS)
Dean O. Wenthe (LCMS)
John R. Wilch (LCC)
Thomas M. Winger (LCC)
Study Note Authors
The task of writing study notes was divided into more than 200 assignments and were prepared by professors, pastors, commissioned ministers, and laymen. Many writers contributed on more than one assignment.
Eshetu Abate Koyra (The Ethiopian Evangelical Church Mekane Yesus)
David L. Adams(LCMS)
Eric R. Andrae (LCMS)
Jon C. Bischof (LCMS)
Mark E. Braun(WELS)
Lane A. Burgland (LCMS)
Peter C. Cage (LCMS)
Paul E. Deterding (LCMS)
Gary L. Dunker (LCMS)
Roland Cap Ehlke (WELS)
Edward A. Engelbrecht (LCMS)
Michael A. Eschelbach (LCMS)
Alfonso O. Espinosa (LCMS)
Adam S. Francisco (LCMS)
Henry V. Gerike (LCMS)
Curtis P. Giese (LCMS)
Warren W. Graff (LCMS)
Adolph L. Harstad (ELS)
Raymond L. Hartwig (LCMS)
Michael W. Henrichs (LCMS)
Roger J. Humann (LCC)
Horace D. Hummel (LCMS)
Jerald C. Joersz (LCMS)
James A. Kellerman (LCMS)
Paul D. Kienker (LCMS)
Vernon P. Kleinig (LCA)
Jeffrey Kloha (LCMS)
Mark J. Lenz (WELS)
Mark W. Love (LCMS)
Timothy H. Maschke (LCMS)
Benjamin T. G. Mayes (LCMS)
Michael P. Middendorf (LCMS)
Steven P. Mueller (LCMS)
Scott R. Murray (LCMS)
Dean W. Nadasdy (LCMS)
Glenn A. Nielsen (LCMS)
Daniel E. Paavola (LCMS)
Fraser A. Pearce (LCA)
Victor H. Prange (WELS)
Reginald C. Quirk (The Evangelical Lutheran Church of England)
Rodney L. Rathmann (LCMS)
Larry D. Ritter (LCC)
Erik J. Rottmann (LCMS)
J. Richard Sawyer (LCMS)
Frederick A. Schmitt (LCMS)
Gregory P. Seltz (LCMS)
Michael K. Smith (ELS)
Robert A. Sorensen (LCMS)
Mark G. Steiner (LCMS)
John R. Stephenson (LCC)
John C. Stube (LCMS)
D. Richard Stuckwisch (LCMS)
Gene Edward Veith (LCMS)
Larry M. Vogel (LCMS)
Michael P. Walther (LCMS)
Karl A. Weber (LCMS)
Thomas M. Winger (LCC)
Jesse L. Yow Jr. (LCMS)
Additional materials, articles, essays, maps and charts
The Lutheran Study Bible includes numerous articles which draw together important historical and doctrinal themes in Scripture and apply them to current issues. Many of these materials were prepared especially for this publication, while others are cited, or adapted, from existing Lutheran publications. Maps in The Lutheran Study Bible were created for this edition. Contributors of the additional resources in The Lutheran Study Bible include:
Robert C. Baker (LCMS)
Robert Benne (ELCA)
David Brazeal (LCMS)
Jan Brunette (LCMS)
Lane A. Burgland (LCMS)
Roberto E. Bustamante (Evangelical Lutheran Church in Argentina)
Roland Cap Ehlke (WELS)
Edward A. Engelbrecht (LCMS)
Michael A. Eschelbach (LCMS)
Lin Flechsig (LCMS)
Ingvar Fløysvik (Norwegian Lutheran Mission, Hsinchu, Taiwan)
Jane L. Fryar (LCMS)
Paul Kofi Fynn (The Evangelical Lutheran Church of Ghana)
Matthew C. Harrison (LCMS)
Adolph L. Harstad (ELS)
Vyacheslav Horpynchuk (The Ukrainian Lutheran Church)
Horace D. Hummel (LCMS)
Douglas W. Johnson (ELCA)
Guntis Kalme (The Evangelical Lutheran Church of Latvia)
Chul Hwan Kim (The Lutheran Church in Korea)
Hyo-Jong Kim (LCMS)
John W. Kleinig (LCA)
James I. Lamb (LCMS)
R. Reed Lessing (LCMS)
Gregory J. Lockwood (LCA)
Vsevolod Lytkin (The Siberian Evangelical Lutheran Church)
Korey Maas (LCMS)
Benjamin T. G. Mayes (LCMS)
Paul T. McCain (LCMS)
Glenn A. Nielsen (LCMS)
John G. Nordling (LCMS)
Joseph Tom Omolo (The Evangelical Lutheran Church in Kenya)
Walter Obare Omwanza (The Evangelical Lutheran Church in Kenya)
Stanislaus Pietak (The Silesian Evangelical Church of the Augsburg Confession)
Kevin P. Popp (LCMS)
Walther R. Roehrs (LCMS)
Charles P. Schaum (LCMS)
Remigijus Semeklis (The Evangelical Lutheran Church of Lithuania)
Anssi Simojoki (The Church of Finland)
Reinhard Slenczka (Evangelical Lutheran Church of Latvia)
Terry S. Small (LCMS)
Robert E. Smith (LCMS)
V. Indrenath Stanley (The Indian Evangelical Lutheran Church)
Andrew E. Steinmann (LCMS)
Volker Stolle (SELK)
Paul Touloute (The Evangelical Lutheran Church of Haiti)
David Tswaedi (The Lutheran Church in South Africa)
Product Details
Title: The Lutheran Study Bible
General Editor: Edward A. Engelbrecht
Publisher: Concordia Publishing House
Pages: 2,504
More details about these resources