The Book of Genesis and Part of the Book of Exodus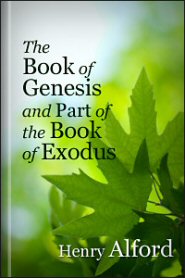 The Book of Genesis and Part of the Book of Exodus
•
Runs on Windows, Mac and mobile.
Overview
Prolific theologian and author Henry Alford passed away before finishing his commentary on the Book of Exodus, but The Book of Genesis and Part of the Book of Exodus is a thorough and excellent commentary on the first book of Moses, and the first twenty-five chapters of Exodus. A verse-by-verse examination of the Scripture, this volume by one of the 19th century's best theologians is illuminating and comprehensive in its erudition of history, language, translation, and interpretation of Genesis and Exodus.
The Book of Genesis and Part of the Book of Exodus is essential for students, scholars, pastors, historians, and teachers of the Bible who want to go more in depth in the study of Genesis. With Logos Bible Software, this collection is completely searchable, with passages of scripture appearing on mouse-over, as well as being linked to Greek and Hebrew texts and English translations in your library.
Key Features
Contribution from a renowned Old Testament scholar
Includes indexes and detailed table of contents
Product Details
Title: The Book of Genesis and Part of the Book of Exodus
Author: Henry Alford
Publisher: Strahan
Publication Date: 1872
Pages: 342
About Henry Alford
Henry Alford (1810–1871) was born in London and educated at Trinity College, Cambridge. A prolific preacher, artist, writer, biblical scholar, and lecturer, he authored numerous scholarly books as well as poetry and hymns. He was promoted to Dean of Canterbury in 1857. Alford's principal work, The Greek Testament, was a twenty-year endeavor and a critical success when it was published, establishing his reputation as one of the most important and influential scholars of his time.
More details about these resources