Septuaginta: SESB Edition with Apparatus and Alternate Texts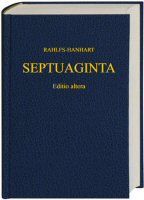 Septuaginta: SESB Edition with Apparatus and Alternate Texts
•
Overview
The Septuagint (LXX) is the Greek translation of the Hebrew Scriptures, which according to tradition was done by seventy Jewish scholars (hence the name) sometime in the third century BC. It is the Bible which the Greek-speaking world read during the time of the apostles, to which Paul would have referred in his dealings with his churches. The Rahlf's edition is the most modern critical edition of this text. The morphology, prepared by the University of Pennsylvania, gives the user the ability to draw parsing and glossary information directly from the text, which is especially important because the Greek of the LXX is significantly different from that of the New Testament.
The Rahlf's edition is the most modern critical edition of this text. The revised edition, edited by Robert Hanhart, includes several hundred corrections according to the results of newer scholarly research. This collection also includes the alternate texts and apparatus for each.
The Logos Bible Software edition of Septuaginta makes this resource more powerful and easier to access than ever before for scholarly work or personal Bible study. With the advanced search features of Logos Bible Software, you can perform powerful searches by topic or Scripture reference.
Key Features
For any word of the LXX, SESB offers an English translation and a morphological analysis
Special lemma search helps you find all inflected forms of a word by simply entering the infinitive
Search with linguistic databases
Praise for the Print Edition
It really is a pleasure to look up and search in ways never thought possible before these great electronic resources. I must confess that the 'wow' factor remains high even after roughly three months of use.
—Rubén Gómez, Bible Software Review
Product Details
Title: Septuaginta: SESB Edition with Alternate Texts and Apparatus
Editors: Alfred Rahlfs and Robert Hanhart
Publisher: Deutsche Bibelgesellschaft
Publication Date: 2006
Volumes: 4
More details about these resources