Disciplinary Decrees of the General Councils: Text, Translation, and Commentary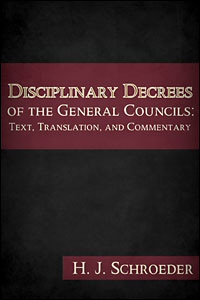 Disciplinary Decrees of the General Councils: Text, Translation, and Commentary
•
Runs on Windows, Mac and mobile.
Overview
Disciplinary Decrees of the General Councils: Text, Translation, and Commentary covers the disciplinary decrees enacted by the Catholic Church in her general councils up to and exclusive of the Council of Trent. H. J. Schroeder provides the original texts, English translations and commentary on the historical background of the decrees. "For, after all, the full scope and import of a conciliar decision, whether of a dogmatic or disciplinary nature, can be grasped only when studied in the light of the conditions and forces that produced it." The work includes selected canons from the first seven councils (the full text of these councils can found in volume 14 of the Early Church Fathers Series), and all the canons from the great Medieval Councils. It also includes selected canons from the late medieval councils.
The arrangement of the work is the same throughout. First Schroeder provides a historical sketch of the council; this is followed by a digest of the decree, the decree itself (in both the Latin or Greek and English), and the commentary.
With the Logos edition, all Scripture passages in Disciplinary Decrees of the General Councils: Text, Translation, and Commentary are tagged and appear on mouse-over. What's more, Scripture references are linked to the wealth of language resources in your Logos library. This makes this text more powerful and easier to access than ever before for scholarly work or personal Bible study. With the advanced search features of Logos Bible Software, you can perform powerful searches by topic or Scripture reference—finding, for example, every mention of "peace" or "Viaticum."
Key Features
Includes canons from all the ecumenical councils through Lateran V (1512–17)
Includes both the original languages and English translations
Includes the complete texts of the Medieval Councils, including the highly influential Fourth Lateran Council
Includes lengthy and in-depth discussion of the context for each council and for each canon or decree
Contents
Introduction
The First General Council (First Council of Nicaea, 325)
The Second General Council (First Council of Constantinople, 381), Canons 1–4 of 7
The Third General Council (Council of Ephesus, 431), Canons 1–6 of 8
The Fourth General Council (Council of Chalcedon, 451), 28 Canons of 30
The Fifth General Council (Second Council of Constantinople, 553), Summary
The Sixth General Council (Third Council of Constantinople, 680), Summary
The Seventh General Council (Second Council of Nicaea, 787)
The Eighth General Council (Fourth Council of Constantinople, 869–70)
The Ninth General Council (First Lateran Council, 1123)
The Tenth General Council (Second Lateran Council, 1139)
The Eleventh General Council (Third Lateran Council, 1179)
The Twelfth General Council (Fourth Lateran Council, 1215)
The Thirteenth General Council (First Council of Lyons, 1245)
The Fourteenth General Council (Second Council of Lyons, 1274)
The Fifteenth General Council (Council of Vienne, 1311–12)
The Sixteenth General Council (Council of Constance, 1414–18), Session 43
The Seventeenth General Council (Council of Basle, 1431–49), Sessions 20–21
The Eighteenth General Council (Fifth Lateran Council, 1512–17), Sessions 8–11 of 12
Index
Product Details
Title: Disciplinary Decrees of the General Councils: Text, Translation, and Commentary
Author: H. J. Schroeder
Publisher: B. Herder Book Co.
Publication Date: 1937
Pages: 669
About the Author
Henry Joseph Schroeder (1875-1942) was also the author of Canons and Decrees of the Council of Trent as well as dozens of articles in The Catholic Encyclopedia (17 vols.)
Sample Pages from the Print Edition
More details about these resources