Theodore of Mopsuestia: Commentary on the Minor Pauline Epistles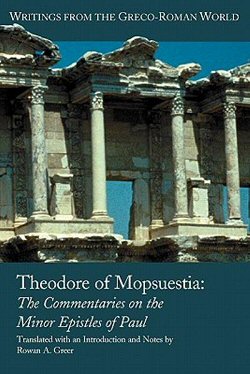 Theodore of Mopsuestia: Commentary on the Minor Pauline Epistles
•
Runs on Windows, Mac and mobile.
Overview
The most famous representative of the school of Antioch, Theodore of Mopsuestia, penned a number of commentaries on biblical books in both the Old and New Testaments. This volume offers not only an introduction to Theodore's life and work, but also the first modern-language translation of his commentaries on Paul's minor epistles (Galatians–Philemon). The English translation is accompanied by Latin and Greek text based on H. B. Swete's 1880–1882 critical edition of these early fifth-century commentaries. As a prime example of "Antiochene" exegesis and theology, they are of considerable interest, providing valuable evidence for Theodore's exegetical principles and practice, his Christology and doctrines of grace and free will, and his understanding of crucial developments in Christian ministry and church polity from the time of Paul to his own day.
With the Logos Bible Software edition of Theodore of Mopsuestia you have unprecedented access to resources that offer relatable and insightful material for your study. Hours of biblical research can be accomplished with the simple click of a mouse. With lightning-speed searching, instantly-viewable Scripture references, a vast library of resources, and much more, Logos is the perfect software to expand your understanding of Theodore Mopsuestia's life and work—specifically his commentaries on Paul's minor epistles.
Please note that this product will be split into two resources: Introduction and Translation and Latin and Greek Text.
Key Features
Contains a thorough introduction to Theodore of Mopsuestia's exegesis, theology, and translation
Includes the Latin and Greek biblical text and their translation
Provides a General Index, as well as an Index by Verse and Index of Scriptural Citations and Allusions
Praise for the Print Edition
With a light touch born of extraordinary erudition, Rowan Greer makes Theodore of Mopsuestia essential reading for anyone who would do theology in our time. In particular, he reminds us that the theologian's first task is the exposition of Scripture.
—Stanley Hauerwas, Gilbert T. Rowe Professor of Theological Ethics, Duke University Divinity School
Rowan Greer's achievement in this volume, an eminently readable and reliable translation of this important early Christian commentary on Paul's minor epistles, comes as no surprise. . . . The present translation of Theodore's commentaries now provides to a wider audience the opportunity to engage firsthand the theology of the fourth century 'Antiochenes' who had such a profound influence in the doctrinal development of the Christian churches in both East and West. Anyone interested in the history of biblical interpretation as well as the history of Christian doctrine will find this translation indispensible.
—Charles A. Bobertz, Professor of Theology, St. John's University
Product Details
Title: Theodore of Mopsuestia: Commentary on the Minor Pauline Epistles
Translator: Rowan A. Greer
Series: Writings from the Greco-Roman World
Publisher: Society of Biblical Literature
Publication Date: 2010
Pages: xliv, 839
About Rowan A. Greer
Rowan A. Greer is Professor of Anglican Studies Emeritus at Yale Divinity School. He is the author of numerous books, including Origen: An Exhortation to Martyrdom, Prayer, and Selected Works; Broken Lights and Mended Lives: Theology and Common Life in the Early Church; and Anglican Approaches to Scripture: From the Reformation to the Present.
Sample Pages from the Print Edition
More details about these resources