Post-Reformation Catholic Thought and Piety (27 vols.)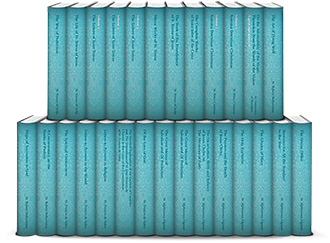 Post-Reformation Catholic Thought and Piety (27 vols.)
•
Runs on Windows, Mac and mobile.
Overview
The Catholic Church has honored only 35 people with the title "Doctor of the Church," recognizing them for their eminent learning and great sanctity. Nine of these thinkers have lived in the past five centuries: St. John of Ávila (1500–1569), St. Teresa of Ávila (1515–1582), St. John of the Cross (1542–1591), St. Peter Canisius (1521–1597), St. Lawrence of Brindisi (1559–1619), St. Robert Bellarmine (1542–1621), St. Francis de Sales (1567–1622), St. Alphonsus Liguori (1696–1787), and St. Thérèse of Lisieux (1873–1897). Their brilliant works vary from Scriptural commentary, to mystical poetry, to catechetical instruction and spiritual direction, and will add historical, intellectual, and spiritual depth to your Logos library.
The Post-Reformation Catholic Thought and Piety (27 vols.) collection offers writings from each of these modern Doctors (with the exceptions of St. John of Ávila and Thérèse of Lisieux—whose Story of a Soul is available separately). Taken together, their writings provide a window into Catholic thought and piety as the Church faced the struggles of the Reformation and of modern society. But they are of more than historical importance. As is evidenced in their continued and profound influence on contemporary Christian thought and piety, the insights and spiritual accomplishments of the modern Doctors are of enduring value.
With the Logos edition all Scripture passages in the Post-Reformation Catholic Thought and Piety (27 vols.) collection are tagged and appear on mouse-over. What's more, Scripture references are linked to the wealth of language resources in your Logos library. This makes these texts more powerful and easier to access than ever before for scholarly work or personal Bible study. With the advanced search features of Logos Bible Software, you can perform powerful searches by topic or Scripture reference—finding, for example, every mention of "grace" or "Psalms 13:6."
Key Features
Over 10,000 pages from the modern Doctors of the Church
Essential works of Catholic theology and dogma in the English language
Completely searchable by topic, name, or Scripture reference
Product Details
Title: Post-Reformation Catholic Thought and Piety
Volumes: 27
Pages: 10,625