Biblical Hebrew: An Introductory Grammar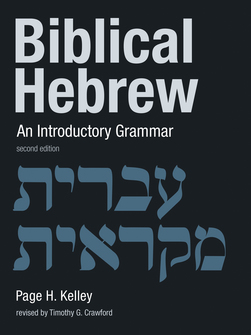 Biblical Hebrew: An Introductory Grammar
•
Runs on Windows, Mac and mobile.
Your Custom Discount
Reg. Price $36.99
Sale Price $23.99
Your Price $23.99
You Save $13.00 35%
Your Price
What's Pre-Pub?
$23.99
Overview
Comprehensive in scope, this carefully crafted introductory grammar of Biblical Hebrew offers easy-to-understand explanations, numerous biblical illustrations, and a wide range of imaginative, biblically based exercises.
The book consists of thirty-one lessons, each presenting grammatical concepts with examples and numerous exercises judiciously selected from the biblical text. These lessons are accompanied by eleven complete verb charts, an extensive vocabulary list, a glossary of grammatical terms, and a subject index.
The authors employs a method that blends together a straight presentation of grammatical principles and rules with a semi-inductive presentation of concepts through the exercises. Each lesson first presents new grammatical concepts, with biblical examples, and then provides reinforcing exercises that Kelley and Crawford have judiciously selected from the biblical text (the exercises do not presuppose vocabulary and grammar not already covered).
In the Logos edition, this volume is enhanced by a world-class set of research and study tools. Important terms link to dictionaries, encyclopedias, and a wealth of other resources in your digital library. Perform powerful searches to find exactly what you're looking for. Take the discussion with you using tablet and mobile apps. With Logos Bible Software, the most efficient and comprehensive research tools are in one place, so you get the most out of your study.
Key Features
Provides thoroughly updated content
Retains Page Kelley's popular approach to pedagogy
Comprehensive and carefully crafted with a helpful glossary provided at the end
Includes exercises and vocabulary with each lesson
Contents
Lesson 1: The Alphabet
Lesson 2: The Hebrew Vowels
Lesson 3

Maqqef
Sign of the Direct Object
Dagesh Forte
Silent Sheva

Lesson 4

Accents
Meteg
Weak Letters
Mappiq
Syllables

Lesson 5
Lesson 6

Prepositions with Nouns
Vav Conjunction

Lesson 7

Nouns: Derivation
Nouns: Gender
Nouns: Number
Nouns: Segolates

Lesson 8: Adjectives

Lesson 9

Independent Personal Pronouns
Demonstrative Pronouns

Lesson 10: Nouns: Construct Relationship
Lesson 11

Pronominal Suffixes on Prepositions and Particles
Pronominal Suffixes on Nouns

Lesson 12

General Characteristics of Verbs
The Qal Perfect of the Strong Verb
The Meanings of the Perfect
Verb Agreement
Pronominal Subjects of Verbs
Word Order in Verbal Sentences
The Use of the Lexicon in the Location and Translation of Verbs

Lesson 13

Interrogative Sentences
Numerals

Lesson 14

The Remaining Stems of the Perfect: Function
The Remaining Stems of the Perfect: Forms
Locating and Translating Perfect Forms of the Hebrew Verb

Lesson 15

Qal Imperfect of the Strong Verb
The Meanings of the Imperfect
The Jussive and Cohortative

Lesson 16

Imperfect of the Remaining Stems (Strong Verbs
Imperfects with Vav Consecutive
He'-Directive
Conjuctive Dagesh Forte

Lesson 17: Pronominal Suffixes
Lesson 18: Imperatives
Lesson 19: Infinitives
Lesson 20

Participles
Synopsis of the Strong Verb

Lesson 21: Coordinate Relationship: Hebrew Verb Sequences
Lesson 22

Weak Verb Review
Pe'-Guttural Verbs

Lesson 23

Pe'-'Alef Verb
Pausal Forms of Heavily Accented Words

Lesson 24: 'Ayin-Guttural Verbs
Lesson 25: Lamed-Gutteral Verbs
Lesson 26: Lamed-'Alef Verbs
Lesson 27: Lamed-He' Verbs
Lesson 28: Pe'-Nun Verbs
Lesson 29: 'Ayin-Vav/'Ayin-Yod Verbs
Lesson 30: Pe'-Yod Verbs
Lesson 31: Double-'Ayin Verbs
Vocabulary
Verb Charts
Personal Pronouns
Praise for the Print Edition
It is a pleasure to recommend Kelley's effort, tested in forty years (a biblical generation) of classroom teaching. It represents a solid beginning for the Hebrew novice to wander the map of the Hebrew Bible with confidence and surety.
—Critical Review of Books in Religion
About the Authors
Page H. Kelley (1924–1997) was professor of Old Testament at Southern Baptist Theological Seminary in Louisville, Kentucky.
Timothy G. Crawford is associate professor of Bible and Hebrew at Bluefield College, Bluefield, Virginia.
Sample Pages from the Print Edition