Mobile Ed: TH146 Christology: Prominent Titles for Jesus (2 hour course)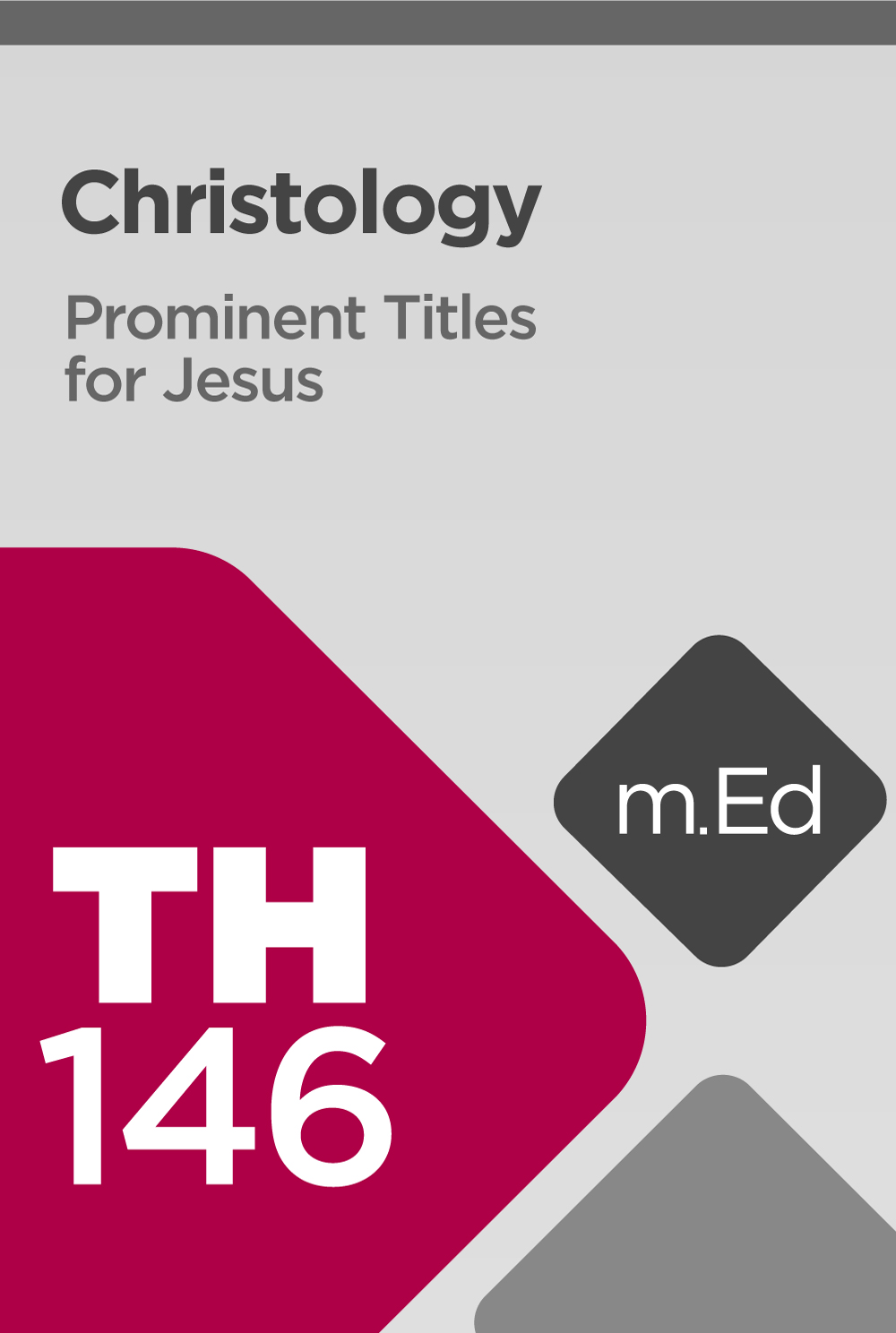 Mobile Ed: TH146 Christology: Prominent Titles for Jesus (2 hour course)
•
Runs on Windows, Mac and mobile.
Overview
Christology: Prominent Titles for Jesus (TH146) brings together fourteen respected Christian scholars to examine the meaning and significance of Jesus's titles. These scholars have published extensively on theology and biblical interpretation, and their combined expertise facilitates students gaining clear insight into Jesus's identity as revealed in Scripture. The course explores the person of Jesus Christ, the meaning and significance of some of His important titles, His united divine and human natures, and Christology in the New Testament.
Learning Objectives
Upon successful completion you should be able to:
Describe the biblical context for the title Immanuel ("God with us") in Isaiah and its fulfillment in the New Testament
Summarize what the Gospels mean when they refer to Christ as "Son of David"
Explain the implications of the union between Christ's divine and human natures
List different types of "Son of Man" sayings in the Gospels
Give examples of Christology in the New Testament Gospels, Pauline Epistles, and the book of Hebrews
Course Outline
Introduction
Introducing the Course
Who Is Jesus?
Unit 1: Jesus, Our Immanuel
Immanuel
The Prophecy of Immanuel (Isa 7:14–16)
Matthew's Use of Isaiah 7:14 (Matt 1:22–23)
Unit 2: Jesus, the Son of David
Son of David
A Davidic King (Matt 1–2)
David and the Identity of the Messiah (Mark 12:35–37)
Jesus Is the Messiah
Unit 3: Jesus, the Son of God
Son of God
Background of "Son of God" and Its Use in the Gospels
The Deity of Christ
The United Person
Unit 4: Jesus, the Son of Man
Son of Man
Jesus's Favorite Self-Designation
Background of "Son of Man"
Unit 5: Christology in the New Testament
Gospel of John's Christology
Pauline Christology
Christology in Philippians 2:6–11
Christology as Antidote in Colossians
Contributions of Hebrews to Early Christianity
Conclusion
Jesus Is Lord of the Church
Product Details
Title: TH146 Christology: Prominent Titles for Jesus
Instructors: Beth Felker Jones, Gerry Breshears, Eric Tully, Craig S. Keener, Jeannine K. Brown, Craig A. Evans, Jr. Robert B. Sloan, Mark L. Strauss, Carl Sanders, Joel Willitts, Douglas J. Moo, Joshua Jipp, and David A. deSilva
Publisher: Lexham Press
Publication Date: 2018
Product Type: Logos Mobile Education
Resource Type: Courseware, including transcripts, audio, and video resources
Courses: 1
Video Hours: 2
Getting the most out of Mobile Ed
Logos Mobile Education is a highly effective cross-platform learning environment that integrates world class teaching with the powerful study tools and theological libraries available in Logos Bible Software. Every course provides links to additional resources and suggested readings that supplement the lecture material at the end of every transcript segment.
This course comes with an Activities resource that functions as a type of "workbook" for the course. This resource includes learning activities such as: places for you to respond to reflection questions, exercises that will challenge and show you how deepen your understanding of this course by using specific Logos tools and resources, tutorial videos on different features of Logos Bible Software, and links to relevant Logos guides and tools. A link to open the Activities resource is conveniently placed at the end of every segment.
More details about these resources