Cultural Concepts Collection (37 resources)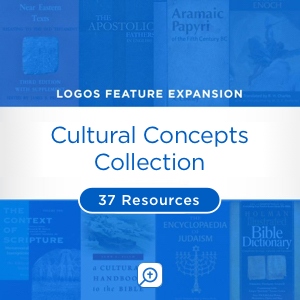 Overview
Explore ancient cultural practices and customs from Old and New Testament passages—and find where else they occur in other ancient biblical and non-biblical texts. This collection expands your library's connections to the Cultural Concepts tools in your Passage Guide as well as in your Factbook. You'll get a greater understanding of the significance behind the events and details of Scripture—such as birth and death practices, food, holidays, legal standards, and religious rituals.
With nine extensive Bible dictionaries and encyclopedias, as well as more than 15 books of ancient texts and manuscripts from the ancient world, this collection provides the best resources for expanding your Cultural Concepts tools.
Please note: This product does not contain either the Factbook or the Lexham Cultural Ontology Dataset from Logos, which are needed for the Cultural Concepts tools. To get the Cultural Concepts tooling for your software, you'll need to upgrade to Logos Bronze or higher.
Key Features
Contains Logos resources with extensive Cultural Concepts linking
Expands your library's connections to the ancient world
Provides important context to the cultures the Bible was written in