Mobile Ed: NT309 Critical Issues in the Synoptic Gospels (audio)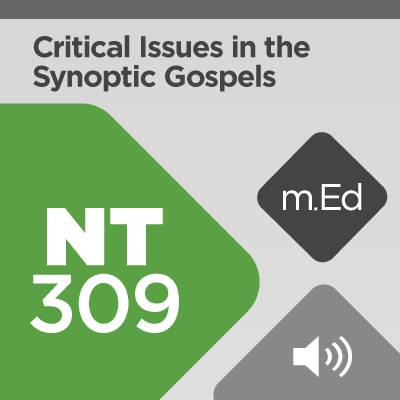 Mobile Ed: NT309 Critical Issues in the Synoptic Gospels (audio)
•
Runs on Windows, Mac and mobile.
Overview
Explore the historical reliability of the Gospels and the controversy of miracles. Probe the Gospels as biographies recounting historical information passed down through written and oral traditions and eyewitness accounts.
This is the audio only version of NT309 Critical Issues in the Synoptic Gospels. To purchase the full course, click here.
Course Outline
Introduction
Introducing the Speaker and the Course
Unit 1: The Gospels and History
Introducing the Gospels
The Genre of the Gospels
The Basics of Ancient Biography
Ancient Biographers
Source Criticism
Form Criticism
Redaction Criticism
Oral Tradition
Memorization
Advanced Education in Antiquity
Linguistic Evidence for Authenticity
Eyewitnesses
The Gospels' Appeal to Common Knowledge
Objections to Gospel Reliability
Unit 2: Miracles in the Gospels
Miracle Reports
Jesus' Miracles
Philosophical Foundations of Naturalism
The Principle of Uniformity
Human Experience of the Miraculous
Eyewitness Reports of Miracles
More Modern Eyewitness Accounts
Raised from the Dead
Accounts from the Congo
Nature Miracles
Conclusion
About Craig S. Keener
Dr. Craig S. Keener is professor of New Testament at Asbury Theological Seminary, and is the author of 17 books, four of which have won Christianity Today book awards. One, IVP Bible Background Commentary: New Testament, has sold more than half a million copies. He has authored scholarly commentaries on Matthew, John (two volumes), Acts (four volumes), and more briefly on Romans, 1 and 2 Corinthians, and Revelation.
More details about this resource