Mobile Ed: NT309 Critical Issues in the Synoptic Gospels (3 hour course)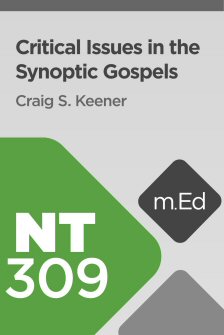 Mobile Ed: NT309 Critical Issues in the Synoptic Gospels (3 hour course)
•
Runs on Windows, Mac and mobile.
Overview
Explore the historical reliability of the Gospels and the controversy of miracles. Probe the Gospels as biographies recounting historical information passed down through written and oral traditions and eyewitness accounts.
Course Outline
Introducing the Gospels
Form Criticism
Historical Criticism
Miracle Reports
Early History
About the Instructor
Dr. Craig S. Keener is professor of New Testament at Asbury Theological Seminary and is the author of 17 books, 4 of which have won book awards in Christianity Today. One, The IVP Bible Background Commentary: New Testament, has sold more than half a million copies. He has authored scholarly commentaries on Matthew, John, Acts, Romans, 1–2 Corinthians, and Revelation.
Getting the most out of Mobile Ed
Logos Mobile Education is a highly effective cross-platform learning environment that integrates world class teaching with the powerful study tools and theological libraries available in Logos Bible Software. Every course provides links to additional resources and suggested readings that supplement the lecture material at the end of every transcript segment.
This course was produced with screencast videos. These videos provide tutorials showing you how to use Logos Bible Software in ways that are tied directly into the content of the course. We are now producing Activities resources as a replacement for screencast videos. We plan on updating this course to include this additional Activities resource in the future for no extra charge.
More details about these resources