The So-Called Jew in Paul's Letter to the Romans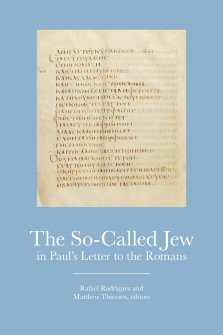 The So-Called Jew in Paul's Letter to the Romans
•
Runs on Windows, Mac and mobile.
Your Custom Discount
Reg. Price $49.99
Sale Price $29.99
Your Price $29.99
You Save $20.00 40%
Your Price
What's Pre-Pub?
$29.99
Overview
Decades ago, Werner G. Kümmel described the historical problem of Romans as its "double character": concerned with issues of Torah and the destiny of Israel, the letter is explicitly addressed not to Jews but to Gentiles. At stake in the numerous answers given to that question is nothing less than the purpose of Paul's most important letter. In The So-Called Jew in Paul's Letter to the Romans, nine Pauline scholars focus their attention on the rhetoric of diatribe and characterization in the opening chapters of the letter, asking what Paul means by the "so-called Jew" in Romans 2 and where else in the letter's argumentation that figure appears or is implied. Each component of Paul's argument is closely examined with particular attention to the theological problems that arise in each.
Key Features
Operates on the assumption that the so-called Jew in Romans 2:17 is actually a God-fearing gentile
Written by a respected group of international scholars
Presents a unified argument from a wide range of contributors
Contents
Paul's Interlocutor in Romans: The Problem of Identification by Runar M. Thorsteinsson, Matthew Thiessen, and Rafael Rodríguez
The Non-Jewish Interlocutor in Rom. 2:17 and the Salvation of the Nations: Contextualizing Rom. 1:18–32 by Magnus Zetterholm
Paul's So-Called Jew and Lawless Lawkeeping by Matthew Thiessen
Paul's Gentile Interlocutor in Romans 3:1–20 by Joshua D. Garroway
Romans 5–8 in Light of Paul's Dialogue with a Gentile Who "Calls Himself a Jew" by Rafael Rodríguez
The Self-Styled Jew of Romans 2 and the Actual Jews of Romans 9–11 by Matthew V. Novenson
Romans 2 within the Broader Context of Gentile Judaizing in Early Christianity by Michele Murray
What Are the Implications of the Ethnic Identity of Paul's Interlocutor? Continuing the Conversation by Joshua W. Jipp
Praise for the Print Edition
A seismic shift in Pauline scholarship, these essays show how construing Roman's interlocutor as a Gentile richly refigures what Christ meant for the world's peoples. The detailed investigations of the focused topic yield a powerfully argued case.
—Stanley K. Stowers, Brown University
In The So-Called Jew in Paul's Letter to the Romans, the reader will find a collection of thought-provoking essays on by a group of international Pauline scholars addressing a frequently neglected question, which nevertheless has far-reaching interpretive implications: Does Paul's 'Jew' in Romans 2:17 in reality refer to non-Jews who imitate Jewish ways of being and keep the Torah? Engaging Runar Thorsteinsson's 2003 thesis claiming that this is indeed the case, this volume presents a number of approaches to this issues, all of which shed critical light, not only on Romans 2:17 but on the consequences of such a reading for our understanding of Romans as a whole. A must-read not only for students and scholars of Romans, but also for those interested in the relationship between Jews and gentiles in Pauline theology more generally.
—Anders Runesson, University of Oslo
About the Editors
Rafael Rodríguez is professor of New Testament at Johnson University, Knoxville, Tennessee.
Matthew Thiessen is associate professor of religious studies at McMaster University.
Sample Pages from the Print Edition