Mobile Ed: CH321 History and Theology of John Calvin (4 hour course)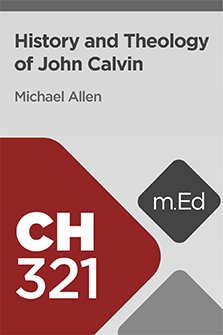 Mobile Ed: CH321 History and Theology of John Calvin (4 hour course)
•
Runs on Windows, Mac and mobile.
Overview
In History and Theology of John Calvin (CH321) Dr. Michael Allen examines the life of one of the most influential sixteenth-century Reformers. Dr. Allen looks at the cultural context of Calvin's life, exploring the forces that shaped him and the people he learned from. He then delves into the beliefs of Calvin, looking specifically at his extensive work Institutes of the Christian Religion. You'll come away from the course with a fuller understanding of John Calvin, what he believed, and how his theology has influenced Christian thought ever since.
Course Outline
Introduction
Introducing the Speaker and Course
Unit 1: The Man in His Times
Biography
Pastoral and Teaching Roles
Literary Corpus
The Servetus Account
Calvin and the Calvinists
On Twentieth-Century Readings, Especially Karl Barth
Richard Muller's Rules for Reading Calvin Contextually
On Loci and on Scripture: Pairing the Institutes with the Commentaries
Unit 2: The Institutes of the Christian Religion
Preface to the Reader: Between Rome and the Radicals
The Knowledge of God and of Ourselves
Double Knowledge of God: Creator and Redeemer
Scripture
Idolatry and Anti-Speculative Theology
The Trinity
The Old and New Testaments
Christology: The Humanity of Christ
Christology: Extra Calvinisticum
Union with Christ and the Application of Redemption
The Double Grace
Repentance in the Gospel
Mortification and Vivification
Self-Denial
Heavenly-Mindedness
The Use of Present Things
Reform of the Ascetical Tradition
Justification by Faith Alone
Christian Freedom
Prayer
Three Introductory Matters of Election
Scripture and Election: Against Speculation and against Silence
In the Society of God
Visible and Invisible Church
True and False Church
Sacraments as Means of Grace
Conclusion
Product Details
Title: CH321 History and Theology of John Calvin
Instructor: R. Michael Allen
Publisher: Lexham Press
Publication Date: 2018
Product Type: Logos Mobile Education
Resource Type: Courseware, including transcripts, audio, and video resources
Courses: 1
Video Hours: 4
About the Instructor
R. Michael Allen is associate professor of systematic and historical theology and the dean of students at Reformed Theological Seminary in Orlando. He is eager to guide students to grow in their ability to retrieve theological riches from the past for the sake of renewing contemporary reflection, worship, and witness. In this vein, he is committed to Reformed catholicity as a confession and a posture for doing theology and approaching ministry today.
Prior to joining the faculty of RTS in 2015, Dr. Allen taught undergraduate and graduate students at Wheaton College and then taught at Knox Theological Seminary for five years, where he held the D. James Kennedy Chair of Systematic Theology and also served as dean of the faculty. With Dr. Scott Swain, he serves as general editor of the T&T Clark International Theological Commentary and the New Studies in Dogmatics series for Zondervan Academic. He also serves as book review editor for the renowned International Journal of Systematic Theology and is a teaching elder in the Evangelical Presbyterian Church.
Getting the most out of Mobile Ed
Logos Mobile Education is a highly effective cross-platform learning environment that integrates world class teaching with the powerful study tools and theological libraries available in Logos Bible Software. Every course provides links to additional resources and suggested readings that supplement the lecture material at the end of every transcript segment.
This course comes with an Activities resource that functions as a type of "workbook" for the course. This resource includes learning activities such as: places for you to respond to reflection questions, exercises that will challenge and show you how deepen your understanding of this course by using specific Logos tools and resources, tutorial videos on different features of Logos Bible Software, and links to relevant Logos guides and tools. A link to open the Activities resource is conveniently placed at the end of every segment.
More details about these resources