Mobile Ed: BI182 God's Word as Translation (2 hour course)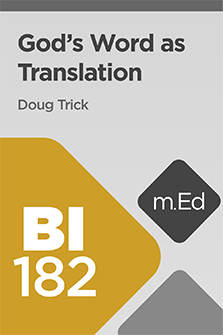 Mobile Ed: BI182 God's Word as Translation (2 hour course)
•
Runs on Windows, Mac and mobile.
Overview
In God's Word as Translation, linguist and Bible translator Dr. Doug Trick discusses the process of translating Scripture. He examines some common assumptions regarding what makes a "good" Bible translation, and he addresses the notion of literalness, exploring whether the idea of a "literal" translation of any language is a valid concept. The course surveys the philosophy of language and then discusses the implications for Bible translation. Dr. Trick concludes the course by providing an overview of what God is doing through the body of Christ in bringing his word to all peoples around the world.
Course Outline
Introduction
Introducing the Speaker and the Course
Unit 1: Problems with Literalness
Usual and Primary Meaning
Semantic Shift and Underdeterminacy
Cultural Ways of Thinking and Conduit Metaphor
Unit 2: Sources for the Notion of Literal Meaning
Sources That Make Us Take Literalness for Granted: Part 1
Sources That Make Us Take Literalness for Granted: Part 2
Sources That Make Us Take Literalness for Granted: Part 3
Sources That Make Us Take Literalness for Granted: Part 4
Unit 3: Better Ways to Understand the Nature of Meaning and Communication
A Replacement to the Conduit Metaphor
From Reality to Experience: A Multistage Model of Communication
Application of the Multistage Model of Communication
Unit 4: Implications for Bible Translation Theory and Practice
Criteria and Purposes
Clarity, Accuracy, and Naturalness
Transparency
Unit 5: What Is God Doing through the Body of Christ in Bringing His Word to All Peoples?
Historical Overview and Current Snapshot
Current Missiological Issues: Needs Assessment and Outsiders and Insiders
Current Missiological Issues: Partnership and Accountability
Conclusion
Conclusion to the Course: Three Ways to Respond
Product Details
Title: BI182 God's Word as Translation
Instructor: Doug Trick
Publisher: Lexham Press
Publication Date: 2018
Product Type: Logos Mobile Education
Resource Type: Courseware, including transcripts, audio, and video resources
Courses: 1
Video Hours: 2
Getting the most out of Mobile Ed
Logos Mobile Education is a highly effective cross-platform learning environment that integrates world class teaching with the powerful study tools and theological libraries available in Logos Bible Software. Every course provides links to additional resources and suggested readings that supplement the lecture material at the end of every transcript segment.
This course comes with an Activities resource that functions as a type of "workbook" for the course. This resource includes learning activities such as: places for you to respond to reflection questions, exercises that will challenge and show you how deepen your understanding of this course by using specific Logos tools and resources, tutorial videos on different features of Logos Bible Software, and links to relevant Logos guides and tools. A link to open the Activities resource is conveniently placed at the end of every segment.
More details about these resources