Mobile Ed: OT300 Old Testament Theology (16 hour course)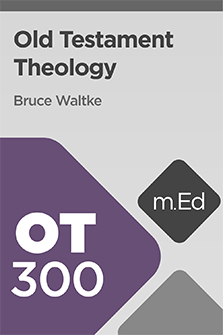 Mobile Ed: OT300 Old Testament Theology (16 hour course)
•
Runs on Windows, Mac and mobile.
Overview
Survey the themes and purpose of the Old Testament with renowned Old Testament scholar Bruce Waltke. You'll get a clearer understanding of how the different books of the Old Testament fit together to tell the grand story of God's plan of salvation. The course covers creation, the fall, God's covenants with His people, and God's great acts of redemption and deliverance in the Old Testament. Dr. Waltke explores how the different genres of literature in the Old Testament explain and expand on the story of the Old Testament and how this story is relevant to you. As he says in the course:
"Through biblical theology I hope you will know God personally—not only learn about Him, but you will come to know Him personally. And also through this course, you will know who you are and where you fit into the scheme of things—that you are a part of a great story of salvation history. You are part of the establishment of God's kingdom on earth."
Course Outline
Introduction
Introducing the Speaker and the Course
Unit 1: Basis, Task, and Method
Aims of the Course: To Know God
Aims of the Course: To Know Self
Calendar
The Basis of Old Testament Theology: Part 1
The Basis of Old Testament Theology: Part 2
The Basis of Old Testament Theology: Implications
The Task of Old Testament Theology: Preliminary Issues
Preliminary Issues: Four Histories
Preliminary Issues: Blocks of Writing
Contrast to Other Types of Theologies: Part 1
Contrast to Other Types of Theologies: Part 2
Method: Narrative Theology
Plot is Similar to Fiction
Evaluative Point of View
Evaluative Point of View and Theology
Unit 2: Cosmos
Introduction and Audience
Structure of the First Account
Syntax of "And the Earth"
Chaos
Meaning of "Create," "Make," and "Firmament": Part 1
Meaning of "Create," "Make," and "Firmament": Part 2
Conclusion
Unit 3: Adam and Bride
Mankind and the Male
The Bride
Marriage and Motherhood
The Equality of Men and Women
Unit 4: Garden: Probation and Fall
Introduction
The Garden of Eden: Humanity on Probation
The Fall and Its Consequences: Part 1
The Fall and Its Consequences: Part 2
The Fall and Its Consequences: Part 3
Epilogue
Unit 5: Abrahamic Covenant
Introduction
Spread of Grace, Spread of Sin
Creation and Recreation
Promise, Covenants and Oath
The Holy Olive Tree: Part 1
The Holy Olive Tree: Part 2
The Holy Olive Tree: Part 3
Unit 6: God as Deliverer
Introduction
God's Name
Israel's Redemption from Egypt
Excursus: Typology and Balaam
Slaughter of the Lamb
Feast of Unleavened Bread
Unit 7: God as Warrior
Introduction
Deuteronomy and Joshua
Judges and United Monarchy
Late Monarchy, Writing Prophets, Exile, Postexile, and New Testament
Secular War and Spiritual War
Unit 8: Old and New Covenants
Torah as Catechistic Teaching
Kingdom of Priests
The Ten Commandments
Content of the Ten Commandments
Commandments Pertaining to God
Transitional Commandment: The Sabbath: Part 1
Transitional Commandment: The Sabbath: Part 2
Commandments Pertaining to Humanity: Part 1
Commandments Pertaining to Humanity: Part 2
Commandments Pertaining to Humanity: Part 3
Relationship between Old and New Covenants
Unit 9: Deuteronomy
Introduction
Content and Structure of the Book of Deuteronomy
Moses' Second Address
Literary Genre
Unit 10: Liturgy
Introduction
Liturgy and Ethics
Sacred Sites, Objects, and Personnel
Sacred Seasons and Institutions
General Regulations for Sacrifice
Development of theme
Unit 11: Land
Introduction: Part 1
Introduction: Part 2
Doctrine of the Land on the New Testament
Doctrine of the Land in Matthew and Mark
Doctrine of the Land in Luke, Acts, John
Doctrine of the Land: Teaching of the Apostles
Land as Spiritual Territory
Unit 12: Davidic Covenant
Introduction
Gift of Warlords: Book of Judges
Crossing of Fates: Part 1
Crossing of Fates: Part 2
The Davidic Covenant
Unit 13: Psalms
Introduction to the Psalter
Interpretation of the Psalter: Psalms in their Historical Context
Historical Approach: Original Composition
Royal Interpretation of the Psalms
Dominant Forms of Psalms
Editing the Psalter
Exegetical and Theological Significance of the Five Books
Messiah
Messiah in the New Testament
Unit 14: Prophets
Introduction to the Prophets
Identification of Israel's Prophets and their Messages
What Manner of Men Were the Prophets?
Holy War and Interpreting the Prophets
Unit 15: Wisdom
Introduction: What is Wisdom Literature?
Background on Proverbs
Why Attain Wisdom?
What is Wisdom and Where Can It be Found?
Agur's Ladder
Conclusion
Product Details
Title: OT300 Old Testament Theology
Instructor: Bruce K. Waltke
Publisher: Lexham Press
Publication Date: 2018
Product Type: Logos Mobile Education
Resource Type: Courseware, including transcripts, audio, and video resources
Courses: 1
Video Hours: 16
About the Instructor
Bruce K. Waltke, well-known as a masterful teacher with a pastor's heart, is Professor Emeritus at Regent College and Distinguished Professor Emeritus at Knox Theological Seminary. He earned his ThD in Greek and New Testament at Dallas Theological Seminary and his PhD in ancient Near Eastern languages and literatures at Harvard University. He was honored with a Doctor of Letters by Houghton College.
Professor Waltke has taught at Dallas Theological Seminary, Regent College, Westminster Theological Seminary, Reformed Theological Seminary, and Knox Theological Seminary, and has lectured at many additional seminaries.
Among the numerous works Professor Waltke has published on the Old Testament are An Introduction to Biblical Hebrew Syntax; An Old Testament Theology: An Exegetical, Canonical, and Thematic Approach; and commentaries on Genesis, Psalms, Micah, and Proverbs. He serves on the committee responsible for the text of the New International Version of the Bible.
Getting the most out of Mobile Ed
Logos Mobile Education is a highly effective cross-platform learning environment that integrates world class teaching with the powerful study tools and theological libraries available in Logos Bible Software. Every course provides links to additional resources and suggested readings that supplement the lecture material at the end of every transcript segment.
This course comes with an Activities resource that functions as a type of "workbook" for the course. This resource includes learning activities such as: places for you to respond to reflection questions, exercises that will challenge and show you how deepen your understanding of this course by using specific Logos tools and resources, tutorial videos on different features of Logos Bible Software, and links to relevant Logos guides and tools. A link to open the Activities resource is conveniently placed at the end of every segment.
More details about these resources