The John Stott Christian Living Collection (3 vols.)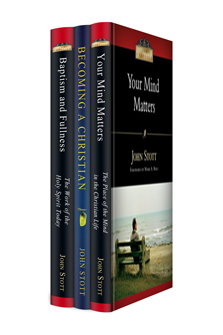 The John Stott Christian Living Collection (3 vols.)
•
Runs on Windows, Mac and mobile.
Overview
John Stott stands as one of the most notable Christian preachers, writers, and apologists of the 20th century. His ability to communicate timeless Christian truths clearly makes his teaching accessible to all audiences. In this collection, Stott emphasizes the necessity of the Holy Spirit for Christian living, and answers questions about spiritual gifts. Also identified is mankind's greatest problem alongside a presentation of Christ's gracious solution. He also points to the importance of the intellect in the life of the Christian. Together, these texts examine the Christian life from a variety of perspectives, aiding modern pastors, teachers, and lay-Christians in living out their calling.
With Logos Bible Software, these valuable volumes are enhanced by cutting-edge research tools. Important terms link to dictionaries, encyclopedias, and a wealth of other resources in your digital library. Powerful topical searches help you find exactly what you're looking for. Tablet and mobile apps let you take the discussion with you. With Logos Bible Software, the most efficient and comprehensive research tools are in one place, so you get the most out of your study.
Key Features
Practical instruction well suited for contemporary audiences
Recaptures a lost valuation of the mind within Christian practice
Answers many questions Christians have about sometimes-called sign gifts
Product Details
Title: John Stott Christian Living Collection
Author: John Stott
Publisher: IVP
Volumes: 3
Pages: 279
Resource Type: Topical
Topic: Christian Living
Individual Titles
"The Christian life is life in the Spirit," writes John Stott. "It would be impossible to be a Christian, let alone to live and grow as a Christian, without the ministry of the gracious Spirit of God. All we have and are as Christians we owe to him."
The Holy Spirit continues to be at work around the world, as evidenced by numerous renewal movements. Yet much confusion and controversy remain regarding the Holy Spirit's activity. In this classic study, John Stott provides clear biblical exposition on the promise, the fruit and the gifts of the Holy Spirit. He offers particular guidance on the nature of "the baptism of the Spirit" and whether certain spiritual gifts and experiences should be normative for all Christians. Always irenic and gracious, Stott points the way to both greater biblical understanding and deeper fullness of spiritual life.
Stott describes conversion in this updated booklet. He describes the fundamental human problem. Next, Stott outlines the Christian answer to it and shows readers how to respond to God's truth. This useful volume provides a helpful overview for evangelism or for personal devotion.
"Knowledge is indispensable to Christian life and service," writes John Stott. "If we do not use the mind which God has given us, we condemn ourselves to spiritual superficiality."
While Christians have had a heritage of rigorous scholarship and careful thinking, some circles still view the intellect with suspicion or even as contradictory to Christian faith. Many non-Christians are quick to label Christians as anti-intellectual. In this classic introduction to Christian thinking, John Stott responds to this criticism with a forceful appeal for Christian discipleship that engages the mind as well as the heart.
About John Stott
John R.W. Stott (1921–2011) has been known worldwide as a preacher, evangelist, and communicator of Scripture. For many years he served as rector of All Souls Church in London, where he carried out an effective urban pastoral ministry. A leader among evangelicals in Britain and the United States and around the world, Stott was a principal framer of the landmark Lausanne Covenant (1974). His many books have sold millions of copies around the world and in dozens of languages.
More details about these resources