Mobile Ed: NT337 Book Study: Paul's Second Letter to the Corinthians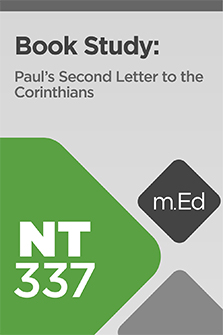 Mobile Ed: NT337 Book Study: Paul's Second Letter to the Corinthians
•
Runs on Windows, Mac and mobile.
Your Custom Discount
Reg. Price $299.99
Sale Price $179.99
Your Price $179.99
You Save $120.00 40%
Your Price
What's Pre-Pub?
$179.99
Overview
In Book Study: Paul's Second Letter to the Corinthians, Dr. George Guthrie walks you through the text of 2 Corinthians, where Paul expresses what he thinks about authentic Christian ministry—what does it mean to follow Christ as a real Christian minister in the world? Dr. Guthrie deals with the purpose of each section of the letter, walking through exegesis of the passage and discussing how Paul accomplishes his purpose in that passage. He also covers the implications of Paul's letter for our lives today.
Course Outline
Introduction
Unit 1: Introduction to 2 Corinthians
Unit 2: Letter Opening and Prologue (2 Cor 1:1–11)
Unit 3: Paul's Defense of His Ministry (2 Cor 1:12–2:13)
Unit 4: Authentic Christian Ministry (2 Cor 2:14–7:4)
Unit 5: Giving and Mission (2 Cor 8:1–9:15)
Unit 6: Paul Confronts the Malignant Ministry of His Opponents (2 Cor 10–13)
Conclusion
Product Details
Title: NT337 Book Study: Paul's Second Letter to the Corinthians
Instructor: George H. Guthrie
Publisher: Lexham Press
Publication Date: 2017
Product Type: Logos Mobile Education
Resource Type: Courseware, including transcripts, audio, and video resources
Courses: 1
Video Hours: 8
About the Instructor
Dr. George Guthrie serves as the Benjamin W. Perry Professor of Bible at Union University in Jackson, Tennessee. A specialist in New Testament and Koine Greek, he's authored numerous articles and has written 11 books, including the NIV Application Commentary: Hebrews.
Dr. Guthrie has participated in translation projects, such as the revision of The New Living Translation, and has served as a consultant on the Holman Christian Standard Bible, the New Century Version, and the English Standard Version. He also served for five years as a cochair of the "Biblical Greek Language and Linguistics" section of SBL, has served on the executive committee of the Institute for Biblical Research, and has served on the editorial board for Sheffield's JSNTS monograph series. At Union University, he has led in the establishment of, and serves as senior fellow in, the Ryan Center for Biblical Studies, which is committed to promoting sound Bible reading, study, and interpretation at the grassroots level of the church. Dr. Guthrie holds both PhD and MDiv degrees from Southwestern Baptist Theological Seminary and a ThM from Trinity Evangelical Divinity School.
Getting the most out of Mobile Ed
Logos Mobile Education is a highly effective cross-platform learning environment that integrates world class teaching with the powerful study tools and theological libraries available in Logos Bible Software. Every course provides links to additional resources and suggested readings that supplement the lecture material at the end of every transcript segment.
This course comes with an Activities resource that functions as a type of "workbook" for the course. This resource includes learning activities such as: places for you to respond to reflection questions, exercises that will challenge and show you how deepen your understanding of this course by using specific Logos tools and resources, tutorial videos on different features of Logos Bible Software, and links to relevant Logos guides and tools. A link to open the Activities resource is conveniently placed at the end of every segment.