Das Neue Testament, die Psalmen, die Sprüche in deutscher Fassung (Jantzen-Jettel)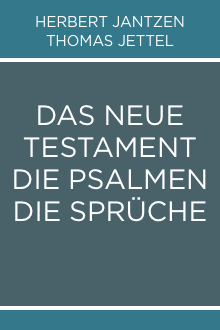 Das Neue Testament, die Psalmen, die Sprüche in deutscher Fassung (Jantzen-Jettel)
•
Runs on Windows, Mac and mobile.
$39.00
* Projected price. Future bids may change this price.
Place Your Bid!
Click on the highest price you'd pay. If the final price is lower, that's what you'll pay.
Diese Bibel wird nach der Finanzierung kostenlos angeboten. Die Übersetzung wurde uns von den Autoren großzügigerweise kostenlos zur Verfügung gestellt. Auch wir verdienen nichts daran.
Mit Ihrem Gebot helfen Sie uns, die Produktion dieser Bibel als Logos-Ressource zu finanzieren. Nach der Auslieferung wird der Bestellpreis in Logos-Guthaben erstattet.
Überblick
Das Neue Testament, die Psalmen, die Sprüche in deutscher Fassung ist eine formale Übersetzung des Bibeltexts für Christen, die das Wort Gottes genauer erforschen wollen. Die Autoren bemühen sich um eine möglichst genaue Übersetzung in gehobener Sprache, die den Leser auch sprachlich herausfordert, den Bibeltext besser zu verstehen. Anstatt sich an die Sprachwelt des Lesers anzupassen, will sie den Leser mit der biblischen Sprache prägen. Daher bemühen sie sich, wo möglich, um eine formgetreue und konkordante Wiedergabe des Bibeltexts. In den Psalmen soll die Beschaffenheit der hebräischen Poesie möglichst mit übertragen werden.
Zum besseren Verständnis fügen die Übersetzer zahlreiche Fußnoten, Worterklärungen, Parallelstellen und einen mit über 340 Seiten sehr umfangreichen Anhang mit fortlaufenden Anmerkungen zum Bibeltext hinzu. Die Übersetzung des Neuen Testaments beruht auf dem Textus Receptus, folgt allerdings bei schlecht bezeugten Lesarten dem Mehrheitstext.
Die Logos Edition der Übersetzung von Herbert Jantzen und Thomas Jettel ist direkt in den gewaltigen Funktionsumfang von Logos Bibelsoftware eingebunden. Wichtige Begriffe sind direkt mit Wörterbüchern und Nachschlagewerken sowie einer Vielzahl weiterer Ressourcen in Ihrer digitalen Bibliothek verknüpft. Mit umfassenden Suchoptionen finden Sie genau die Ergebnisse, die Sie suchen. Mobil-Apps machen es möglich, Ihre Arbeit von überall fortzusetzen. Logos Bibelsoftware vereint für Sie die effizientesten und umfassendsten exegetischen Werkzeuge in einem Programm, damit Sie das Beste aus Ihrem Bibelstudium herausholen können.
Wichtigste Merkmale
Übersetzung enthält gründliche philologische Fußnoten.
Ausführlicher Anhang mit Worterklärungen, fortlaufenden Anmerkungen zum Text und Parallelstellenverzeichnis.
Psalmenübersetzung enthält umfangreiche Analysen zum Aufbau jedes Psalms.
Produktdetails
Titel: Das Neue Testament, die Psalmen, die Sprüche in deutscher Fassung
Auflage: 4. erweiterte Auflage, exklusiv bei Logos
Autoren: Herbert Jantzen, Thomas Jettel
Veröffentlichungsdatum: 2017
Seiten: 1088
Sprache: Deutsch
Über die Autoren
Prof. Herbert Jantzen (*1922) ist ein deutsch-kanadischer Theologe, der unter anderem Professor für Dogmatik an der STH Basel war.
Thomas Jettel (*1959) ist Theologe und arbeitet als freier Verkündiger und Bibelübersetzer.