Ed. Móvil: NT312 Los Evangelios y la pedagogía en la Antigüedad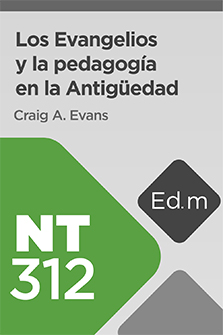 Ed. Móvil: NT312 Los Evangelios y la pedagogía en la Antigüedad
•
Runs on Windows, Mac and mobile.
Reseña
Los Evangelios son textos con 2000 años de antigüedad, así que según los leas es importante comprender el género antiguo que representan. En este curso, Craig Evans revisa los Evangelios, discute temas del criticismo textual, y explica métodos de enseñanza antiguos para que puedas comprender no sólo lo que Jesús enseñó, sino cómo lo enseñó y por qué sus lecciones son relatadas de manera específica en los textos de los Evangelios.
Resultados del curso
Al completar con éxito el curso, podrás:
Enlistar el orden cronológico en que los Evangelios fueron escritos
Resumir las evidencias sobre la fiabilidad de los cuatro Evangelios canónicos
Evaluar los dos tipos de evidencia para la existencia de evangelios judíos extracanónicos
Evaluar la historiografía y pedagogía de los Evangelios
Definir y discutir el problema sinóptico
Bosquejo del curso
Unidad 1: Cronología, canonicidad y texto de los Evangelios
Evangelio de Marcos
Investigación sobre la fecha del Evangelio de Marcos con colecciones personalizadas
Evangelio de Mateo
Estudio de los templos judíos con la Enciclopedia bíblica y la Cronología
Evangelio de Lucas
Análisis de la palabra griega que se encuentra detrás del "desacuerdo" entre Pablo y Bernabé
Evangelio de Juan
Investigación sobre la identidad del "Discípulo Amado"
Canonicidad temprana y texto estable
Cuestionario sobre la Unidad 1
Unidad 2: Versiones judías de los Evangelios
¿Un Mateo escrito en hebreo?
Dos enfoques sobre un Mateo hebreo
El Mateo hebreo de Shem Tov: Parte 1
Cómo encontrar la frecuencia del término "Dios" en los Evangelios
El Mateo hebreo de Shem Tov: Parte 2
El Mateo hebreo de Shem Tov: Parte 3
Uso del Preparador de sermones para investigar el Reino de Dios
El Mateo hebreo de Shem Tov: Parte 4
Pruebas patrística de un Mateo en hebreo
Formas de citar los evangelios judíos
Orígenes: Evangelio de los nazarenos
Epifanio: Evangelio de los ebionitas
Jerónimo: Evangelio de los nazarenos
Cuestionario sobre la Unidad 2
Unidad 3: Historiografía y pedagogía
Introducción a la historiografía y la pedagogía
Historiografía: veraz, pero no palabra por palabra
Pedagogía: memorización, pero no palabra por palabra
Investigando las diferencias en los Evangelios
Cuestionario sobre la Unidad 3
Unidad 4: El problema sinóptico
Introducción al problema sinóptico
Ejemplos de diferencias entre los Sinópticos
Caso práctico sinóptico: Jesús calma la tempestad
Cuestionario sobre la Unidad 4
Conclusión
Observaciones a modo de resumen
Examen final
Detalles de producto
Título: NT312 Los Evangelios y la pedagogía en la Antigüedad
Instructor: Craig A. Evans
Editorial: Lexham Press y Editorial Tesoro Bíblico
Fecha de publicación: 2017
Tipo de producto: Educación Móvil Logos
Formato: Curso en video, audio y texto
Cursos: 1
Horas de video: 3
Acerca de Craig A. Evans
Craig A. Evans es el distinguido profesor Payzant de los estudios del Nuevo Testamento y director del programa graduado en Acadia Divintiy College en Wolfville, Nova Scotia. Ha escrito extensamente en la figura histórica de Jesús y el fondo judío del periodo del Nuevo Testamento. Sus libro incluyen: Jesus and His Contemporaries: Comparative Studies, un comentario de Marcos en el Word Biblical Commentary, Jesus and the Ossuaries, y Ancient Texts for New Testament Studies. Recientemente ha servido en el gabinete de asesores del Evangelio de Judas del National Geographic Society y ha aparecido con frecuencia como comentarista experto en programas de la televisión en cadena, por ejemplo Dateline, y en diversos documentales en BBC, Discovery Channel y History Channel.
Aprovechar Educación Móvil
Educación Móvil es una herramienta poderosa y eficaz del aprendizaje móvil que incorpora las herramientas del estudio que se encuentran en el software Bíblico Logos.
Con todas las bibliotecas Logos, podrás ver las lecciones y interactuar con las transcripciones. Para la mejor experiencia de aprendizaje, te recomendamos la biblioteca Premier.
More details about these resources