Mobile Ed: LD111 Foundations of Christian Leadership (2 hour course)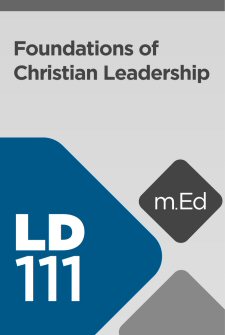 Mobile Ed: LD111 Foundations of Christian Leadership (2 hour course)
•
Runs on Windows, Mac and mobile.
Overview
LD111 Foundations of Christian Leadership is presented by a team of six respected Mobile Ed speakers—Justin Irving, Greg Ogden, Bev Hislop, Jeff Struecker, Michael W. Goheen, and Timothy Sisk—who write and teach on leadership, discipleship, pastoral care, chaplaincy, missiology, and church planting. This course introduces Christian leadership, insights on how to grow as a leader and disciple leaders, and leadership across the contexts of chaplaincy, shepherding women, and the mission field.
Learning Objectives
Upon successful completion you should be able to:
Recognize the importance of trained leaders within the missional church
Apply biblical models of discipleship and team ministry that share the leadership burden
Grow in awareness of the dynamics of self-leadership
Understand leadership characteristics and functions needed to serve in chaplaincy, ministry to women, and missional contexts
Course Outline
Introduction
Unit 1: Introduction to Christian Leadership
Why Leadership? Why Now? (from LD101)
Importance of Leadership (from PC101)
Components of Effective Teams (from LD201)
Leadership Training (from PC101)
Transactional vs. Transformational Leadership (from LD202)
Unit 2: Discipling Church Leaders
Focus on a Few: Internalization (from ED101)
Focus on a Few: Multiplication (from ED101)
Sharing the Leadership (from ED201)
Unit 3: Shepherding Women
What Makes a Good Shepherd? (from PC131)
Women as Shepherds (from PC131)
Effective Biblical Shepherding (from PC131)
Unit 4: Leading as a Chaplain
What Is Chaplaincy? (from PC171)
Traits of a Chaplain (from PC172)
Unit 5: Leading on the Mission Field
Leading in Different Cultures or Communities (from MI201)
Characteristics of a Successful Church Planter, Part 1 (from MI201)
Characteristics of a Successful Church Planter, Part 2 (from MI201)
Unit 6: Growing as a Leader
Biblical Foundations for Self-Leadership (from LD101)
Increasing Emotional Intelligence (from LD102)
The Dark Side of Leadership (from LD102)
Spiritual Gifts (from LD102)
Conclusion
Leaving a Legacy (from ED101)
Getting the most out of Mobile Ed
Logos Mobile Education is a highly effective cross-platform learning environment that integrates world class teaching with the powerful study tools and theological libraries available in Logos Bible Software. Every course provides links to additional resources and suggested readings that supplement the lecture material at the end of every transcript segment.
This course comes with an Activities resource that functions as a type of "workbook" for the course. This resource includes learning activities such as: places for you to respond to reflection questions, exercises that will challenge and show you how deepen your understanding of this course by using specific Logos tools and resources, tutorial videos on different features of Logos Bible Software, and links to relevant Logos guides and tools. A link to open the Activities resource is conveniently placed at the end of every segment.
More details about these resources