Mobile Ed: Logos Academic Training Bundle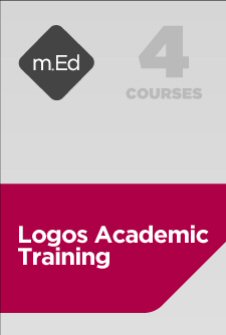 Overview
The Logos Academic Training bundle is a complete program for learning the best ways to use Logos for seminary-level research. It consists of four concise courses designed to help any student of the Bible improve the academic rigor of their study and research skills by using Logos Bible Software. These courses were designed to help seminaries train their students to use Logos to successfully research, examine, and present on specific Bible passages or theological topics. Now, this level of training is available to everyone. Whether or not you have watched the quick-start and onboarding training that come with Logos, these courses waste no time and get you learning the best tools and features for academic study. All of the videos in these courses were created specifically for this bundle to ensure the training is focused and applicable. Each segment builds on the previous segment and demonstrates how different tools and features of Logos all work together as it presents solid research methods for someone wanting to produce theological papers or sermons. Each course examines different aspects of the same passage (Luke 20:41–44, where Jesus quotes Psalm 110:1), equipping you with the skills and tools you will need to research any passage or topic. The Courses Tool is there to guide you through the sequence and content of each course in the bundle to help you complete the whole program.
With less than an hour of video per course, you get directly into substantive training that you can review as often as you wish. Getting Oriented with Logos Bible Software (LT101) introduces the software's tools and capabilities, showing you how to get set up by customizing Logos to suit your academic and research needs. Studying a Passage with Logos Bible Software (LT102) walks you through different ways to use Logos to interpret the Bible in context. Studying a Topic with Logos Bible Software (LT103) demonstrates how to make the most of your Logos library by researching topics to find answers to theological questions. Finally, Organizing and Presenting Research with Logos Bible Software (LT104) takes you through the final steps of applying what you've learned by sharing it with others through academic papers, crafting a sermon, or any other type of presentation, using proper citations along the way.
Individual Titles
LT101: Getting Oriented with Logos Bible Software
Getting Oriented with Logos Bible Software (LT101) provides an overview of the entire Logos Bible Software package. It focuses on the tools and resources you can access right from the Home page before introducing all of the tools you can use to organize both your resources and your on-screen layouts. This introductory course helps you customize your Logos library to suit your needs for serious study. It covers the basic knowledge of how Logos works, which is necessary for the rest of the Logos Academic Training series.
Learning Objectives
Upon successful completion you should be able to:
Use the Home page to conduct searches in your resources
Use the Home page to access all of your guides
Use the Library to find and filter resources, make custom collections, and prioritize your resources
Use the Home page to access, customize, and create on-screen layouts that suit the ways you read and study the Bible
Create and organize your own Notes files
Create Favorites folders to organize material you find in your reading
Course Outline
Introduction
Unit 1 Starting with the Home Page
Overview and Home
Search from Home Page
Different Guides in Logos
Topic Study from the Home Page
Passage Study from the Home Page
Unit 2 Organizing Your Research
Introduction to the Logos Library
The Library
The Importance of Layouts
Layouts
Organizing Your Notes
Documents and Favorites
Unit 3 Additional Features
Conclusion
LT102: Studying a Passage with Logos Bible Software
Studying a Passage with Logos Bible Software (LT102) takes you through a specific passage step by step to teach you how you can use Logos for interpreting any Bible passage. This is a concise course on how to study the Bible in context from a first reading through detailed analysis. First, it shows you how to read your preferred Bible in comparison to other versions side by side, so that you can note and analyze the differences. Then it shows what you can do with the Exegetical, Passage, and Bible Word Study guides. Using them, you can do grammatical and structural analysis and conduct cultural background and word studies. Finally, the course shows you how to use these guides to find what others have said about your passage in ancient sources, in commentaries, and in biblical and systematic theologies.
Learning Objectives
Upon successful completion you should be able to:
Set up Logos Bible Software to present a clean text that displays nothing but the Bible text itself
Read and compare various versions side by side and analyze the differences between them
Use the software to analyze the structure and genre of a Bible text so you can read it contextually
Use the Exegetical Guide to access word studies and grammars for studying your text closely
Use the Bible Word Study guide to access word studies
Use the Passage Guide to access cultural concepts, ancient literature, commentaries, and biblical and systematic theologies that address your text
Course Outline
Introduction
Reading the Bible Contextually
Unit 1 Read the Bible
Reading the Bible in Your Own Language
The Importance of Reading in Original Languages
Reading in Original Languages
Seeing the Forest and the Trees
Reading for Structure and Genre
Unit 2 Study a Word
The Value of Word Studies
Original Language Guides
Using Commentaries
Gleaning Word Information from Commentaries
Gleaning Word Information from Commentaries
Using Tools of Grammatical Analysis
Grammars
Unit 4 Engage Extratextual Resources
Using Extratextual Resources
Primary Sources and Commentaries
Biblical and Systematic Theology
Theological Resources
Conclusion
Reading the Passage Again
LT103: Studying a Topic with Logos Bible Software
Studying a Topic with Logos Bible Software (LT103) uses the same specific Bible passage as in LT102 but examines topics within it. The course guides you through specific steps for topical studies. It begins with how to organize both the resources you want to search and the new material that you discover. Then it turns to the various guides you might use to identify and research a topic, whether as a brief topic review or as an in-depth analysis. Finally, this course shows you how to use Logos Bible Software to outline your topical study. Learning this type of workflow for researching a topic can help you get the most out of the breadth of your digital library.
Learning Objectives
Upon successful completion you should be able to:
Create Favorites folders and use them to organize what you find while doing a topic study
Use the sophisticated search and filtering options in the Bible Browser to identify and focus your topics
Distinguish the search types you can do with the Topic Guide from those you can do with the Sermon Starter Guide
Use a Factbook report to find Bible dictionaries that speak to the topic you're searching on
Prioritize Bible dictionaries and other resources so they come to the top of any search
Search your top Bibles and use the Grid view to identify synonyms and related terms to your key word
Use the Bible Sense Lexicon to broaden and/or refine the terms for your topic
Do word studies on your topic terms using the Lexham Theological Wordbook and the Bible Word Study guide
Use Logos Bible Software tagging to do thematic searches and identify key passages related to your topic
Build custom collections to focus your searches within particular kinds of resources in your own Logos library
Use the Sermon Starter Guide to find and export thematic outlines to the Sermon Editor or to your word processor
Course Outline
Introduction
Unit 1 Study a Topic
Favorites Folder and Bible Browser
Topic Guide and Sermon Starter Guide
Introducing the Factbook
The Factbook and Bible Dictionaries
Introducing Cultural Concepts
Cultural Concepts and the Bible Sense Lexicon
Original Language Analysis
Unit 2 Search a Topic
Introducing Topical Tagging
Thematic Searches
Searching Biblical Theologies
Unit 3 Outline a Topic
Outlining a Topic
Thematic Outlines
Conclusion
LT104: Organizing and Presenting Research with Logos Bible Software
Organizing and Presenting Research with Logos Bible Software (LT104) focuses on organizing the results of your research from the previous courses so you can use and cite it in your own work. First, the course covers how to use Notes, Favorites, and Clippings files to save and organize your research. From there, you can learn to create, join, and post comments in Faithlife groups. Then the course addresses how to use the Sermon Editor to present your work as speaker notes, presentation slides, and audience handouts. Finally, it shows you how to export your work to Proclaim and SoundFaith.
Learning Objectives
Upon successful completion you should be able to:
Create and use Notes files to save and tag quotes from your resources so you can search for them easily
Create, join, post comments, and view other's comments in Faithlife groups
Create and use Favorites folders to save, bookmark, and organize your research
Use default highlighting templates, and make and store your own custom highlighting templates
Understand the different uses for Clippings and Notes folders
Use the advanced search syntax to make complex searches, using the search prompts in a new search window to get started
Create and add entries to a Bibliography file and then change its style to the one you want to use
Use the Tools menu to set up how you save citation information on a saved quote
Copy and save citations to paste into your report, paper, or sermon
Use the Sermon Editor to organize how you communicate the results of your study in a speaker's outline and related slides or in handouts or even question sheets with fill in the blanks
Export the results of your study and preparation to Proclaim and to SoundFaith
Course Outline
Introduction
Organizing and Communicating Your Research
Unit 1 Organize Your Research
Notes and Tags
Community Notes and Faithlife Groups
Keeping Track of Your Resources
Favorites
Highlights and Clippings
Finding What You Need
Advanced Searching
Unit 2 Communicate Your Research
Tracking Your Sources
Bibliographies and Citations
Preparing to Preach or Teach
Sermon Editor and Proclaim
Conclusion
Product Details
Title: Logos Academic Training Bundle
Publisher: Lexham Press
Publication Date: 2017
Product Type: Logos Mobile Education
Resource Type: Courseware, including transcripts, audio, and video resources
Courses: 4
Video Hours: 3
Getting the most out of Mobile Ed
Mobile Ed is a highly effective mobile learning environment that incorporates the powerful study tools found in Logos Bible Software.
With any Logos library base package, you will be able to view the lectures and interact with the transcripts. For the best learning experience, we recommend you use Logos Platinum.
Readings for the courses are often tailored to Platinum because the larger library provides access to a wide range of suggested resources and increases search results for further study.
The Platinum collection best matches the resources used in screencasts. It includes a breadth of commentaries, original-language studies, and over 1,400 resources to deepen your study.