Cultural Engagement Bundle (3 vols.)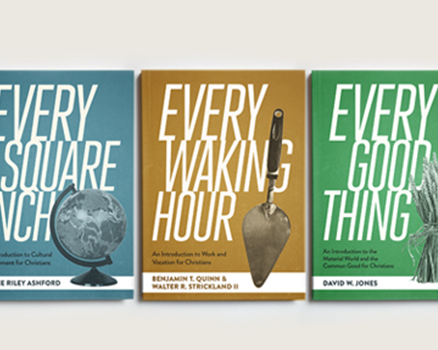 Cultural Engagement in a Modern Context
The tension of God's kingdom that is now but not yet makes interacting with the world a complicated affair. If we truly believe that the gospel is an all-encompassing worldview, it should apply to every area of human existence—physical, emotional, and spiritual. Our faith must be grounded in the here and now; Jesus' example was one of engagement with, not detachment from, the physical realm.
To help young Christians connect their faith with the rest of their lives, Lexham Press established a partnership with Southeastern Baptist Theological Seminary to publish three books on Christian cultural engagement. Four leading Christian thinkers—Bruce Riley Ashford, Walter R. Strickland, Benjamin Quinn, and David W. Jones—lend their insights and scholarship point us to a reframed biblical worldview that extends throughout and engages with all of creation.
At the intersection of faith, culture, work, and economics, the Cultural Engagement Bundle equips Christians to faithfully engage with the world and glorify God in all they do.
Product Details
Title: Cultural Engagement Bundle (3 vols.)
Publisher: Lexham Press
Volumes: 3
Every Square Inch: An Introduction to Cultural Engagement for Christians
Author: Bruce Riley Ashford
Publisher: Lexham Press
Publication Date: 2015
Pages: 159
Drawing on such sources as Abraham Kuyper, Francis Schaeffer, and C.S. Lewis, Bruce Ashford argues that God wants our whole lives to be shaped by Jesus' lordship. If Jesus truly is Lord over everything, then our faith is relevant to every dimension of culture.
We must remove the barrier between "sacred" and "secular," and allow the gospel to inform everything we do. We are to live our lives firmly in the midst of our cultural contexts, proclaiming Jesus with our lips and promoting him with our lives.
Praise for Every Square Inch
Bruce Ashford has a real gift to take complicated concepts and put them in words all of us can understand. In Every Square Inch he does just this as he helps us to think Christianly and comprehensively for the glory of Christ in all things. I will be recommending this book for those who want to cultivate a Christian worldview way of thinking and living.
—Daniel Akin, President, Southeastern Baptist Theological Seminary
The God who sent the Savior to rescue us as individual sinners also cares deeply about the larger world in which we individuals live. And that includes the world of culture—our art, our games, our family patterns, our political systems, and much more. In this excellent and highly readable book, Bruce Ashford spells that out clearly and with much wisdom.
—Richard J. Mouw, Professor of Faith and Public Life, Fuller Theological Seminary
Every Waking Hour: An Introduction to Work and Vocation for Christians
Authors: Benjamin T. Quinn and Walter R. Strickland II
Publisher: Lexham Press
Publication Date: 2016
Pages: 132
In Every Waking Hour, Benjamin Quinn and Walter R. Strickland II offer a theological framework for understanding the intersection between the Christian life and the various ways we spend our time. "Work" isn't simply our careers, it's any way we engage with God's creation. Doing so helps us develop a more robust understanding, based in Scripture, of how Monday through Friday intersect with Sunday morning.
Christ-followers are not merely chaplains on the job site—we are ministers in God's world. We are to join our work with Christ's work of making all things new.
Praise for Every Waking Hour
Many Christians struggle to make sense of their work lives. Some of us are tempted to find our identities in our careers. Others of us are tempted to see our work as drudgery. This book shows us how to see our work through the prism of the kingdom of God. This book is biblical, practical, and wise.
—Russell Moore, President, Southern Baptist Ethics & Religious Liberty Commission
I have often thought it was risky to designate a single person in a congregation as 'the minister' when the Christian Scriptures seem to place 'the work of the ministry' on the shoulders of all who follow Christ. For this reason and more, Every Waking Hour is a gift to us all one hundred times over. Strickland and Quinn remind us that our job descriptions cannot ultimately be written on cards, etched into name plates, or affixed to email signatures. They are given by God for the world's good and God's glory. This book casts a compelling vision for vocation that is relevant to any believer with breath in their lungs and it arrives not a moment too soon.
—Jonathan Merritt, author of Jesus Is Better Than You Imagined, contributing writer for The Atlantic
Every Good Thing: An Introduction to the Material World and the Common Good for Christians
Author: David W. Jones
Publisher: Lexham Press
Publication Date: 2016
Pages: 130
In Every Good Thing, David W. Jones explains why we should be concerned with the material world—for our own good, for the good of our neighbors, and for the glory of God. Scripture frequently speaks about issues such as wealth and poverty, work and rest, and creation and stewardship. Jones argues that the material here-and-now is just as important as the sweet by-and-by. God cares deeply about the material realm, and Jesus' example was one of engagement with, not detachment from, the physical realm.
This introductory book covers some of the Bible's most important teachings on these topics, helping Christians better understand how to live in the material world for the common good.
Praise for Every Good Thing
The tendency to emphasize the good of the spiritual realm to the neglect of the physical world has led many Christians to an unbiblical view of the world and a false dichotomy between the 'sacred' and 'secular.' In Every Good Thing, David W. Jones offers a helpful corrective to this tendency, grounding his arguments in a thoroughly biblical perspective, with significant implications for how Christians think about their calling, work, rest, wealth and poverty—in short, how we ought to think about our lives! Every Good Thing is an important introduction to these issues that will benefit readers greatly.
—Kenneth T. Magnuson, Ph.D., professor of christian ethics, The Southern Baptist Theological Seminary
David W. Jones has done a great service for Christians. This book explores how the gospel should infiltrate every area of our material lives and challenges us all to live out our faith no matter our vocational calling. You will be challenged to live a life that exalts Christ and furthers the gospel—a life that impacts the eternal because you live out your faith in the material. This is a must-read for every follower of Jesus Christ.
—Thomas White, president and professor of theology, Cedarville University
About the Authors
Bruce Riley Ashford is Provost and Dean of the Faculty at Southeastern Baptist Theological Seminary, where he also serves as Professor of Theology & Culture.
Benjamin T. Quinn serves as associate dean for institutional effectiveness and assistant professor of theology and history of ideas at Southeastern Baptist Theological Seminary and The College at Southeastern. Quinn received his PhD in theology from the University of Bristol, UK, and lives with his wife and three children in Wake Forest, NC.
Walter R. Strickland II is special advisor to the president for diversity and instructor of theology at Southeastern Baptist Theological Seminary. Strickland holds an MDiv and ThM from Southeastern and is pursuing a PhD in theology from the University of Aberdeen (Scotland).
David W. Jones serves as professor of Christian ethics, associate dean for graduate program administration, and director of the Th.M. program at Southeastern Baptist Theological Seminary. He has authored or coauthored six books and more than a dozen articles that have appeared in various academic publications. He resides in North Carolina with his wife and children.