Mobile Ed: BI111 Typological Hermeneutics: Finding Christ in the Whole Bible (4 hour course)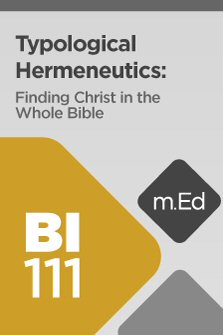 Mobile Ed: BI111 Typological Hermeneutics: Finding Christ in the Whole Bible (4 hour course)
•
Runs on Windows, Mac and mobile.
Overview
Explore the art and science of Bible interpretation, teaching you how to become a good reader of the Bible so you will hear everything God says in His inspired Word. Dr. Leithart teaches a hermeneutical approach grounded in a robust theology of language, modelled after the way Jesus and the apostles interpreted the Old Testament, and drawing on elements from patristic and medieval methods. Other crucial topics are discussed, such as the nature of texts, semantics, intertextuality, biblical allusions, and literary structure, all reinforced with a plethora of examples from both biblical and extrabiblical literature. All of this contributes to the main point of reading Scripture: to be conformed to the image of Jesus Christ.
Course Outline
Introduction
Introducing the Speaker and the Course
Unit 1: History of Interpretation
Early Church to Middle Ages
Reformation to Present
Unit 2: The God Who Speaks Human
God Speaks
God Speaks Human
God Speaks Truth
Three Models of Theological Language
Poetry of Creation in Genesis 1: Light
Poetry of Creation in Genesis 1: Images of God
Unit 3: Everything Concerning Himself
The Bible Is about Jesus, Part 1
The Bible Is about Jesus, Part 2
Typology Is a Film, Not a Picture
Unit 4: Open Ears: Becoming a Good Reader
Qualifications of an Interpreter
Reading According to the Spirit
Rules of Reading
Unit 5: Verbal Magic
Exegesis and Eisegesis
Semantics, Part 1
Semantics, Part 2
Intertextuality, Part 1
Intertextuality, Part 2
Scenic Imagery, Part 1
Scenic Imagery, Part 2
Unit 6: Textual Rhythms
Reasons for Paying Attention to the Structure of Biblical Texts
Determine the Subunits of the Text, Part 1
Determine the Subunits of the Text, Part 2
Determine the Subunits of the Text, Part 3
Discern How the Units Are Arranged, Part 1
Discern How the Units Are Arranged, Part 2
Discern How the Units Are Arranged, Part 3, and Ask What It Means
Unit 7: Reading to Teach
Quadriga: The Medieval Fourfold Method
Strengths of the Quadriga
Examples of the Quadriga: David and Goliath
Examples of the Quadriga: Ruth
Conclusion
Product Details
Title: BI111 Typological Hermeneutics: Finding Christ in the Whole Bibley
Instructor: Peter J. Leithart
Publisher: Lexham Press
Publication Date: 2016
Product Type: Logos Mobile Education
Resource Type: Courseware, including transcripts, audio, and video resources
Courses: 1
Video Hours: 4
About the Instructor
Peter J. Leithart received an AB in English and History from Hillsdale College in 1981, and a Master of Arts in Religion and a Master of Theology from Westminster Theological Seminary in Philadelphia in 1986 and 1987, respectively. In 1998 he received his PhD at the University of Cambridge in England. He has served as editor and writer for American Vision in Atlanta, Georgia (1987-1989), and as a pastor of Reformed Heritage Presbyterian Church (now Trinity Presbyterian Church), Birmingham, Alabama from 1989-1995. From 1998-2013, he taught Theology and Literature at New Saint Andrews College and between 2003 and 2013 served as pastor of Trinity Reformed Church. He is currently President of the Theopolis Institute, a pastoral training institute in Birmingham, Alabama.
Getting the most out of Mobile Ed
Logos Mobile Education is a highly effective cross-platform learning environment that integrates world class teaching with the powerful study tools and theological libraries available in Logos Bible Software. Every course provides links to additional resources and suggested readings that supplement the lecture material at the end of every transcript segment.
This course comes with an Activities resource that functions as a type of "workbook" for the course. This resource includes learning activities such as: places for you to respond to reflection questions, exercises that will challenge and show you how deepen your understanding of this course by using specific Logos tools and resources, tutorial videos on different features of Logos Bible Software, and links to relevant Logos guides and tools. A link to open the Activities resource is conveniently placed at the end of every segment.