Mobile Ed: Women in the Biblical World Bundle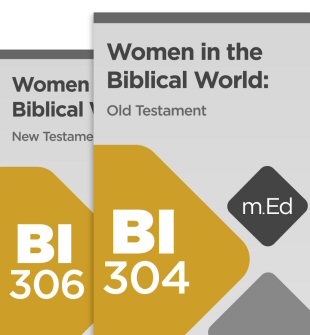 Mobile Ed: Women in the Biblical World Bundle
•
Runs on Windows, Mac and mobile.
Your Custom Discount
Reg. Price $749.99
Sale Price $449.99
Your Price $449.99
You Save $300.00 40%
Your Price
What's Pre-Pub?
$449.99
Overview
Gain insight into what life was like for women in ancient times with the two-course Women in the Biblical World bundle. Dr. Mark Chavalas takes an in-depth look at how women were viewed and treated in the ancient Near East, drawing information from primary texts including Mesopotamian, Greek, and Roman law codes, letters, and other literature. He compares and contrasts the attitudes and behavior of the ancient world in general with the portrayal of women in both the Old and New Testaments.
Individual Titles
In Women in the Biblical World: Old Testament, Dr. Mark Chavalas provides a historical and archaeological survey of the status of women in the biblical world, considering Old Testament views on women alongside those of the larger ancient Near Eastern context. Beginning from the advent of the nation of Israel, he covers various cultures from the time period, including Mesopotamia, Egypt, Hittite Anatolia, and Iran, exploring primary texts that inform our understanding of the roles of women in the ancient Near East and the Old Testament.
Contents:
Introduction
Women in Prehistory
Women in Ancient Near Eastern Laws
Women in Ur-Namma Laws
Women and Old Babylonian Law
More Ur-Namma Laws Concerning
Women in Lipit Ishtar Code
Women in Eshnunna Laws
Women in the Code of Hammurabi
Middle Assyrian Laws
Hittite Laws
Women in Ancient Near Eastern Decrees
Middle Assyrian Palace Decrees
Neo-Babylonian Law Decrees
Women in Ancient Near Eastern Letters
Old Assyrian Letters
Old Babylonian Letters from Tell al-Rimah
Letters from Mari
Letters from Sippar
Neo-Assyrian Letters
Women and Ancient Near Eastern Medicine
Women in the Old Testament
Genesis
Hebrew Law
Women in Judges
Conclusion
In Women in the Biblical World: New Testament, Dr. Mark Chavalas provides a historical survey of the status of women in the Graeco-Roman world, from the advent of alphabetic texts in the eastern Mediterranean and Aegean regions during the late eighth century BC, to the first century AD. He looks at Greek and Roman documents as well as classical-period documents from Egypt and other regions of the Near East. Dr. Chavalas presents a rich historical context for understanding how women were treated in the New Testament, and closes the course by evaluating many of the New Testament passages concerning women.
Contents:
Introduction
Male Depictions of Women
Depictions of Women by Philosophers and Physicians
Women in Law and Occupations
Women in Classical Graeco-Roman Society
Women in Hellenistic and Roman Egypt
Women in the Jewish Tradition
Women in the Gospels
Women in New Testament Epistles
Conclusion
Product Details
Title: Women in the Biblical World Bundle
Instructor: Mark Chavalas
Publisher: Lexham Press
Publication Date: 2016
Product Type: Logos Mobile Education
Resource Type: Courseware, including transcripts, audio, and video resources
Courses: 2
Video Hours: 25
About the Instructor
Dr. Mark Chavalas is Professor of History at the University of Wisconsin-La Crosse, where he has taught since 1989. He earned his BA at California State University-Northridge and his MA and PhD, both in History, at UCLA.
Dr. Chevalas is author or coauthor of publications including Mesopotamia and the Bible (Baker, 2002) and the IVP Bible Background Commentary: Old Testament (InterVarsity Press, 2000) and coeditor of The Ancient Near East and Women in the Ancient Near East. Dr. Chavalas has had fellowships at Yale, Harvard, Cornell, and other universities. He has nine seasons of excavation experience at various Bronze Age sites in Syria, and he is currently President of the American Oriental Society Middle West region and a member of the editorial board of the Bulletin of the American Schools of Oriental Research.
His research over the past decade has focused on interconnections between ancient Mesopotamia and outlying areas such as Anatolia, Iran, Egypt, and Syro-Palestine. Other recent research has investigated gender constructs in the ancient Near East and Mesopotamian historiography. Dr. Chavalas' current research is focused on writing a history of Bronze Age Syria from the advent of writing in the third millennium BC to the Iron Age. His courses cover a wide area, including ancient Mesopotamia, Egypt, Israel, Syria, and Turkey; Iran before Islam; women in the ancient world; and the Akkadian and Sumerian languages.
Getting the most out of Mobile Ed
Logos Mobile Education is a highly effective cross-platform learning environment that integrates world class teaching with the powerful study tools and theological libraries available in Logos Bible Software. Every course provides links to additional resources and suggested readings that supplement the lecture material at the end of every transcript segment.
All courses in this bundle come with an Activities resource that functions as a type of "workbook" for the courses. This resource includes learning activities such as: places for you to respond to reflection questions, exercises that will challenge and show you how deepen your understanding of this course by using specific Logos tools and resources, tutorial videos on different features of Logos Bible Software, and links to relevant Logos guides and tools.A link to open the Activities resource is conveniently placed at the end of every segment.