Mobile Ed: TH265 Free Grace Theology (12 hour course)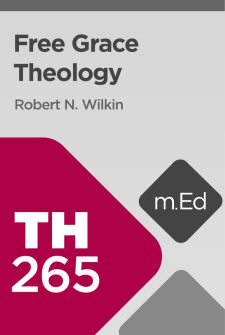 Mobile Ed: TH265 Free Grace Theology (12 hour course)
•
Runs on Windows, Mac and mobile.
Overview
Have you ever wondered, "Can I lose my salvation?" or "Does God choose who is saved?" or "What does Jesus mean when he talks about rewards?" In TH265 Free Grace Theology, Dr. Bob Wilkin explores these and other questions related to salvation. You'll see how Free Grace theology compares to Calvinism and Arminianism, and how it relates to the Lordship salvation view. Dr. Wilkin walks through the key issues and discusses relevant biblical passages with a clear and simple teaching style. Whether you are a proponent of Free Grace Theology or not, this course will challenge you to think through what the Scriptures have to say.
Learning Objectives
Upon successful completion you should be able to:
List the key principles of Free Grace theology
Discuss the importance of God's Word in sanctification
Describe what Lordship salvation is and how it compares to Free Grace theology
Understand Free Grace theology's place in church history
Compare Free Grace theology with Calvinism and Arminianism
Discuss important biblical texts related to salvation
Course Outline
Introduction
Unit 1: An Overview of Free Grace Theology
Unit 2: Saving Faith: Believing the Promise of Life
Unit 3: The Assurance of Salvation
Unit 4: The Final Judgments of Believers and Unbelievers
Unit 5: Transformation: Being Renewed by the Word of God
Unit 6: Main Objections to Free Grace Theology
Unit 7: Free Grace Theology in Church History
Unit 8: Free Grace Theology Compared with Calvinism and Arminianism
Unit 9: Key Theological Words and Free Grace Theology
Unit 10: Addressing Tough Texts with Free Grace Theology
Conclusion
Product Details
Title: TH265 Free Grace Theology
Instructor: Robert Wilkin
Publisher: Lexham Press
Publication Date: 2016
Product Type: Logos Mobile Education
Resource Type: Courseware, including transcripts, audio, and video resources
Courses: 1
Video Hours: 12
About the Instructor
Robert N. Wilkin (PhD, Dallas Theological Seminary) is the founder and executive director of Grace Evangelical Society. His prior works include Confident in Christ, The Road to Reward, and You Can Be Sure!
Getting the most out of Mobile Ed
Logos Mobile Education is a highly effective cross-platform learning environment that integrates world class teaching with the powerful study tools and theological libraries available in Logos Bible Software. Every course provides links to additional resources and suggested readings that supplement the lecture material at the end of every transcript segment.
This course comes with an Activities resource that functions as a type of "workbook" for the course. This resource includes learning activities such as: places for you to respond to reflection questions, exercises that will challenge and show you how deepen your understanding of this course by using specific Logos tools and resources, tutorial videos on different features of Logos Bible Software, and links to relevant Logos guides and tools. A link to open the Activities resource is conveniently placed at the end of every segment.
More details about these resources