Mobile Ed: AP371 A Biblical Response to Homosexuality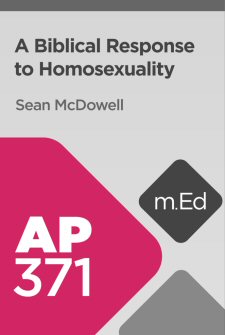 Mobile Ed: AP371 A Biblical Response to Homosexuality
•
Runs on Windows, Mac and mobile.
Overview
Get equipped to respond truthfully and graciously to the topic of homosexuality and to those who are a part of the LGBT community. Sean McDowell examines some of the preliminary issues, such as whether or not homosexuality is a gospel issue, whether or not homosexuality is the unforgiveable sin, and why many people have adopted the revisionist view of homosexuality. Gain profound insight and practical advice while applying biblical evidence to common objections to pertinent passages in Genesis, Romans, and 1 Corinthians.
Learning Objectives
Upon successful completion you should be able to:
Learn to approach the issue of homosexuality biblically and with a deep sense of compassion
Course Outline
Unit 1: Introducing a Biblical Response to Homosexuality
Introducing a Biblical Response to Homosexuality: Part 1
Introducing a Biblical Response to Homosexuality: Part 2
Unit 2: Why Pick on This Issue?
Aren't All Sins Equal?
Why People Have Embraced the Revisionist View of Homosexuality
Tactics of the Revisionist Movement
Is This a Gospel Issue?
Unit 3: Biblical Evidence
Assumptions of the Revisionist Movement
Why Doesn't the Bible Address Homosexuality More?
Why Didn't Jesus Address Homosexuality?
Framing the Issue: God Has a Design for Sex
10 Truths from Flame of Yahweh
Is the Genesis Account Still Applicable?
Sodom and Gomorrah (Gen 19:1–11)
Common Objections to Sodom and Gomorrah and Conclusion (Gen 19:1–11)
Levitical Passages (Lev 18:22, 20:13)
Common Objections to Levitical Passages (Lev 18:22, 20:13): Part 1
Common Objections to Levitical Passages (Lev 18:22, 20:13): Part 2
Romans 1:26–27 and Common Objections: Part 1
Romans 1:26–27 and Common Objections: Part 2
Romans 1:26–27 and Common Objections: Part 3
1 Corinthians 6:9–11
Unit 4: Responding to Common Objections and Questions
Experience and Reconsidering Interpretation of Scripture
Sexual Orientation: A New Concept for the Church to Address
Celibacy Is a Gift, Not a Mandate
No Normative Doctrine of Gender Complementarity
Greater Inclusion of Gender and Sexual Minorities
Pederasty, Abuse, and Prostitution
Marriage: Keeping Covenant and Christ's Love for the Church
Are People Born Gay?
Can You Be Gay and Christian?
Can I Attend a Gay Wedding?
What If a Gay Couple Comes to My Church?
What Are Resources for Further Study?
What Do We Do?
Product Details
Title: AP371 A Biblical Response to Homosexuality
Instructor: Sean McDowell
Publisher: Lexham Press
Publication Date: 2016
Product Type: Logos Mobile Education
Resource Type: Courseware, including transcripts, audio, and video resources
Courses: 1
Video Hours: 4
About the Instructor
Dr. Sean McDowell is assistant professor of Christian apologetics at Biola University. He also teaches a high school Bible class, which gives him exceptional insight into the prevailing culture that he can impart to fellow educators, pastors, and parents alike. In 2008 he received the Educator of the Year award for San Juan Capistrano, California. The Association of Christian Schools International has awarded Exemplary Status to his apologetics training, and he is listed among the top 100 apologists. McDowell graduated summa cum laude from Talbot Theological Seminary with a double master's degree in theology and philosophy and earned a PhD in apologetics and worldview studies from Southern Baptist Theological Seminary.
McDowell has appeared as a guest on radio shows such as Family Life Today, Point of View, Stand to Reason, Common Sense Atheism, and The Hugh Hewitt Show. He is the author, coauthor, or editor of over eighteen books, including A New Kind of Apologist, Same-Sex Marriage: A Thoughtful Approach to God's Design for Marriage, and Is God Just a Human Invention? He has written several books with his father, Josh McDowell, including The Unshakable Truth and More Than a Carpenter. He is the general editor for the Apologetics Study Bible for Students and has contributed to YouthWorker Journal, Decision Magazine, and the Christian Research Journal. Follow the dialogue with Sean McDowell as he blogs regularly at seanmcdowell.org.
Getting the most out of Mobile Ed
Mobile Ed is a highly effective mobile learning environment that incorporates the powerful study tools found in Logos Bible Software.
With any Logos library base package, you will be able to view the lectures and interact with the transcripts. For the best learning experience, we recommend you use Logos Platinum.
Readings for the courses are often tailored to Platinum because the larger library provides access to a wide range of suggested resources and increases search results for further study.
The Platinum collection best matches the resources used in screencasts. It includes a breadth of commentaries, original-language studies, and over 1,400 resources to deepen your study.
More details about these resources