Christian Origins Collection (3 vols.)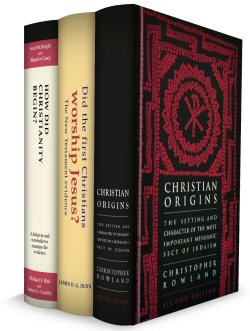 Overview
Early Christianity has been a topic of much debate over the centuries. Understanding the subject is extremely vital in shaping our perspectives on Jesus, Christianity, and the church. The Christian Origins Collection (3 vols.) brings attention to the early Christian movement. With various perspectives from several biblical scholars, this collection breaks down early Christianity into various topics. These topics include the beginning of the Christian movement pertaining to Judaism, the historical Jesus and his resurrection, the Apostle Paul, the Gospels, and the early church. This collection also discusses whether Jesus' followers in early church history worshipped him as a prophet or God.
Religious and historical convictions strongly affect the many perspectives people have on Jesus and Christianity. By introducing thoughtful insight and contrasting ideas in relation to early Christianity, the Christian Origins Collection (3 vols.) helps encourage you to reassess your views on the subject matter.
Logos Bible Software dramatically improves the value of any resource by enabling you to find what you are looking for instantly and with unbelievable precision. As you are reading the Christian Origins Collection (3 vols.), you can easily search and access Scripture references or topics you come across, for example, "worship" or "the resurrection."
Key Features
Various perspectives on the early Church
Emphasizes the importance of understanding early church history in forming personal convictions
Product Details
Title: Christian Origins Collection
Publisher: SPCK
Volumes: 3
Pages: 896
Individual Titles

Christian Origins: An Account of the Setting and Character of the Most Important Messianic Sect of Judaism, 2nd ed.
Author: Christopher Rowland
Publisher: SPCK
Publication Date: 2002
Pages: 480
Christian Origins provides an argued account of the beginnings of the Christian movement: a third of it on the Judaism of the first century, a third on Jesus, and a third on Paul and the development from messianic sect to Christian religion. It provides outlines of New Testament essays for students.
This new edition of Professor Rowland's authoritative classic has been thoroughly revised and updated. In the light of recent work, the author has rewritten the chapter entitled 'Jewish Sectarianism' and renamed it 'Schools of Thought.' The last section of Part II has been reshaped and linked more closely with the sources. Extensive additions have been made to the 'Christianity' section, particularly in relation to Paul and the nature of tradition. An extra bibliography also enhances this new edition of Christian Origins.
Dr Rowland's account of Christian origins is very convincing. There is an enormous wealth of factual information here; but better still, the theological and sociological insights he brings to bear upon the subject make his account of the New Testament truly exciting. When I was a theological student myself, I used to think that New Testament scholars lived in cloud-cuckoo-land. I wish I had had this book then.
—Michael Sadgrove, Church Times
Christopher Rowland is Dean Ireland's Professor of the Exegesis of Holy Scripture at the University of Oxford.

Did the First Christians Worship Jesus? The New Testament Evidence
Author: James D. G. Dunn
Publisher: SPCK
Publication Date: 2010
Pages: 176
Christians today accept that Jesus is God and worship him as part of the Trinity. But what did the New Testament writers say about worshipping Jesus? Did they portray him as God, someone whom we should worship? Or did they see him as a great prophet like Moses or Elijah?
Here, James Dunn introduces readers to the key New Testament passages that must be examined when trying to understand this important topic. He argues that we find a clear sense that Jesus enables worship and that Jesus is in a profound way the place and means of worship. Equally, for the first Christians Jesus was seen to be not only the one by whom believers come to God, but also the one by whom God has come to believers.

How Did Christianity Begin?
Author: Michael F. Bird and James G. Crossley
Publisher: SPCK
Publication Date: 2008
Pages: 240
How Did Christianity Begin? brings you two contrasting perspectives on the history of early Christianity. Co-authors from different backgrounds—one a conservative Christian (Michael Bird), the other, secular (James Crossley)—bring contrasting views to various subjects on Christian origins. These subjects include the historical Jesus, the resurrection of Jesus, the Apostle Paul, the Gospels, and the early church. Each author examines these subjects and lays out his historical arguments concerning their origin and meaning.
How did Christianity Begin? is a lively and engaging dialogue between two stars of the new wave of New Testament scholarship, with very different takes on the beginnings of Christianity. Bird and Crossley discuss a wide range of topics, and their sharp yet good-humored exchanges are utterly absorbing. This book makes a contribution to ongoing scholarly debates and also serves as an excellent primer on Christian origins.
—Edward Adams, Senior Lecturer in New Testament Studies, King's College, London
Two rival accounts of Christian origins are here set side by side, with response and critique, both from the two main authors and from two other scholars, Maurice Casey and Scot McKnight. The result is a welcome provocation to readers to weigh the contrasting proposals, to reassess their own views on such matters, and to consider how far their religious and historical convictions shape their perspective on Jesus and the beginnings of Christianity.
—David G. Horrell, Professor of New Testament Studies, University of Exeter
Bird and Crossley go head-to-head in this provocative debate about the nature and essence of Christian origins. The arguments on both sides are marshaled with skill, insight, and thoughtful reflection . . . Crossley and Bird present the evidence for their respective viewpoints strongly and then press each other where they see weaknesses in the opposing position. For readers, this respectful debate brings about much clarity and shows why the question of Christian origins remains vital.
—Paul Foster, Senior Lecturer in New Testament, School of Divinity, University of Edinburgh
Michael F. Bird is Lecturer in Theology at the Bible College of Queensland. His research interests include the Gospel of Mark, Pauline theology, New Testament theology, and Evangelical ecclesiology.
James G. Crossley is Lecturer in New Testament at the University of Sheffield.