Best Resources on Matthew
"Each of the four Gospels (Matthew, Mark, Luke, and John) tells the story of Jesus from its own perspective. Matthew emphasizes that Jesus is the long-awaited Jewish Messiah and King, who fulfills God's promises in the Old Testament. Jesus is not just a wise teacher; He is the one God has chosen to usher in the kingdom of heaven. He has come to save and to restore humanity into right relationship with God—starting first with Israel and then moving to the wider world.
The text of Matthew doesn't identify its author, but ever since the second century AD, Christian tradition has ascribed this Gospel to Matthew the tax collector—called Levi in Mark and Luke's accounts—who became one of Jesus' 12 disciples (Matt 9:9; 10:3; Mark 2:14; Luke 5:27–29). Various features in Matthew reflect a writing style that is more Jewish than the other three Gospels, although John's Gospel is also steeped in Judaism. Matthew seems to have been intended for a community of Jewish people who believed that Jesus was the Messiah. Based on Matthew's focus on the negative elements of the Judaism of Jerusalem and Judaea, it seems that the Gospel's audience probably lived outside of the Israel region. It was probably written in the late first-century AD."
—Faithlife Study Bible, Lexham Press
Everything You Need to Study & Teach Matthew
Expository Preaching Kits are curated resources all focused on helping you teach a single book of the Bible—keeping you prepared without weighing you down.
Best Commentaries on Matthew
D. A. Carson, Expositor's Bible Commentary (EBC), Zondervan, 1984, 1,059 pp.
The Expositor's Bible Commentary uses the New International Version for its English text but also refers freely to other translations and to the original languages. Each book of the Bible has, in addition to its exposition, an introduction, outline, and bibliography. Notes on textual questions and special problems are correlated with the expository units; transliteration and translation of Semitic and Greek words make the more technical notes accessible to readers unacquainted with the biblical languages. In matters where marked differences of opinion exist, commentators, while stating their own convictions, deal fairly and irenically with opposing views.
Level: Intermediate
Type: Expository
R. T. France, New International Commentary on the New Testament (NICNT), Eerdmans, 2007, 1,223 pp.
"It is a special pleasure to introduce R. T. (Dick) France's commentary to the pastoral and scholarly community, who should find it a truly exceptional—and helpful—volume." So says Gordon Fee in his preface to this work. France's masterful commentary on Matthew focuses on exegesis of Matthew's text as it stands rather than on the prehistory of the material or details of Synoptic comparison. The exegesis of each section is part of a planned literary whole, supplemented—rather than controlled—by verse-by-verse commentary, allowing the text as a complete story to come into brilliant focus.
Level: Intermediate
Type: Expository
Craig L. Blomberg, New American Commentary (NAC), B&H, 1992, 432 pp.
Craig L. Blomberg examines the three main stages of Matthew's portrayal of Jesus' ministry. He brilliantly presents a theological understanding of the Gospel writer's presentation of Jesus' birth, teaching, mission, death, resurrection, and kingdom work. Blomberg's interaction with contemporary scholarship coupled with his fresh interpretations and applications make this work immeasurably valuable. It is an ideal tool for sermon preparation, classroom use, or individual and group in-depth study.
Level: Intermediate
Type: Expository
Leon Morris, Pillar New Testament Commentary (PNTC), Eerdmans, 1992, 765 pp.
This superb commentary in the Pillar series explores the meaning and relevance of Matthew in an eminently straightforward fashion. Leon Morris writes for readers who use commentaries to discover further what the Bible means. He makes clear what he considers to be the meaning of the Greek text that Matthew has bequeathed to the Church. A perceptive introduction precedes Morris's warmhearted verse-by-verse exposition of Matthew, an exposition based on his own literal translation of the text. Now a standard reference work on the Gospel of Matthew, this mature, evangelically oriented commentary will continue to meet the needs of students, pastors, and general readers alike.
Level: Intermediate
Type: Expository
Donald A. Hagner, Word Biblical Commentary (WBC), Thomas Nelson, 1993–1995, 1,066 pp.
One of the most detailed and thorough treatments of Matthew ever written, Donald Hagner's commentary addresses the relationship of Matthew to Luke and Mark, examines the major issues for interpreting Matthew, and provides a fresh translation based on engagement with the book's textual history. Focusing on interpretation and the message of Jesus' kingdom, Hagner draws out illuminating theological themes and applies them to contemporary life.
Level: Advanced
Type: Technical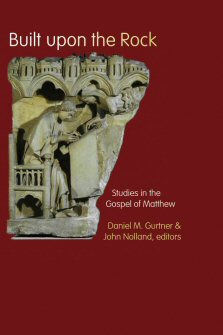 This collection of essays from the 2005 Tyndale Fellowship conference covers topics pertinent to the entire first Gospel, including Matthew's sources, the role of Jerusalem, the problem of anti-Semitism, Matthew's portrayal of salvation history, and more.
Learn more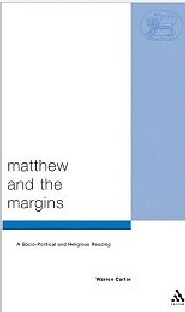 This detailed commentary presents the Gospel of Matthew as a counter-narrative, showing that it is a work of resistance written from and for a minority community of disciples committed to Jesus, the agent of God's saving presence. It was written and functions to shape the identity and lifestyle of the early community of Jesus' followers as an alternative community that can resist the dominant authorities both in Rome and in the synagogue. Matthew's Gospel anticipates the time when Jesus will return and establish God's reign over all, including the powers in Rome.
Learn more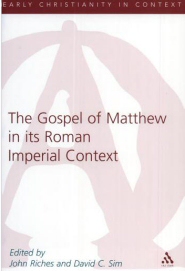 This collection of scholarly essays tackles a number of questions based on Matthew's Gospel. In what sense does Matthew's Gospel reflect the colonial situation in which the community found itself after the fall of Jerusalem and the subsequent humiliation of Jews across the Roman Empire? To what extent was Matthew seeking to oppose Rome's claims to authority and sovereignty over the whole world, to set up alternative systems of power and society, to forge new senses of identity? If Matthew's community felt itself to be living on the margins of society, where did it see the centre as lying? In Judaism or in Rome? And how did Matthew's approach to such problems compare with that of Jews who were not followers of Jesus Christ and with that of others, Jews and gentiles, who were followers?
Learn more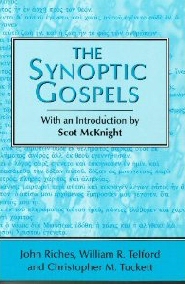 In this volume, Scot McKnight writes an introduction to the Synoptic Gospels as a whole, illuminating their distinctive historical and theological features and their importance within the New Testament canon. Afterwards, three New Testament scholars offer study guides for the Synoptic Gospels: Christopher M. Tuckett writes on Luke, W. R. Telford on Mark, and John Riches on Matthew. Highly readable, this volume is recommended to the New Testament student, as well as anyone interested in the background and content of the Synoptic Gospels.
Learn more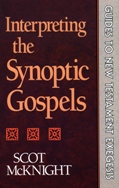 Careful study of the Synoptic Gospels can be a transforming experience. Yet for many, such study is unexciting because they fail to take the required time, they simply do not know how to study the Synoptic Gospels, or they do not have the necessary background to guide them through various passages. This book is intended to help students formulate principles and methods for studying the Synoptic Gospels.
Learn more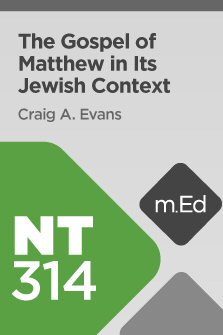 This course from distinguished New Testament professor Dr. Craig Evans discusses the original context in which Matthew wrote his Gospel, as well as his purpose for writing. Matthew wrote for those still connected to the synagogue, answering questions based upon their Jewish context. Dr. Evans takes you from the ancient context of Matthew's Gospel to applications for today.
Learn more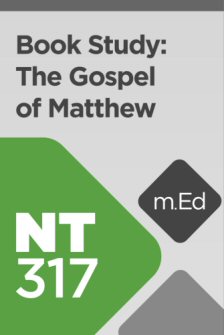 Analyze the Gospel of Matthew as an ancient biography meant to communicate historical information as well as moral, theological, and political lessons. This course is primarily focused on the major themes in Matthew, including cross-cultural ministry, evangelism, Christian education, and making disciples of the nations, while highlighting Jesus' teaching and his love and patience for His disciples.
Learn more
Study the Bible with Logos: Matthew 4:1–11 is a basic hermeneutics course that uses Jesus' temptation account as an example text for teaching you how to study the Bible. You'll learn the inductive Bible study method that features three key stages: Observation, Interpretation, and Application. Additionally, you'll learn 10 key steps needed to fully understand a passage in the Bible. The course also demonstrates key features of Logos Bible Software and shows you how to master the software using two easily-remembered skills.
Learn more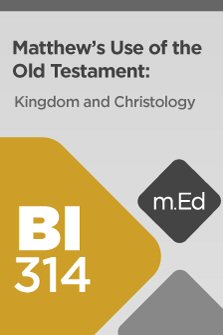 Dr. Jeannine K. Brown examines a number of themes in Matthew and describes their thorough grounding in the Hebrew Scriptures. Highlighting references to the Psalms, Daniel, and more, Brown explores Matthew's Old Testament–based Christology, including the imagery of Jesus as the representative of Israel, as Davidic king, as the embodiment of wisdom, and as the servant of Yahweh in the Servant Songs of Isaiah. Along the way, Brown provides a guide to the methodology of intertextual study and interpretation.
Learn more