Mobile Ed: NT314 Book Study: The Gospel of Matthew in Its Jewish Context (10 hour course)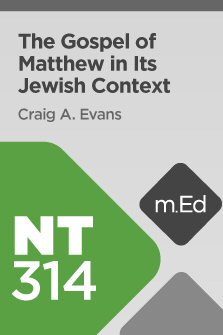 Mobile Ed: NT314 Book Study: The Gospel of Matthew in Its Jewish Context (10 hour course)
•
Runs on Windows, Mac and mobile.
Overview
This course from distinguished New Testament professor Dr. Craig Evans discusses the original context in which Matthew wrote his Gospel, as well as his purpose for writing. Matthew wrote for those still connected to the synagogue, answering questions based upon their Jewish context. Dr. Evans takes you from the ancient context of Matthew's Gospel to applications for today.
Learning Objectives
Upon successful completion you should be able to:
Identify Jewish elements in the gospel of Matthew
Teach the book of Matthew according to themes found within the text
Relate the questions of the first ethnically Jewish believers to questions asked by modern believers in any setting
Course Outline
Introduction
Unit 1: Introductory Matters
Introducing Matthew
Authorship and Dating
Dating: Manuscript Evidence
Examining Fragments of Matthew
Matthew's Emphases
Incipit (Matt 1:1–17)
Outline of Matthew
Using Logos Notes to Highlight the Structure of Matthew
Five Discourses: Contents
Comparing Gospel Accounts with the Parallel Gospel Reader
Unit 2: Messiah's Coming (Matt 1–2)
Themes: Jesus-Moses Typology
Themes: Fulfillment through Genealogy
Fulfillment Formulas in the Infancy Narrative
Fulfillment Formula 1
Fulfillment Formula 2
Fulfillment Formula 3
Fulfillment Formulas 4 and 5
Unit 3: Messiah's Preparation and Program of Ministry (Matt 3–7)
John Baptizes Jesus (Matt 3)
The Devil Tempts Jesus (Matt 4:1–11)
Examining the Speeches of Satan
Jesus Begins His Ministry (Matt 4:12–24)
Sermon on the Mount: Beatitudes (Matt 5:1–11)
Sermon on the Mount: Law (Matt 5:17–20)
Sermon on the Mount: Antithesis 1 (Matt 5:21–26)
Sermon on the Mount: Antithesis 2 (Matt 5:27–32)
Researching Divorce in Ancient Literature with Cultural Concepts
Sermon on the Mount: Antitheses 3 and 4 (Matt 5:33–42)
Sermon on the Mount: Antithesis 5 (Matt 5:43–48)
Sermon on the Mount: Almsgiving (Matt 6:1–4)
Sermon on the Mount: Prayer (Matt 6:5–15)
Sermon on the Mount: Fasting (Matt 6:16–18)
Sermon on the Mount: Treasures and the Kingdom of Heaven (Matt 6:19–34)
Sermon on the Mount: Hypocritical Judgment (Matt 7:1–5)
Sermon on the Mount: Pearls before Pigs and Asking, Seeking, and Knocking (Matt 7:6–11)
Sermon on the Mount: Golden Rule and the Narrow Gate (Matt 7:12–14)
Searching the Apocrypha and Pseudepigrapha
Sermon on the Mount: False Prophets and Their Fruit (Matt 7:15–23)
Finding References to Fruitbearing Trees in the Words of Jesus
Sermon on the Mount: Wise and Foolish Builders (Matt 7:24–27)
Sermon on the Mount and Fulfilling Righteousness (Matt 3:15)
Searching the Dead Sea Scrolls for "Righteousness"
Unit 4: Messiah's Authority Established (Matt 8–10)
Cleansing the Leper (Matt 8:1–4)
Healing the Servant (Matt 8:5–13)
Letting the Dead Bury the Dead (Matt 8:18–22)
Stilling the Storm (Matt 8:23–27)
Healing the Demoniacs (Matt 8:28–34)
Son of Man Claiming Authority on Earth (Matt 9:1–8)
Physicians, Fasting, and Fresh Wineskins (Matt 9:9–17)
Calling and Sending the Disciples: Introduction (Matt 10)
Finding What Jesus Says about the Gentiles
Calling and Sending the Disciples: Freely Give and Jesus as "Cynic"? (Matt 10:5–15)
Calling and Sending the Disciples: Fear Not (Matt 10:16–23)
Calling and Sending the Disciples: Fear Not (Matt 10:24–42)
Unit 5: Messiah's Kingdom and Its Coming (Matt 11–13)
John's Question about Jesus (Matt 11:1–6)
Qumran and the Messiah (4Q521)
Rejecting John and Jesus (Matt 11:7–24)
My Yoke Is Easy (Matt 11:25–30)
Lord of the Sabbath and God's Chosen Servant (Matt 12:1–21)
Son of David and the Sign of Jonah (Matt 12:22–42)
Tagging Beelzebul as a Reference to Satan
Kingdom Parables: Survey (Matt 13)
Kingdom Parables: Wheat and Weeds (Matt 13:24–30, 36–43)
Finding All the Parables in the Bible
Kingdom Parables: Have You Understood? (Matt 13:51–58)
Unit 6: Life in the New Community (Matt 14–18)
Walking on Water (Matt 14:22–33)
Tradition of Man versus Law of God (Matt 15:1–20)
Faith of the Canaanite Woman (Matt 15:21–28)
Peter's Confession (Matt 16:13–20)
Jesus' First Prediction of His Death (Matt 16:21–28)
Jesus' Transfiguration (Matt 17:1–13)
Paying the Temple Tax (Matt 17:24–27)
Community Regulations (Matt 18)
Unit 7: Consummation of the Age (Matt 19–25)
Rich Young Man (Matt 19:16–26)
Judging the Twelve Tribes of Israel (Matt 19:27–30)
Parable of the Laborers in the Vineyard (Matt 20:1–16)
Jesus' Second Prediction of His Death (Matt 20:17–28)
Son of David Healing the Blind Men (Matt 20:29–34)
Consummation of the Age: Overview (Matt 21–25)
Triumphal Entry (Matt 21:1–11)
My House (Matt 21:12–17)
Cursing the Fig Tree (Matt 21:18–27)
Parable of the Two Sons (Matt 21:28–32)
Parable of the Wicked Tenants (Matt 21:33–46)
Finding Different Interpretations of Isaiah 5 in Ancient Literature
Criticism of Religious Leaders (Matt 23)
Eschatological Discourse: Mount of Olives Declaration (Matt 24:1–26:5)
Eschatological Discourse: Parables (Matt 24:45–25:13)
Eschatological Discourse: Parable of the Sheep and Goats (Matt 25:31–46)
Unit 8: Messiah's Humiliation and Exaltation (Matt 26–28)
Plotting and Anointing for Jesus' Death (Matt 26:1–16)
Last Supper: Words of Institution (Matt 26:26–29)
Testimony of Jesus (Matt 26:47–68)
Jesus' Trial before Pilate (Matt 27:11–26)
Jesus' Crucifixion and Burial (Matt 27:27–66)
Resurrected Saints (Matt 27:52–53)
Guard at the Tomb (Matt 27:62–66)
Resurrection: Women at the Tomb (Matt 28:1–10)
Great Commission (Matt 28:18–20)
Conclusion
Product Details
Title: NT314 Book Study: The Gospel of Matthew in Its Jewish Context
Instructor: Craig A. Evans
Publisher: Lexham Press
Publication Date: 2015
Product Type: Logos Mobile Education
Resource Type: Courseware, including transcripts, audio, and video resources
Courses: 1
Video Hours: 10
About the Instructor
Craig A. Evans is Payzant Distinguished Professor of New Testament and director of the graduate program at Acadia Divinity College in Wolfville, Nova Scotia. He has written extensively on the historical Jesus and the Jewish background of the New Testament era.
Getting the most out of Mobile Ed
Logos Mobile Education is a highly effective cross-platform learning environment that integrates world class teaching with the powerful study tools and theological libraries available in Logos Bible Software. Every course provides links to additional resources and suggested readings that supplement the lecture material at the end of every transcript segment.
This course was produced with screencast videos. These videos provide tutorials showing you how to use Logos Bible Software in ways that are tied directly into the content of the course. We are now producing Activities resources as a replacement for screencast videos. We plan on updating this course to include this additional Activities resource in the future for no extra charge.