The book of Joel is concerned with the Day of Yahweh, a coming time when God will judge the world and make all things right. Joel draws on a real-life catastrophe—a swarm of locusts devastating the land of Judah—to warn of the disaster that the Day of Yahweh will bring to those who do not repent. He also promises that God will save the people of Judah and Jerusalem who call on him (Joel 2:32).
—Faithlife Study Bible, Lexham Press
Best Commentaries on Joel
Douglas Stuart, Word Biblical Commentary (WBC), Thomas Nelson, 1987, 588 pp.
Study the books of Hosea, Joel, Amos, Obadiah, and Jonah with pioneering Old Testament scholar Douglas Stuart. Heartbreaking, strange, and hopeful stories, these books are among the Bible's most misunderstood. Stuart illuminates their meaning by examining their historical context and unlocking their mysterious stories and prophecies.
Level: Advanced
Type: Technical
Leslie C. Allen, New International Commentary on the Old Testament (NICOT), Eerdmans, 1976, 427 pp.
The eloquent and uncompromising calls for social righteousness by some of the Minor Prophets are familiar to many, yet the writings themselves are probably the least studied and least-known texts of the Old Testament. Those who are familiar with these books are also aware of the historical and literary problems that plague their study. Drawing on insights from various perspectives—theological, historical, and literary—Leslie Allen's commentary on Joel, Obadiah, Jonah, and Micah carefully and imaginatively reconstructs the stage on which the message of these four books was conveyed to their Hebrew hearers and shows what relevance, in turn, they hold for contemporary Christians.
Level: Intermediate
Type: Expository
David A. Hubbard, Tyndale Old Testament Commentaries (TOTC), InterVarsity Press, 1989, 196 pp.
This commentary is a valuable guide to the fascinating and challenging word of these two prophets. Ever mindful of the wider context and composition of these ancient but living texts, David Hubbard shows how Joel and Amos addressed Israel's mind and heart.
Level: Basic
Type: Devotional
John Barton, Old Testament Library (OTL), Westminster John Knox Press, 2011, 168 pp.
John Barton furnishes a fresh translation of the ancient manuscripts and discusses questions of historical background and literary architecture. Just as with other commentaries in this series, the author provides a theologically sensitive and critically informed interpretation of the text.
Level: Advanced
Type: Technical
Hans Walter Wolff, Hermeneia, Fortress Press, 1977, 392 pp.
Hans Walter Wolff's Joel and Amos provides a thorough examination of these two prophetic Old Testament books. With clear, concise commentary, Wolff elucidates the theology found within.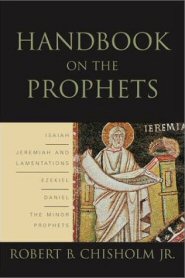 The Prophetic Books of the Bible contain some of the most difficult passages in the entire Old Testament and can prove especially confusing for those new to this corpus. Handbook on the Prophets offers a thorough and insightful introduction for the beginning student of the Old Testament prophetic literature. Robert Chisholm guides students through the important and often complex writings of Isaiah, Jeremiah and Lamentations, Ezekiel, Daniel, and the Minor Prophets.
Learn more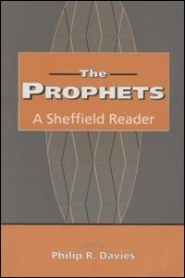 Featuring essays from Journal for the Study of the Old Testament, this volume gathers the thought of an array of scholars on the Prophets. Under four headings, "What are the Prophets?" "The Composition of Prophetic Books," "Prophetic Ideology," and "Reading Prophecy," the volume covers a wide variety of essays on the topic. Contributors include A. Graeme Auld ("Prophets Through the Looking Glass: Between Writings and Moses"), J. Blenkinsopp ("Second Isaiah–Prophet of Universalism"), and Fokkelien Van Duk-Hemmes ("The Imagination of Power and the Power of Imagination, an Intertextual Analysis of Two Biblical Love Songs: The Song of Songs and Hosea 2"), amongst others.
Learn more
Noting that the legacy of the prophets remains a powerful element in contemporary society, Jack R. Lundbom explores the contours of prophetic speech in ancient Israel. He surveys the elements of each prophet's message, describes the characteristics of prophetic rhetoric and symbolic behavior, and discusses the problem of authenticity: How did individuals make the claim to speak as prophets, and how did their audiences recognize their claims? The Hebrew Prophets offers an authoritative introduction to the phenomenon of ancient prophetic speech for the contemporary reader—and hearer.
Learn more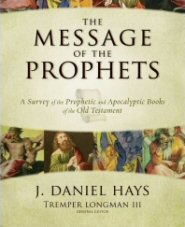 In The Message of the Prophets, author J. Daniel Hays offers a scholarly, yet readable and student-friendly introductory survey of Old Testament prophetic literature. It presents the message of each prophet in both its historical and its biblical context, tracking that message through the New Testament to discuss what it means for believers today.
Learn more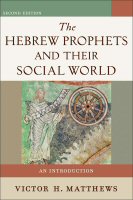 Victor Matthews, a veteran teacher and expert on the world of ancient Israel, introduces students to the Hebrew prophets and their social world. Drawing on archaeology and ancient Near Eastern texts, Matthews examines the prophets chronologically, placing them and their message into historical context. He explores pertinent aspects of historical geography, economic conditions, and social forces that influenced a prophet's life and message and explains why prophets served an integral purpose in the development of ancient Israelite religion. He also explores how prophets addressed their audience and employed rhetorical methods, images, and metaphors to communicate effectively. Logically organized, clearly written, and classroom friendly, this book meets the needs of beginning as well as advanced students. It is a substantially revised and expanded edition of the successful Social World of the Hebrew Prophets.
Learn more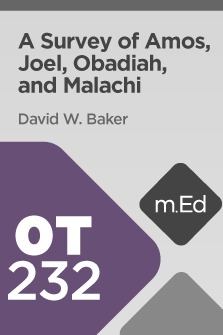 Dr. David Baker starts his discussion of the background, themes, and structures of the Minor Prophets with Amos. By highlighting specific poetic devices, he illuminates the prophet's message and its relevance for today. Dr. Baker also surveys the books of Obadiah, Joel, and Malachi—always emphasizing how you can apply the prophetic wisdom of God's Word to modern life. Through the prophets, God teaches us to build community, maintain covenant relationships, handle hardships, and more.
Learn more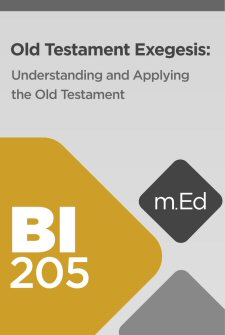 Embark on a journey of OT Hebrew exegesis with Jason DeRouchie. The books of the OT were the only Scriptures Jesus had. It was books like Genesis, Deuteronomy, Isaiah, and Psalms that shaped Jesus' upbringing and guided his life in ministry as the Jewish Messiah. It was these Scriptures Jesus identified as God's Word and that he considered to be authoritative; it was these Scriptures he believed called people to know and believe in God and guarded them against doctrinal error and hell. This course will give you the tools you need to access meaning in the OT, then apply it to your life. It will help you to grow in reading God's living Word for depth and not just distance.
Learn more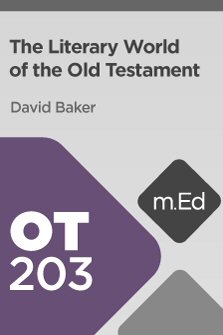 Join David W. Baker on a whirlwind tour to explore the Old Testament from many different angles and how it relates to ancient Near Eastern literature. From creation accounts and stories of destruction to Wisdom Literature, discover different biblical literary genres that have parallels in ancient Near Eastern literature. Explore extrabiblical historical texts that mention key events and figures from the Old Testament. Understand how Israel fits into and is impacted by its ancient Near Eastern environment but also how it is separate and unique, mainly on a theological level, but also by its distinct worldview.
Learn more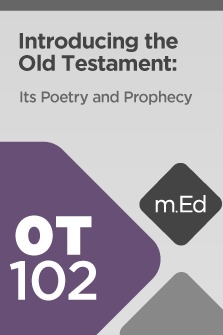 This course provides a practical foundation for reading the poetry and prophecy of the Old Testament. Dr. David Baker begins by discussing poetic writing in general, then the elements specific to both Hebrew and English poetry. Applying these elements to the text, he examines the content, structure, and themes of the Psalms, Proverbs, Lamentations, Job, Ecclesiastes, and the Song of Songs. Dr. Baker then turns to the Prophetic Books, providing historical background, theological motifs, and the structure and content of specific books. He shows that these ancient messages remain relevant in modern life.
Learn more