Best Resources on
2 Samuel
Second Samuel continues where 1 Samuel left off. Although David is a significant figure in 1 Samuel, that book focuses on Israel's last judge, Samuel, and Israel's first king, Saul. In 2 Samuel, the attention is on David and his relationships with Yahweh and with other people. God establishes a covenant with David, promising that his throne will be established forever (2 Sam 7). Even when David commits horrendous sins, the covenant stands. Throughout 2 Samuel, as all others fail, Yahweh's faithfulness is profoundly seen, as are the painful effects of sin on sinners, those around them, and those they lead.
—Faithlife Study Bible, Lexham Press
Everything You Need to Study & Teach 2 Samuel
Expository Preaching Kits are curated resources all focused on helping you teach a single book of the Bible—keeping you prepared without weighing you down.
Best Commentaries on 2 Samuel
Robert D. Bergen, New American Commentary (NAC), B&H, 1996, 485 pp.
The New Testament begins by declaring Jesus Christ to be ""the Son of David,"" whose story is found in 1 & 2 Samuel. In the biblical story of redemption, these books serve as key stepping stones to the climactic high ground of the Gospels. The theological center is the Davidic Covenant and its redemptive significance cannot be overemphasized. But Dr. Bergen also presents a fresh theological perspective on 1 & 2 Samuel as supporting the teachings of the Torah. He presents these books as history, theology, and classic literature at the same time. The student who follows this skillful exegetical guide will discover many new and exciting truths from God"s Word.
Level: Intermediate
Type: Expository
Joyce G. Baldwin, Tyndale Old Testament Commentaries (TOTC), InterVarsity Press, 1988, 240 pp.
The stories of Samuel, Saul, and David are among the most memorable in the Old Testament. Yet the lives of these individuals are bound up in the larger story of God"s purpose for his people. Looking beyond the well-known surface of these stories, Joyce Baldwin explores the meaning of the biblical history of Israel"s vital transition from a confederation of tribes to nationhood under a king. This commentary provides an excellent introduction to the critical issues of authorship, date, composition, and structure of Samuel, as well as an able discussion of its theological themes.
Level: Basic
Type: Devotional
P. Kyle McCarter Jr., Anchor Yale Bible (AYB), Yale University Press, 2008, 576 pp.
Second Samuel completes P. Kyle McCarter Jr.'s study of the book of Samuel. In this volume, McCarter continues the discussion of textual and literary sources as they relate to a reconstruction of historical events. A key issue for McCarter is accounting for the historical circumstances that led to the composition of the book of Samuel. In dialogue with major schools of thought pertaining to the origin and transmission of the book, the author offers his scholarly opinions on its composition. McCarter presents a unique new translation based upon the latest and most extensive textual sources available, including scrolls and fragments from Qumran. Furthermore, he resolves the complicated textual history of Samuel.
Level: Advanced
Type: Technical
Walter Brueggemann, Interpretation, Westminster John Knox, 1982, 362 pp.
With critical scholarship and theological sensitivity, Walter Brueggemann traces the people of God through the books of Samuel as they shift from marginalized tribalism to an oppressive monarchy. He carefully opens the literature of the books, sketching a narrative filled with historical realism but also bursting with an awareness that more than human action is being presented.
Level: Intermediate
Type: Expository
Bill T. Arnold, NIV Application Commentary (NIVAC), Zondervan, 2003, 688 pp.
Why do the books of Samuel pack such broad appeal? Taken together as a single narrative, they certainly offer something for everyone: kings and prophets, great battles and greater heroes, action and romance, loyalty and betrayal, the mundane and the miraculous. In Samuel, we meet Saul, David, Goliath, Jonathan, Bathsheba, the witch of Endor, and other unforgettable characters. And we encounter ourselves. For while the culture and conditions of Israel under its first kings is vastly different from our own, the basic issues of humans in relation to God, the Great King, have not changed. Sin, repentance, forgiveness, adversity, prayer, faith, and the promises of God—these continue to play out in our lives today.
Level: Intermediate
Type: Devotional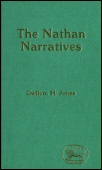 The three Nathan narratives in 2 Samuel and 1 Kings are given detailed consideration in this fascinating study. A persuasive attempt is made to reconstruct the original form of the traditions and to trace the modifications made to them before they were finally accepted into the Succession Narrative. The original Nathan, a court official and chief spokesman for the Jebusite group, sought a working compromise between the original Jebusite inhabitants of Jerusalem and its new Israelite settlers. After accepting service under King David, Nathan tried to secure the best he could for the Jebusites in this new situation. When this tradition was expanded, modified, and theologized, the consistent Nathan of early tradition became a complex character and almost appears as a dual personality: the diplomatic court prophet of the original narrative became an outspoken prophet of Yahweh in the "theological" accounts of his activities.
Learn more

The Story of King David attempts to provided a fresh perspective on the narrative about David in 2 Samuel and 1 Kings. Commonly known as the ""Succession narrative," Gunn attempts to create better appreciation for its nature as a story. The book provides an initial survey of pespectives on the narrative, followed by his own proposed alternative view of the succession narrative as a story. This proposal is developed through literary and rhetorical analysis. Gunn concludes with his own interpretation of the narrative and two appendixes on literary criticism and style.
Learn more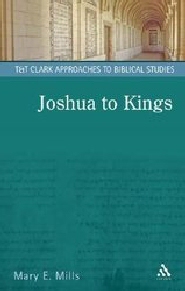 The Old Testament tells the story of a particular nation, ancient Israel, from its origins to its collapse in the face of foreign invaders. But what sort of story is this? How does it fit in with the findings of archaeological explorations of ancient Syro-Palestine? Joshua to Kings picks up the aspects of Israel's story as told in the books from Joshua to 2 Kings, that of an actual historical society and that of a literary presentation of a nation, told from a religious perspective. By exploring the contents of these biblical texts the student is led into the use of basic tools for biblical study, such as historical criticism, narrative criticism and ideological criticism, in order to engage in a structured manner with the task of reading and interpreting biblical texts in a twentieth-century world.
Learn more

This synchronic study of the books of Samuel examines the multifaceted character of David. His is a complex tale, seemingly designed to explore the human dimension of a traditional motif: divine election and rejection. Through speeches and actions, David is revealed as a man who never quite understands his fate. Why has Saul been rejected and why is David not rejected? If Saul sinned, David sinned boldly. The man, David, through poetic soliloquies (2 Samuel 1: 19–27; 22:2–51; 23:1b–7), explores this question.
Learn more
Samuel. Saul. David. Goliath. Jonathan. When we think of 1 & 2 Samuel, these names and the stories that make them memorable generally come to mind. But these narratives are more than mere history. Peter Leithart offers a typological reading of 1 & 2 Samuel as a unified book. By giving careful attention to the book"s literary structures and its patterns of types and antitypes, Leithart unveils the symbolic world of Samuel"s cumulative and cohesive story. His reading enhances our understanding of New Testament Christology but also gives us a framework for applying the Old Testament to our own lives.
Learn more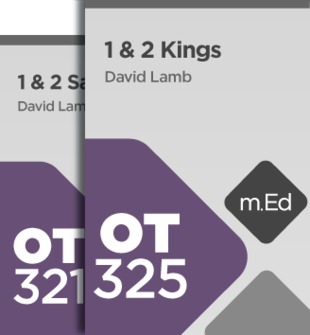 Learn what Samuel and Kings say through their own words and through the lens of their original contexts, and discover how they shape discipleship today. This two-course Kings of Israel Bundle will not only enrich your understanding of the Historical Books, it will also improve your exegetical skills. From the birth of Samuel to the exiles of Israel and Judah, these courses explore the textual and theological issues in these historical books.
Learn more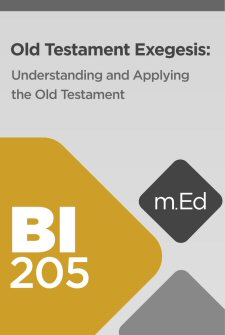 Embark on a journey of Old Testament Hebrew exegesis with Jason DeRouchie. The books of the Old Testament were the only Scriptures Jesus had. It was books like Genesis, Deuteronomy, Isaiah, and Psalms that shaped Jesus' upbringing and that guided his life in ministry as the Jewish Messiah. It was these Scriptures that Jesus identified as God's Word and that he considered to be authoritative; it was these Scriptures he believed called people to know and believe in God and guarded them against doctrinal error and hell. This course will give you the tools you need to access meaning in the Old Testament, then apply it to your life. It will help you to grow in reading God's living Word for depth and not just distance.
Learn more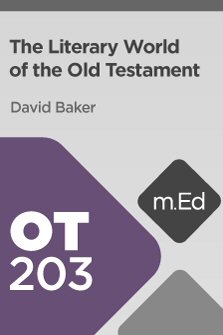 Join David W. Baker on a whirlwind tour to explore the Old Testament from many different angles and how it relates to ancient Near Eastern literature. From creation accounts and stories of destruction to Wisdom Literature, discover different biblical literary genres that have parallels in ancient Near Eastern literature. Explore extrabiblical historical texts that mention key events and figures from the Old Testament. Understand how Israel fits into and is impacted by its ancient Near Eastern environment but also how it is separate and unique, mainly on a theological level but also by its distinct worldview.
Learn more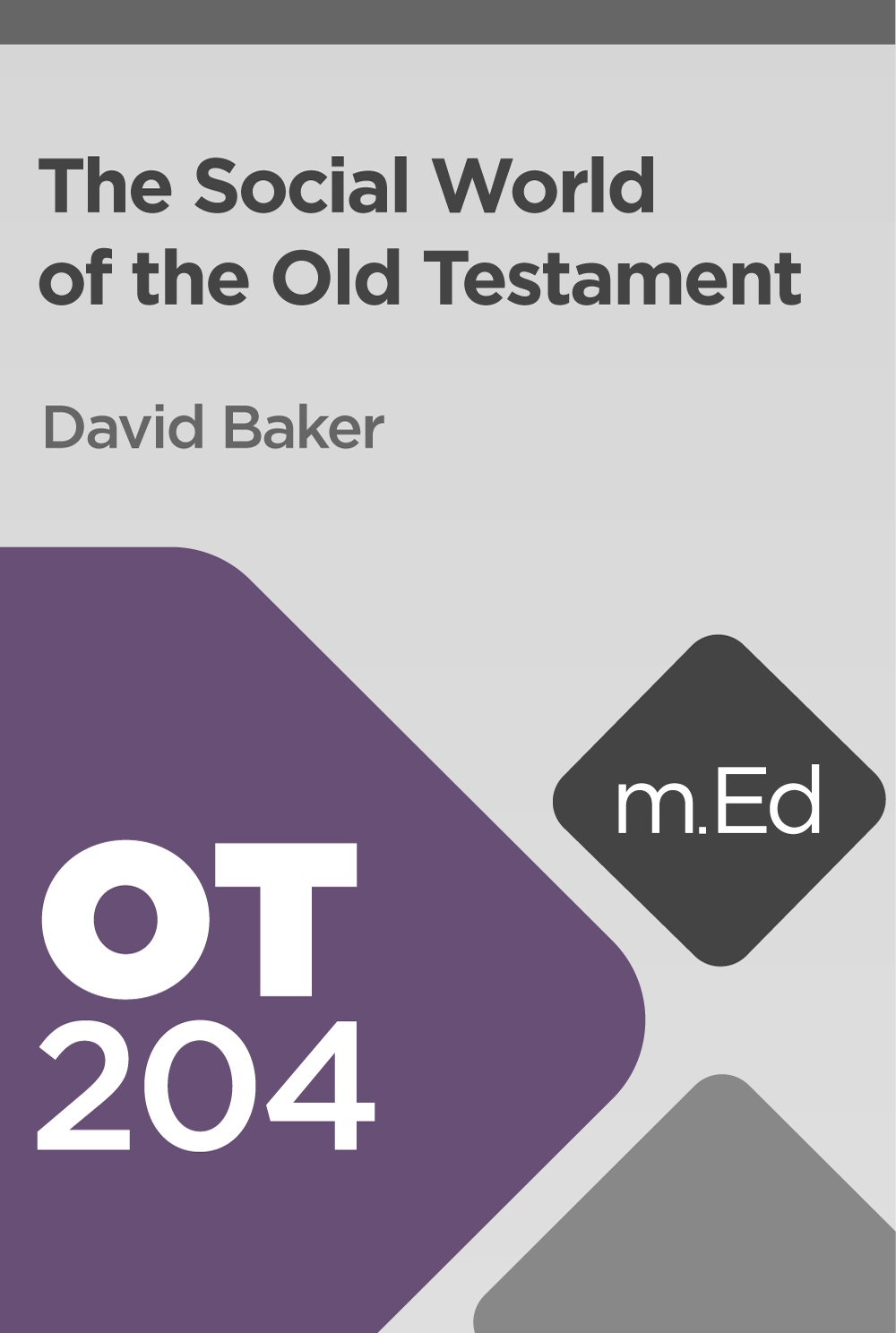 In an age of international travel and migration, we're familiar with people who look, sound, eat, and believe differently than we do. To become friends, it's helpful to understand where they come from and how they do things differently, or the same, as we do. In the same way it is necessary to understand someone who comes from a different place than we do, how much more necessary is it to understand someone who is from not only a different geographical place but also a different time than we are? The Old Testament starts at the beginning of the world. This course will undertake the task of crossing the bridges of geography, climate, time, and a landscape unknown to us: ancient Israel. Throughout the course, David W. Baker will address aspects of life from our own culture and time, as well as family structure and societal systems from ancient Israelite life. As you learn more about the social world of the Old Testament, you will be struck not only by our differences but also our common humanity and that we share the same dreams, hopes, and fears as they did.
Learn more