Looking to install the Logos 8 desktop software?
Install
Access Logos online. Anytime. Anywhere.
Get exclusive access to the beta version of the Logos Web App! We've been hard at work bringing the power of the desktop to the web. The Logos Web App gives you access to your entire Logos library from any web-enabled device and contains powerful features like the Passage Guide, Exegetical Guide, and Sermon Starter Guide, and tools like the Factbook and Atlas, right in your browser.
Go to app.logos.com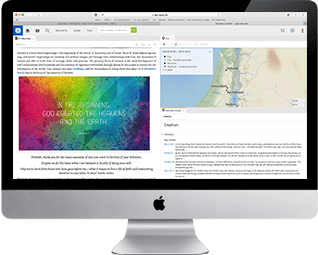 Features
App.logos.com makes online Bible study better! See how.
Quick Search
Syncing
Social Sharing
Factbook
Atlas
Text Comparison
Passage Guide
Exegetical Guide
Bible Word Study
Sermon Starter
Access Bible passages in your preferred translations online, and find commentaries for further study.

Pick up where you left off. App.logos.com opens to the last page you were on in Logos or Vyrso.

You can share Scripture passages from Biblia.com through Facebook, Twitter, Faithlife, and email.

Search any biblical people, events, places, and things, and get instant access to textual and visual information across your library.

Connect the Bible story with its geography. Get scalable maps marked with ancient sites and cities, and zoom in and out to reveal more information.

Compare any two texts side by side, including any combination of parallel Bibles.

Consult commentaries and journals related to the text you're studying.

Know the Bible in its original languages—no Greek or Hebrew experience required. Perform word studies, follow complex sentences, and get comfortable with Greek and Hebrew pronunciation.

Discover the real meaning behind each word in the Bible—Bible Word Study links the text to dictionaries, cross-references, and lexicons, and lists translations of the original Greek and Hebrew words.

Don't let writer's block hold you back—the Sermon Starter Guide helps you quickly develop powerful sermon ideas with hundreds of preaching themes and sermon outlines.
Start digging deeper with a base package!
Learn more