Get Another Free Book This Month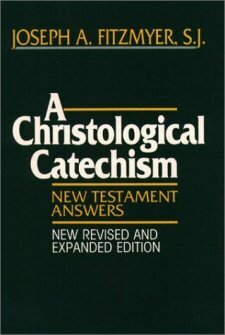 A Christological Catechism: New Testament Answers
Joseph A. Fitzmyer presents 25 succinctly phrased and candidly answered questions about Jesus. His book covers issues such as the virgin birth, the infancy narratives, Jesus' claim to be the messiah, the historical accuracy and significance of the resurrection and ascension texts, the place of Peter and the apostles, the importance of the Apocryphal gospels, and more. This book holds insights for everyone—from the biblical scholar to the curious reader of the Scriptures.
$10.99
Save 100%
Your Price: $0.00
Get an Additional Book for $1.99
Trinitarian Christology: The Power that Sets Us Free
In this groundbreaking essay, Michael L. Cook addresses two major Christological concerns. First, Cook discusses how Christology must be Trinitarian insofar as it addresses and advocates a more active role of the Holy Spirit as a person. This includes both the economic activity of the triune life in creation and the dynamic, perichoretic, interactive life of God as God. Second, he examines how Christology must be ecumenical insofar as it addresses the concerns of both East and West with regard t...
$13.99
Save 85%
Your Price: $1.99
Get an Additional Book for $3.99
Explorations in Theology, vol. 1: The Word Made Flesh
The first of four volumes of Balthasar's many essays and conferences. Each focuses on a specific aspect of theology or spirituality and presents it with all the richness which comes from his immense erudition, but in a style that is directed and intelligible since few of these essays were intended for scholarly audiences.
$19.99
Save 80%
Your Price: $3.99
Get an Additional Book for $4.99
God Sent His Son: A Contemporary Christology
In this work of Christology, Christoph Cardinal Schönborn, a world-renowned theologian, takes as his starting point the Apostle Paul's statement, "But when the time had fully come, God sent for his Son, born of woman, born under the law, so that we might receive adoption as sons" (Gal 4:4–5). Based on many years of lecturing on Christology, Cardinal Schönborn's work moves from the solid conviction of faith that Jesus of Nazareth is the Messiah of Israel, the Son of the Living God, through the de...
$20.99
Save 76%
Your Price: $4.99
Get an Additional Book for $7.99
Christ and Spirituality in St. Thomas Aquinas
The studies in this volume investigate themes of particular spiritual relevance in Thomas Aquinas' theology: friendship, charity, prayer, configuration to Christ, priesthood, preaching. Aquinas' approach to theology was guided by the desire to grow spiritually through theologizing. Desiring to underscore the Trinitarian character of the Christian life, Aquinas pays careful attention to the human being as created in the image of God, with Christ as the model to imitate.
$21.95
Save 63%
Your Price: $7.99